News
Golf posts impressive rounds-played numbers for July despite the weather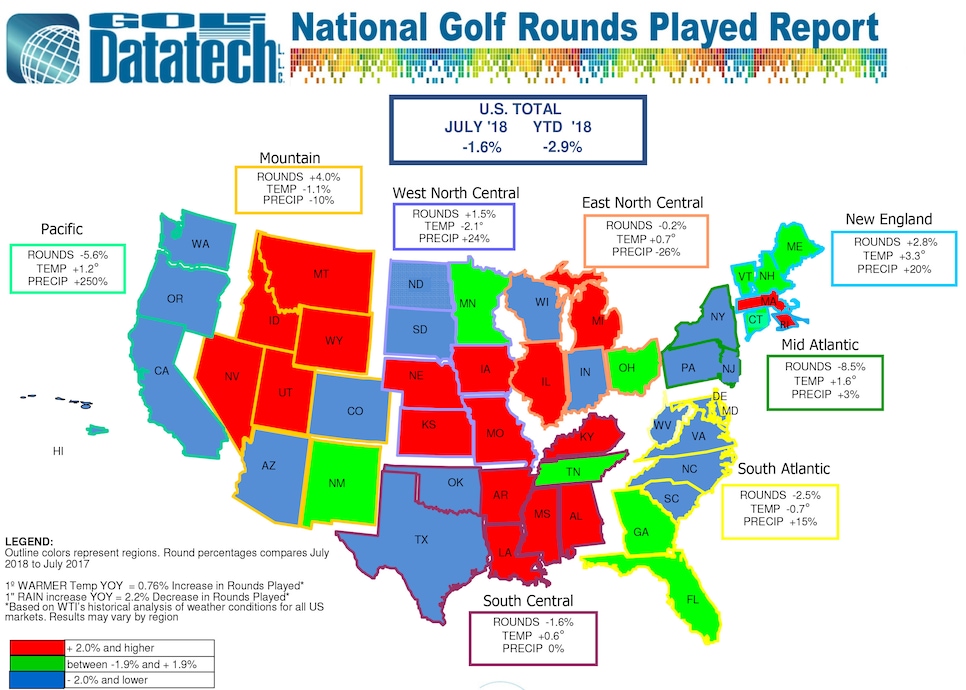 Rounds played numbers for July were down across the U.S. by 1.6 percent compared to July 2017, which might be the most misleading statistic in golf history next to Jeff Sluman holding the record for the longest drive ever recorded on the PGA Tour (473 yards, in 2003—yes, that Jeff Sluman and, yes, that 2003).
The slight decline in rounds played is remarkable in that it came in a month where many sections of the country were receiving buckets of rain that likely washed out entire weekends, even weeks of rounds. At the very least, it could close a course to golf carts, further chilling the incentive for some to play. So let's look a little more closely at the numbers from Golf Datatech's thorough research of the country's golf in July.
First, 18 states showed more than a 2 percent increase in rounds played, almost equal to the number that showed more than a 2 percent decrease (21). But the real story again is precipitation and bad weather, which has plagued the golf business much of the year. While it is the sixth month of seven this year that rounds played were down, it is also the sixth month this year when temperatures in much of the country were colder (early in the year) or precipitation amounts were higher.
July is a perfect case in point. Five of the eight regions in the country as broken down by Golf Datatech saw higher precipitation than in 2017, including a whopping 250 percent in the Pacific. Also, according to the National Oceanographic and Atmospheric Administration, parts of the Southwest and Great Plains saw above-average precipitation, it was the second-wettest ever July for Maryland and the wettest ever for Pennsylvania, and overall 18 states saw above average rainfall in July. For the eight sections of the country across the first seven months of the year, 43 percent of the time precipitation has been higher than it was last year. And NOAA figures say 23 states recorded higher precipitation this year than normal.
But according to the Golf Datatech report, in the two sections of the country where rainfall was down in July (Mountain and East North Central), rounds played were either up or unchanged (refer to the map for which states make up each region). Even when it was wet, golf still was being played. New England saw rainfall up 20 percent but rounds played were up about three percent. Same was true in the West North Central where precipitation was up 24 percent and rounds played were up 1.5 percent.
While it hasn't been the best year for rounds played (overall Golf Datatech's numbers show a 2.9 percent decline for 2018), it's not been so great for playable golf weather, either.
Of course, what's that they say about silver linings? According to Golf Datatech's research, sales of rain gear are up this year.