News
Round-robin play has its flaws, but it makes the WGC-Dell Match Play a better event, and here's why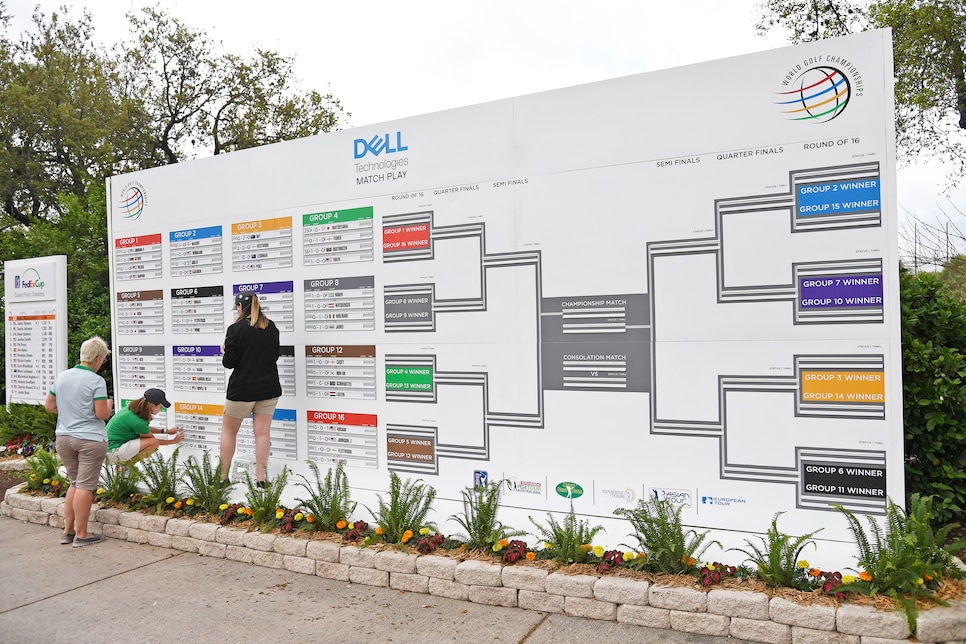 As always, it's easy to criticize the WGC-Dell Technologies Match Play. The wall-to-wall round-robin format of the first three days, adopted in 2015, can seem chaotic. Withdrawals can cause inequities, meaningless matches are unavoidable and Friday's three-player sudden-death tiebreakers evoked the same entertaining drama of a U.S. Open local qualifier.
But my verdict after the three days that have set up an intriguing weekend is this: We're seeing a great tournament.
I've always liked this event since it was started in 1999, just because big-time pro golf needed at least one big-time match-play tournament. For its first 16 years the event was single elimination from start to finish. That used to produce what some considered the best golf day of year—Wednesday's first round—when 32 matches were played in a non-stop televised montage of quick-cutting, do-or-die golf.
But there was a problem with all that: it was Wednesday. Any Broadway producer can tell you a show that starts at its peak in Act 1 and then loses energy is not well paced. The old WGC could never quite get over Hump Day.
The other unavoidable consequence was seeing big names eliminated early in the one-and-done mix. Even the most ardent advocates of match play will admit that among the very best players in the world, an 18-hole match is a brutally inadequate measure of the better player. Even the U.S. Amateur and the pre-1958 PGA Championship had 36 holes of stroke play to winnow the field.
But the bottom line in single elimination was that fans were too often robbed of being able to watch the players they most wanted to see. It made for a flawed product.
The round robin, which since 2015 has divided 64 players into 16 groups of four, is more than just making sure the stars hang around for three days. Rather, it retains energy and intensity right up to the climatic weekend. Sure, the losers in the groups are sometimes playing the odd meaningless match against each other on Friday. But that's more than made up for with the plethora of matches that have a direct bearing on who advances to the Sweet 16.
For me, the Friday bonus is the sudden-death playoffs. This year, we saw real drama, from Tyrrell Hatton's cruel elimination after failing to replace his moved ball on a tap in, to Bill Haas desperation chip-in to stay alive before advancing, to Kevin Na stiffing a full sand wedge to the most precarious of pins, a shot he called one of the most clutch of his career.
There's no doubt that every survivor earned his way to the weekend. And today's matches will have plenty of star power.
Yes, Rory McIlroy, Jordan Spieth and Jason Day are missing. But Spieth, who also missed the weekend last year, got beat fair and square. Day withdrew after seven holes of his first match due to the distress of his mother impending cancer surgery. No question McIlroy was most victimized the format. First, the World No. 2 was unlucky to run into a sizzling Soren Kjeldsen in his opening match. Then, after Gary Woodland's Thursday withdrawal for personal reasons handed a default to both he and Kjeldsen, McIlroy, who won the event in 2015, was left with no chance to win his group.
If the system has a problem, it's with withdrawals, which in round robins can have an inequitable chain reaction. Francesco Molinari's WD for a wrist injury after losing his first two matches smelled a little like a player exiting in stroke play after a terrible first round, and assured that Alex Noren would advance. Of course, even in single elimination, a walkover gives one player an easier path. It's the rub of the green, except that it's a more abrasive rub in round robin.
But beyond those vagaries, I like the tournament because, when it comes to televised match play, more is more. It was the case on the old "Super Wednesday," and now it's the case for three straight days in which the director has 32 matches to cherry pick for highlights. Even in the Friday matches that are inconsequential to determining the ultimate tournament winner.
A good show starts with a good stage, and Austin Country Club's backdrop of a photogenic bridge and a lot of water is genuinely scenic, giving it a decided advantage over former venues such as La Costa and Dove Mountain. It's also interestingly quirky, with lots of short holes featuring plenty of high risk-high reward shots that are ideal for head-to-head play, especially in the high winds that buffeted the course on Thursday.
The best thing about watching match play is the easy immersion it provides. First, there's the human dynamic in which close followers especially, who know personalities and histories, can read minds through body language. There's also no better way to become familiar with new players on the scene such as the PGA Tour's hot young star Jon Rahm. Then there's the situational golf—identifying with a player's shot at hand based on the status of the match and the position of the opponent on that hole. Match play offers a better lab to learn about the nuances of the game than stroke play.
In Austin, there were some players who expressed a longing for the "win-or-go-home" urgency of the old system. Some of this is probably attributable to the universal love tour players have for "the bracket" of March Madness. But a college basketball game, which has its share of caprice, is a lot more definitive in determining who is better than 18 holes.
To the critics, I would simply ask What do you want? Sure, some stars are absent this morning, but under the old system, more would have been. We've got Rahm, Phil Mickelson, Bubba Waston and World No. 1 Dustin Johnson, who in his match-up with namesake Zach Johnson will give golf fans as fascinating a contrast in styles as exists at the top of the game.
All of the above is subject to one caveat: Any match-play format is inferior to 72 holes of stroke play when it comes to the most objective way of determining the week's best player. But the odds are very good that a match-play tournament will be more action-packed and entertaining. And the best answer to critics is that the latest iteration of the WGC-Match Play offers a better-than-ever shot at that result.