Pro Debut
Rose Zhang begins pro career with rough welcome from first-tee announcer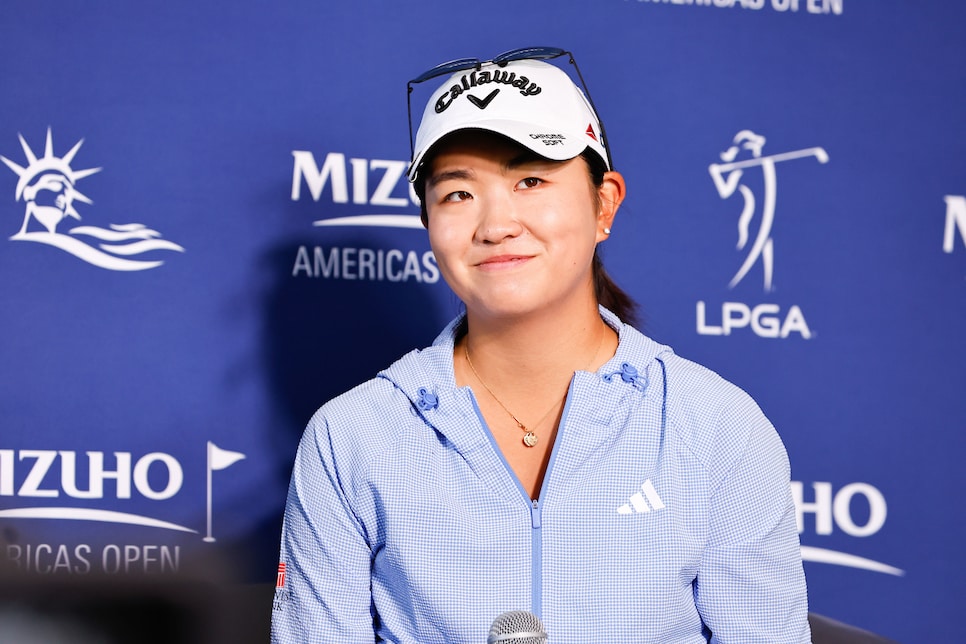 You want to be careful not to get caught up in all the hype. But when you read through Rose Zhang's college/amateur résumé, you understand why the 20-year-old's appearance this week at the LPGA's Mizuho Americas Open can be fairly described as the most anticipated professional golf debut, male or female, in years.
Seriously, read through the résumé: There's a U.S. Women's Am title, her Augusta National Women's Am win, 12 individual victories at Stanford, including becoming the first woman to win multiple NCAA titles, an NCAA record 69.24 career scoring average and 142 weeks as the top-ranked female amateur in the world.
Given the six-day whirlwind to get ready for Thursday's opening round at Liberty National after announcing her decision to give up her amateur status—she had make-up school work at Stanford to finish last weekend after the end of NCAAs before flying to Jersey City, N.J.—you might suspect Zhang would have some butterflies going as she finally kicked things off. Yet instead of Zhang being the nervous person on the first tee, the distinction probably has to go to the first-tee starter who (unfortunately) will be remember will be connected to this innocent but notable faux pas when introducing Zhang.
Of course, in true Zhang Rose Rose Zhang fashion, she never flinched at the foible, stripping her drive and beginning her quest to try to play well enough on sponsor's exemptions this summer to earn her LPGA Tour card. And as for butterflies, well if they are there, she's done a good job of hiding them to the outside public as Zhang has made three birdies on her first six holes to get off to a very impressive start.