The Loop
Winning the PGA Championship wasn't just big for Jimmy Walker, but also for Butch Harmon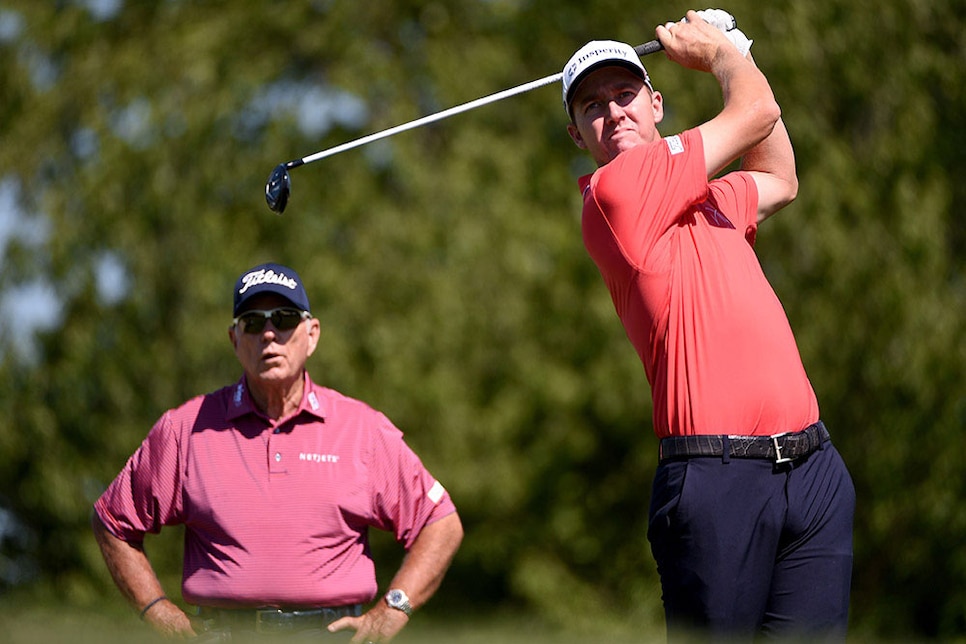 Life has been a whirlwind for Jimmy Walker since making the three-footer for par he called a "tester" on the 72nd hole to win the 98th PGA Championship. After a media tour in Manhattan and a trip home to Texas with the Wanamaker Trophy, Walker flew wife Erin and some friends to Las Vegas, where they met and partied with instructor Butch Harmon.
The original plan was to crack open the bottle of Chateau Margaux, a world-famous wine from France's Bordeaux region that Walker sent to Harmon as a thank-you gift after their early practice sessions in 2012. The deal was to wait until Walker won his first major championship, which at the time was a far-off notion. That celebration was shattered when nine bottles, including the one gifted by Walker, fell off a shelf in Harmon's wine cellar a few months ago at his home in Henderson, Nev.
As a replacement, Harmon brought a bottle of '96 Harlan Estate, the MGM Grand kicked in with a roughly $1,000 bottle of 1982 Chateau Margaux, and everybody was happy—no one more than Butch. "He's such a wonderful guy," Harmon, 72, said of Walker, 37. "I think that's why I was so emotional with this win. We've become such good friends, and I was so happy for him to get this done. We've just gelled."
Harmon admits back in 2013 he was "trying to figure out who Jimmy Walker was" before Erin interceded for her husband. Ultimately, Butch granted Jimmy valuable time at his hitting bay not far from the Vegas Strip. Under Harmon's direction, Walker, after going 0-for-187 on the PGA Tour, has won six times, played on a Ryder Cup and a Presidents Cup team, and rose from outside the top 100 to 15th in the world.
"How does one gain confidence?" Walker said when asked how Harmon instilled the type of self-belief that came through at Baltusrol, especially over the final nine holes. "It's just the repetitive nature of telling you how good you are. How good of a putter and chipper you are. How you've got this. You can beat the best players in the world. You've got all the talent. You just have to believe in yourself. He put it on me, but it's nice to hear from somebody you respect like that for his body of work his whole career. When a guy like that keeps putting that in your ear, you can start to believe it."
Walker had won three times on the then-Nationwide Tour before working with Harmon, so confidence was something he could recall. So were the five-foot testers he made to finish 125th on the 2009 money list and keep his card and on the 18th green at the 2014 AT&T Pebble Beach National Pro-Am to beat Dustin Johnson. At the PGA, he was pleased to hear how calm he looked on the inside, while still having fire in his eyes.
"I wanted it to come across that way," Walker said. "I wanted it to come across that I was in control; that I was in control of the golf ball. That's always a calming feeling—when you know what you're doing and the ball is doing what it's supposed to do. It sure frees up a lot of stuff."
Will the PGA win free up Walker to win more majors? Having Harmon in his corner will help. On Sunday morning at Baltusrol, the coach chose the right words.
"I told him, 'Now go show everybody who Jimmy Walker really is,' " Harmon said. "Well, he darn sure did show everybody who he really is."