Look East To See The Game's Future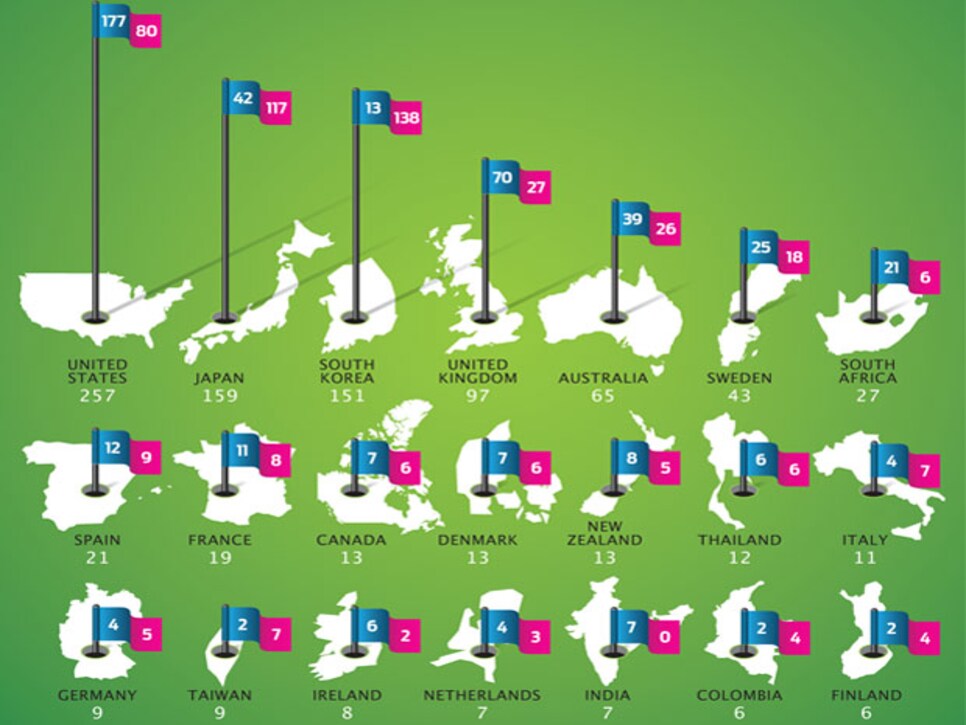 Nations' golfers ranked among the top 500 in the World Golf Ranking (men) or top 500 in the Rolex Rankings (women) as of August.
This year's PGA Grand Slam of Golf, Oct. 18-20 in Bermuda, is a reflection of how much the golf world has expanded in the past decade. Joining Phil Mickelson in qualifying for the tourney, which features 2010's four major champions, are Northern Ireland's Graeme McDowell, South Africa's Louis Oosthuizen and Germany's Martin Kaymer. This year, 18 of the first 38 PGA Tour events were won by foreign-born players and 30 of the top 50 in the World Golf Ranking come from outside the United States. "The game is global, there's no doubt about it," says American Hunter Mahan.
Australian Greg Norman's concept of a "world tour," which he proposed in 1994, has finally become a reality, with more Italians -- Edoardo and Francesco Molinari -- in the top 50 than Texans. Ten of the last 16 majors have been won by foreigners, and Golf Digest research shows the United States has dropped to third behind Korea and Japan in the number of women ranked among the world's top 500 (see chart, above).
Norman predicts the world's next great player will come from China. "The rest of the world is just hungrier, keener to learn the game," Norman says. "America was like that in the '80s, when the golf-course boom was at its height, but there's been a paradigm shift. The West is being overtaken by the East."
British swing coach Pete Cowen, who works with World No. 3 Lee Westwood of England, along with McDowell and Oosthuizen, believes the next Tiger Woods will be from Korea. Jin Jeong, 20, might be the guy after winning the British Amateur and tying for 14th at the British Open. "Within 10 years I think Koreans will have the numbers in men's golf like they do in women's golf," Cowen says. "The kids now are technically better, with straighter heads."
Another reason for the global boom, Mahan says, is that foreign-born players are skipping college and getting their education on the pro tours. That could be an advantage over Americans who take the traditional college path. Says Mahan: "I remember when I turned pro. Mark O'Meara said there's nothing like on-the-job training."