The Loop
Rosaforte: Gainey a true rags-to-riches story
Tommy Gainey Sr.--the original Tommy "Two Gloves" Gainey--had to excuse himself and step outside. There was so much noise inside Bishopville CC in South Carolina on Sunday night that he couldn't hear. Up on a TV screen, his son, Tommy Jr., had just won the McGladrey Classic with a final-round 60 to beat three potential Hall of Famers: Davis Love III, Jim Furyk and David Toms. It was an open bar.
"I'm telling you right now I'm the proudest papa in the world," Gainey said. "Tommy is such a good boy and for somebody to come from a small town like Bishopville, be a little unorthodox, never went to college and win on the PGA Tour? How hard do you think that is?"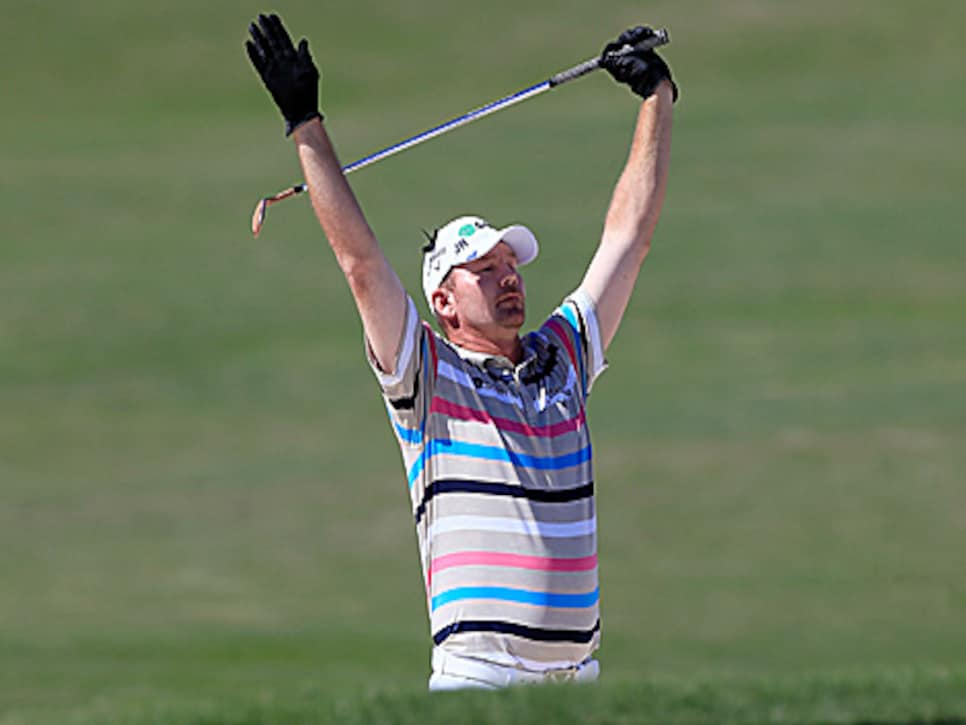 When he was a boy, Tommy and his brother Allen would come to Bishopville CC in their bare feet and hit shag balls while their father played in his two gloves. Working in the factories as a material planner for 41 years, Mr. Gainey didn't have enough money to buy his sons two sets of clubs, so they shared.
"I knew the talent Tommy had," his dad said. "He had a special talent ever since he started playing. What I'm so proud of, even though this year hasn't been great to him, is that somehow or another, he can find a 60 inside him last day of a tournament. That is just remarkable."
What's remarkable is that Gainey started the day seven strokes back, or that he shot the lowest score on the PGA Tour in 2012, or that four years ago, at the Children's Miracle Network Classic, he shot a final-round 64 to finish solo second. It was his best finish on the PGA Tour until Sunday on St. Simons Island, Ga., but he didn't earn enough money to keep his card. The man that beat him that day was Davis Love III.
That was the Tommy Gainey that Tommy Gainey saw on the mini-tours, or on the Golf Channel's Big Break, when he learned to play in front of the cameras.
"It's tough being a daddy to start with," Gainey Sr. said. "But buddy to have a boy 37 years old out there, never been taught anything about golf, and he beats some of the world's best players, I feel so doggone good it almost hurts."
What hurts so good is that this won't change Tommy "Two Gloves" Gainey. During the two-and-a-half-hour wait between when Gainey posted his 60 and Furyk, Tommy Sr. and Tommy Jr. talked on the phone. When Toms hit a drive, Tommy Jr. could hear Tommy Sr. rooting it into a fairway bunker.
"He said, 'Dad, you can't pull against these guys," Gainey Sr. said. "I said, 'Tommy, those three guys they have everything, they're Hall of Famers."
When it was over, Tommy Sr. headed back to his house in Bishopville so his wife, Judy, could punch the clock for the graveyard shift at the wood plant. He took early retirement when he was 57 but now, at 65, he does consulting work for A.O. Smith, the factory where Tommy Jr. worked as a teenager wrapping insulation around water heaters for $8.25 an hour.
That was on the mind of Tommy Sr., and in the conversation with his son on the range at Sea Island Resort, as he hits balls waiting to see what Toms, Love and Furyk would do.
"I told him he better hurry up and get home," Gainey Sr. said. "You've got a $2,000 bar bill at the club." *
Tim Rosaforte is a Golf World senior writer and Golf Channel's Tour Insider.