News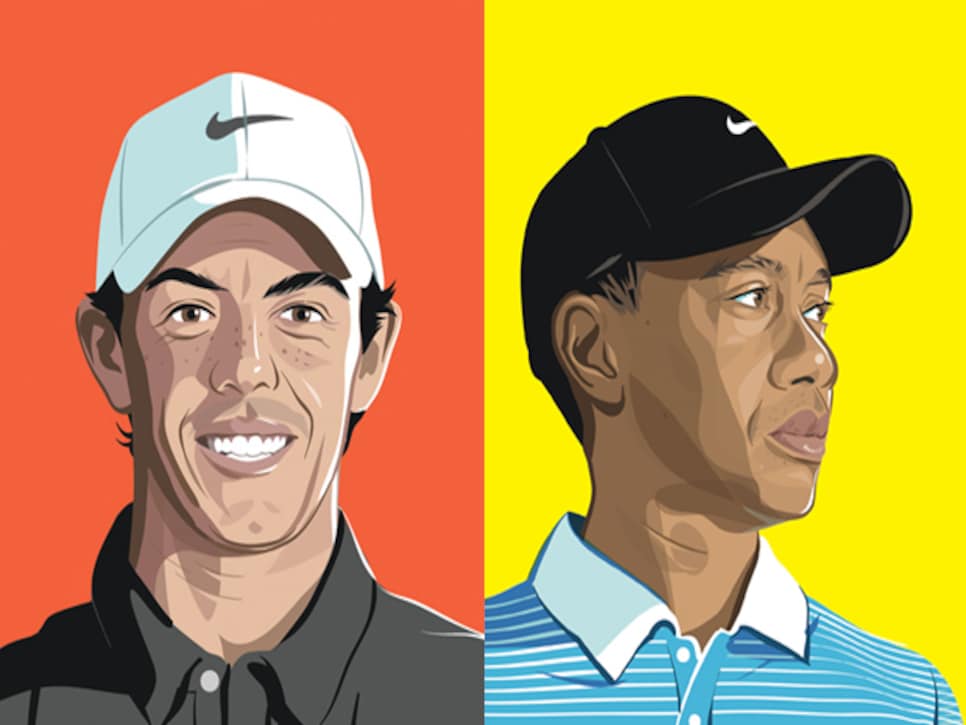 When they were 24, it was a very good year.
In 2000, turning 25 in December, Tiger Woods had one of the epic seasons in the history of sports. He won three majors by a total of 24 strokes, and the next year added the Masters for the Tiger Slam. His statistical dominance was even more astounding, as he led the PGA Tour in 25 of 36 categories.
In 2014, turning 25 in May, Rory McIlroy won two majors—backing up the previous pair he had won by eight strokes each—to put himself a Masters away from the career Grand Slam. It was close enough to Tiger-like to raise the question: Has someone potentially as good or better than Tiger come around already?
Beyond their records, both sent a clear message that their power and skill made them better than everyone else, particularly with the driver and the long irons.
Tiger's message, however, was constant, and Rory's has thus far been intermittent. And the reasons behind that key distinction are what made them, at the same age, more different than alike.
For all his genius, the young Tiger was a grinder. He aspired to be known as an overachiever who was never satisfied and never settled. He adopted the Michael Jordan obsession with constant improvement and competed with a ferocity that was unsettling to opponents. He was molded by his father's vision, guided by a sense of destiny.
Until very recently, Rory carried his gift blithely, acceding to its apparently mercurial nature. Pushing himself (or pushing others out of the way) does not come naturally to him. The boy from Northern Ireland has a touch of the millennial aversion to monomania.
Young Tiger studied golf, becoming intimately familiar through television and video with the techniques of current and past players. He filled his mental vault with every bit of knowledge he gained from years of junior and amateur victories and drew on it to win at the same amazing rate as a pro.
Though Rory as an 8-year-old requested to be called Rory (Nick Faldo) McIlroy, he did not model his idol's game. Rory's swing flowed freely with a flashing hip speed that could produce brilliance but was hard to control for 72 holes. He shot 61 at Portrush at age 16 but didn't accumulate a mountain of junior and amateur titles.
Tiger took great pride in consistency and, especially, rounds where he saved poor ball-striking with management, scrambling and grit. His first missed cut as a pro came at the 1997 Canadian Open, and he didn't miss another until 2005.
Rory's play has at times been as loose as his distinctive gait. On the PGA Tour, he has missed 11 cuts in 87 tournaments, including four times in majors, and 22 more times on the European Tour since turning pro in 2007. He is still learning to grind.
As a junior, Tiger spent the bulk of his practice time around and on the practice green. It's this part of the game where Woods became better than any other all-time great.
Rory to date has not made short-game superiority a priority. Statistically, he has remained a below-average bunker player and a middling, though improving, putter.
Tiger's most envied trait was his ability to play more solidly as pressure increased. His record as a closer is unmatched: Through 2000, he converted third-round leads into victories 19 out of 21 times.
Rory has betrayed shakiness in the late stages of tournaments. On the par-5 72nd holes at this year's British Open and PGA Championship, he looked hasty while putting relatively easy lay-up second shots into difficult bunkers.
Tiger the overachiever was also an over-doer. Even in 2000, Butch Harmon tempered swing instructions to allow for Tiger's tendency to turn a fix into a new flaw. In the weight room, Tiger would regularly increase reps and weights beyond what his trainers advised.
Rory has stuck with lifelong instructor Michael Bannon, who emphasizes simplicity, and resisted swing overhauls in favor of fine-tuning. And though McIlroy has gone from 160 to 170 pounds with trainer Steve McGregor, there's nothing bulky about his 5-10 frame.
Tiger's reaction to extreme fame was to become more distant. Jack Nicklaus, for example, has said they've never had an extended conversation.
Rory as World No. 1 continues to follow the mantra of his father, Gerry: "It's nice to be nice. And it doesn't cost you a penny." And Rory speaks to Nicklaus regularly.
Who was better the year they were 24? Tiger, by a lot. But soon after McIlroy turned 25, Rory seemed to flip a switch. "I just want to be the best golfer that I can be," he said after Hoylake, and it sounded like a manifesto. His looks, words and play all seem more assured. Mercurial is no longer acceptable.
Rory's going for it, Tiger-like. And perhaps doing so later rather than sooner will prove the longer and wiser course.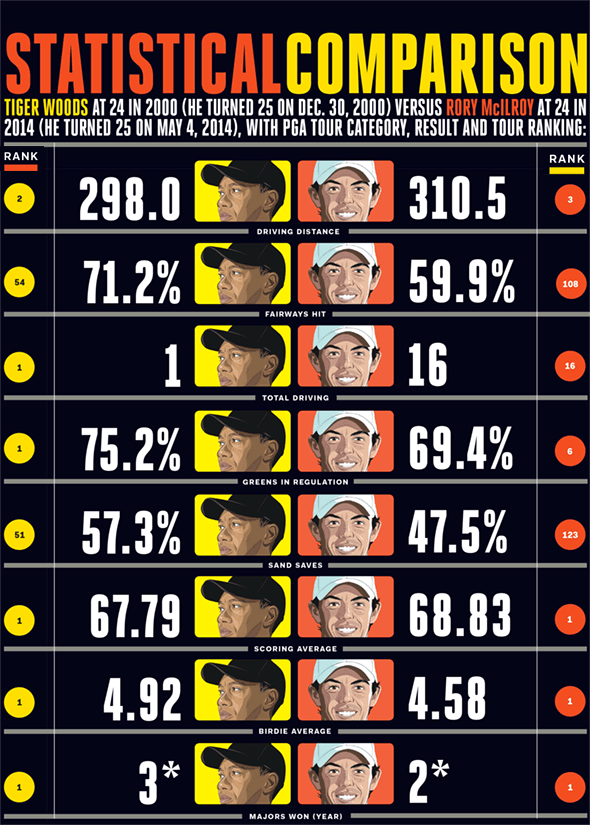 __* At this stage, Woods had won five of his 14 majors; McIlroy has won four majors. In 2014, McIlroy ranked 41st in strokes gained/putting (NA in 2000). __