The Loop
Rory, Tiger have very different days at Doral
MIAMI -- He brought with him a new attitude and a new extended waggle in his pre-shot routine, but Rory McIlroy couldn't shake the same old problems.
Tiger Woods just looked like his old self.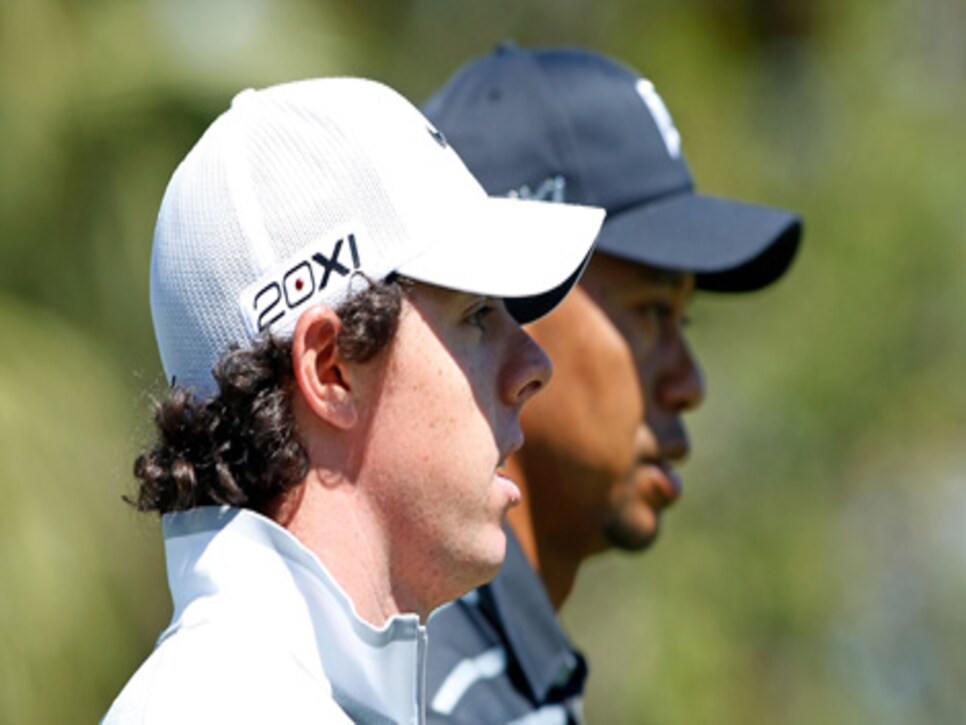 Six days after walking off the course in frustration at the Honda Classic, McIlroy, the No. 1 player in the world, was back in the spotlight at the WGC-Cadillac Championship playing alongside Woods and Luke Donald, who trail immediately behind him at No. 2 and 3 in the world, respectively.
McIlroy didn't fare well outright or by comparison Thursday, spraying the ball off the tee but eking out two late birdies to salvage a 1-over-par 73 on a relatively calm afternoon at the TPC Blue Course at Trump Doral.
Donald recovered from two drives in the water to grind out a 2-under 70.
"Whatever [Stricker] says I'm going to do," Woods said with a smile after a round in which he needed just 23 putts. "He's one of the best putters that's ever lived.
"I think I'm going to have a contract with him," he added playfully. "He's only going to play, what, five tournaments this year? So I'll bring him out in his off weeks."
A winner in his first PGA Tour start of the season at the Farmer's Insurance Open, Woods was off his game last week at the Honda Classic, finishing T-37. But he appeared comfortable on the Blue Monster and perhaps left a shot or two on the course. His nine birdies was one shy of his personal record for 18 holes and just two fewer than he converted over 72 holes at PGA National.
"I played well. It was certainly a day that could have been a little bit lower," said Woods, tied atop the leaderboard with Bubba Watson, Graeme McDowell, Sergio Garcia and Fredrik Jacobson.
McIlroy, the reigning PGA Tour player of the Year after winning four times in 2012, probably couldn't get any lower after his struggles at PGA National that prompted a mid-round meltdown and withdrawal for which he has since apologized. In that light, his untidy 73 was a step in the right direction, especially towards the end when he hung in and birdied two of his last three holes.
"It was a bit of a struggle, to be honest," said McIlroy, 23, of Northern Ireland. "Hit some good shots, hit some not so good shots. But, yeah, as I've been saying all week, this is a work in progress, and I'm working at it and I'm staying patient."
It takes patience when you hit only three fairways and 11 greens. "It was nice to sneak in a couple birdies on the last three holes and make it look somewhat respectable, even though everyone seems to be going pretty low out there today," he said after five birdies against six bogeys.
"I don't think he's quite drawing the ball like he used to, that he wants," said Woods, who would not divulge what advice, if any, he has shared with the struggling Ulsterman. "Maybe just a little bit defensive out there. And that happens, and we have all gone through stretches like this. It happens, and it happened to him last year in the middle of the year and he ended up all right at the end of the year.
"When you play golf and you play golf for a very long time, you're going to have spells like this. You can't play well every week, even though you try. You're going to have ups and downs and just got to battle through it."
Reminded that during his long run as the No. 1 player in the world he seemed to avoid such fallow periods, Woods smiled and shrugged his shoulders.
"He's working through some stuff in his swing, obviously," said Donald, who is the midst of incorporating with his own incremental swing refinements. "You can see his pre-shot routine is a little different. He's got that little waggle trying to get the club going more on the outside, and he's thinking about it a little bit. That's the toughest time in golf when you can't concentrate on just hitting good shots. You're focusing on you swing. It's tough a tough one to deal with, to leave the range behind you. It's a game of confidence, and once he gets a little bit of that back he'll be fine."