The Loop
Rory Sabbatini ... the ideal playing partner?
*Sean O'Hair: Playing with you is equal to a two-shot penalty.
How Sabbatini should've responded: No it's not--actually those paired with me score two strokes better than they do with you!*
Those with a criminal past are often immediately accused. Sure, Rory Sabbatini has had his fair share of brush-ups with the PGA Tour and its policies, but the latest complaint about him -- that he and his attitude are like a two-shot penalty to anyone playing in his group just doesn't add up.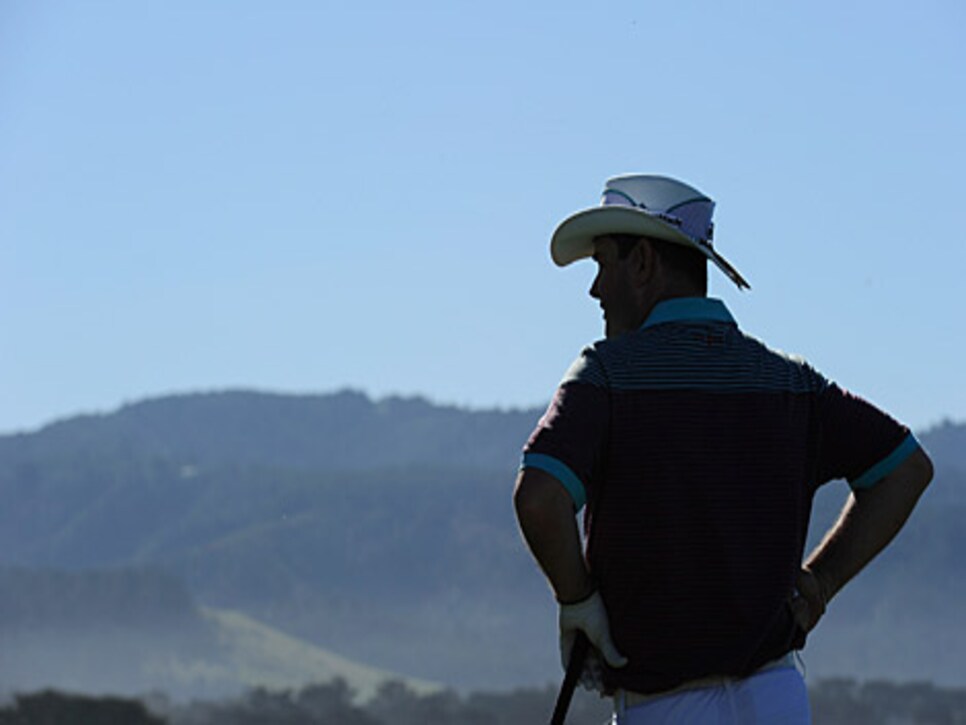 Sabbatini has been singled out as a difficult playing partner. The statistics argue otherwise. Photo by Getty Images.
That was the very phrase some spectators overheard Sean O'Hair say about Sabbatini on the 14th hole at TPC Louisiana during last month's Zurich Classic of New Orleans.
Taking just 2011 rounds into account, of which Sabbatini has had another competitor in his group 73 times, while for O'Hair it's been 43 times--players have shot 70.86 with Rory, but 72.33 with Sean. The current average score on tour is 71.49. The numbers don't lie, but do drop, from 70.86 to 70.68, if you take O'Hair out of Sabbatini's equation. The individuals in O'Hair's group were, on average, the week of the event more than 15 spots better on the World Ranking, too. Missing from this data, as well, is the opening-nine 42 Arjun Atwal carded at Pebble Beach -- while playing with O'Hair -- before he withdrew. (He would have had to shoot a 30 on the second nine in order to keep the average down.) Atwal couldn't take it any more.
Jerry Kelly doesn't seem to have a problem playing with Sabbatini. Ranked No. 149 heading into the Sony Open, he shot rounds of 69-66 when paired with the South African. Later this year, at the Mayakoba Golf Classic, ranked No. 146, he shot 67. Then at the Honda Classic, on easily the toughest course on tour to date and ranked No. 150, Kelly shot a final-round 67.
John Merrick, who has played separately with each, shot a 65 when he was paired with Sabbatini; a 73 when he teed it up with O'Hair. If it were really a two-stroke penalty to play with Sabbatini, was Paul Casey's 64 at the Transitions Championship a course-record tying 62?
Atwal isn't the only player to WD from a tournament while paired with O'Hair. Kenny Perry shot an opening-round 79 at Bay Hill and pulled out. Is finishing out the round(s) with O'Hair not worth the company? There have yet to be any WDs from Sabbatini's group.
Players have also missed a higher percentage of cuts (56.3 percent to 52.6 percent) with O'Hair, not Sabbatini, and have shot a total of 10 more rounds above 73 than they have under 69. For Sabbatini that same comparison shows six less: 20 scores under 69, 14 scores over 73.
So is it O'Hair or Sabbatini you'd rather be paired with? For the first two rounds of this week's Players Championship, O'Hair has been matched with Kelly and Derek Lamely (who shot 73-75, and missed the cut the last time he played with O'Hair). Nick Watney and Jonathan Byrd (who shot 66-68 the last time he played with Sabbatini before placing second) drew Sabbatini. Was it the short straw?
Actually, no. Watney took the clubhouse lead with an eight-under 64, while Byrd shot 71. As for O'Hair's partners, Kelly and Lamely shot 73 and 74, respectively.