Rory McIlroy's WD at the Honda Classic creates buzz through the weekend
As a defending champion last week at the Honda Classic, many expected Rory McIlroy to show better form than he has so far in 2013.
Instead, the world No. 1 grabbed national headlines for leaving the tournament, not contending in it.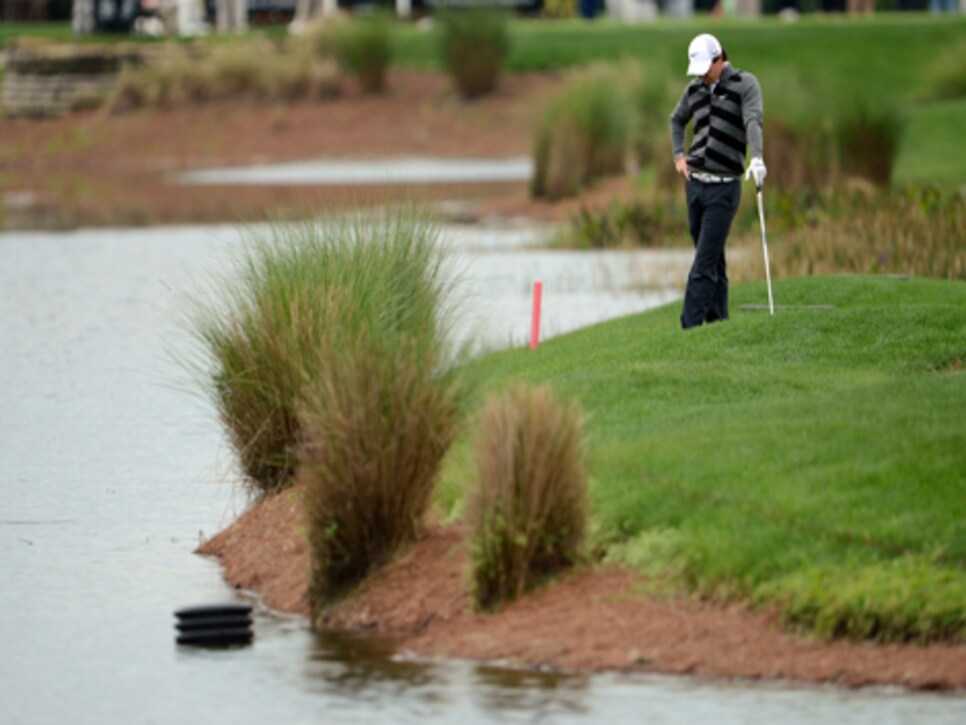 It's already created a stir in the sports world.
During the final-round telecast on NBC, Jack Nicklaus remarked that McIlroy probably didn't think his decision through enough.
"I think if he'd have waited five more minutes he wouldn't have done that. I think he's a good kid and I think he tries to do the right thing. Unfortunately, it probably wasn't at that time."
Here's a brief rundown of the social-media buzz from the weekend:
Many tour pros refrained from commenting on McIlroy's decision on Twitter. But David Duval, a former world No. 1 who struggled after taking that top spot, chimed in:
David Duval (@David59Duval): "I just feel I have a responsibility to the tournament and the fans to post my score. My mentality."
"Am I the only one not worried about Rory? He will win at least 3 times this year around the world. Too much talent."
Fellow Northern Irishman David Feherty, perhaps not surprisingly, came to McIlroy's defense:
(@FehertTwit): "Rory has played how often this year? And the doubters have started. Remember the Masters? And then the US Open at Congressional?"
The always opinionated Steve Elkington shared one of his cartoons poking fun at McIlroy, and shared his thoughts, too:
(@ElkPGA): "You're better off finishing a bad round. I know, I've posted 86 twice in majors. A WD mid-round only adds to your problems."
Golf fans didn't hold back their opinions on the subject either. We received more than 450 comments on our Golf Digest Facebook page, with a wide range of opinions.
Michael Guinn: "If you want to be a champion, act like a champion. That means playing through difficulty and adversity. You already know this tourny is a wash, don't go get on your plane and pout, play through it & work to be better. How many times do you think Greg Norman thought about walking off during one of his many implosions at the Masters? But he never did it, because he is a champion caliber player who knows you have to work for it and some days it just isn't there for you."
"This guys a pro, even with a toothache or whatever, on an off day, he should be able to grind it out, make a couple birdies to give the fans something, and shoot 77 and miss the cut with class. He should play a few practice rounds with Rickie Fowler, there's a guy who doesn't quit." -Stating the Obvious on GeoffShackelford.com
Others saw a similarity between Tiger Woods and his buddy, Rory:
"One thing I don't get; why not just live with the first story, 'I am not in a good place mentally...'? So what if you get a Tour fine? So what if people gripe about your lack of effort? You apologize. It's just one routine tour event. You apologize honestly, you pay a fine or accept any other penalty. At least you get out with your credibility.
I think the honesty with McIlroy was one of the really refreshing things about him. The lack of calculation. It was how people could judge what sort of mind was operating that swing.
It wasn't the lack of calculation that troubles me with Rory. The first reaction was honest, even if it was bad Tour behavior. It was the second bite at the apple, the calculation, that was so offensive.
It is Tiger's worst quality; the stonewalling lack of candor." - Chuck on GeoffShackelford.com
One reader believes McIlroy's situation is another example of the PGA Tour's propensity to give phony excuses:
"[Tim Finchem and the PGA Tour] created this game of 'pick an injury' to report to the press. Virtually every other sport allows for an 'off day' and it is even encouraged in some. Finchem has created this atmosphere where Tour players are made to feel they owe something to the sponsor, hence the pro/am requirement, as well as a myriad of other social functions required as mandatory attendance. So the question becomes: Are we better off with a policy which encourages lying to the media or to simply allow for an honest assessment of ones game, of which might allow for an occasional WD for no other reason than a lack of an ability to hit the ball on a given day?" -P Dog on GeoffShackelford.com
Photo: Stuart Franklin/Getty Images