The Loop
Rory McIlroy's strategy for getting over a breakup? Shoot a low score
VIRGINIA WATER, England -- Clearly, the regenerative powers of a satisfyingly low score should never be underestimated. One day on from his at-times close-to-tearful press conference in the wake of his breakup from now former fiancee Caroline Wozniacki, Rory McIlroy was edging back into doing what he does best in the opening round of the BMW PGA Championship at Wentworth.
He isn't leading, of course. Shooting something lower than Thomas Bjorn's near ridiculous ten-under-par 62 would have been asking a little too much in any circumstances, never mind the personal trauma that comes with a metaphorical broken heart. But walking off the 18th green McIlroy was looking a bit more like the cute wee Irish lad so many have fallen in love with over the last few years.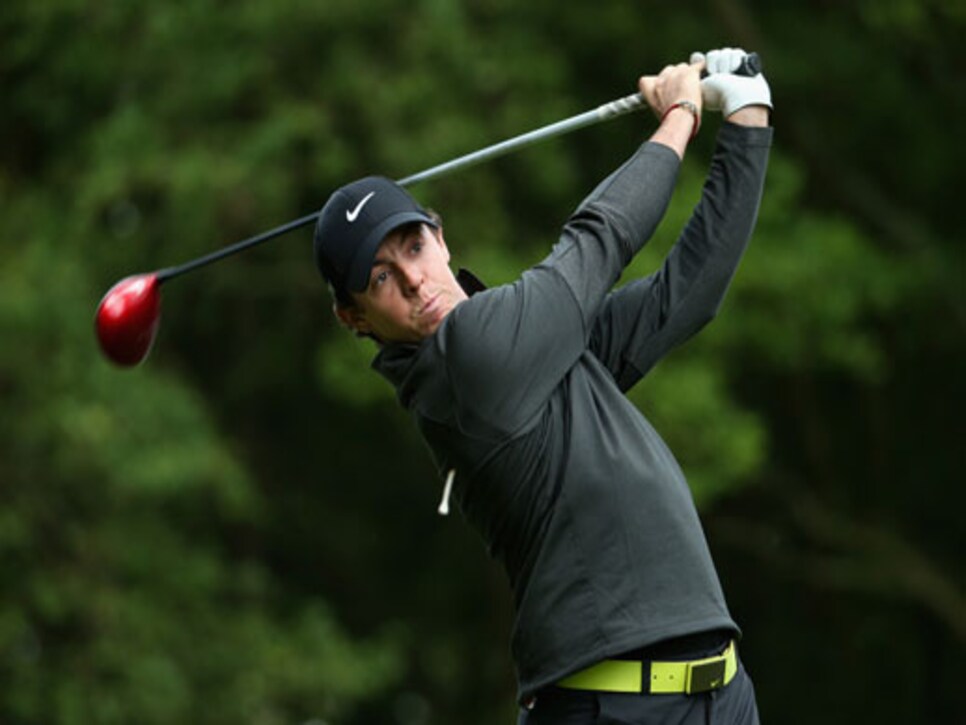 Two eagles and three birdies will do that for any golfer, of course. The first eagle came courtesy of a wedge holed-out from 130-yards at the 396-yard 7th; the second all but guaranteed by a 203-yard 5-iron that expired inches from the cup on the 531-yard par-5 12th. And it all added up to 68, a score the former U.S. Open and PGA champion has only once before bettered round the famed Burma Road. Indeed, just twice in 18 previous attempts had McIlroy managed to break 70. In contrast, on eight occasions he had shot 74 or more. So this, in more ways than one, represents progress.
Still, it would be wrong to suggest McIlroy was completely at ease when talking to the assembled media after a bogey-birdie finish that could have been worse. The six he made on the long 17th was a good one. Via an unplayable lie in a bush, he made a 20-foot putt to avoid a double-bogey.
"I haven't turned on my phone for a couple of days," he admitted. "And I've given away my laptop. I said yesterday this was going to be a tough week and it is. Walking between shots is difficult because my mind wanders. I'm certainly not comfortable standing here talking about it all."
When the subject turned to golf, his mood understandably brightened, even after admitting that he hasn't been sleeping well -- "which is only natural." But he was suitably encouraged by a crowd reaction he described as "more positive than usual."
"I don't feel I did much wrong out there," he continued. "I hit some nice shots. That's a really good score for me on this course. It feels good to be in the 60s. I took advantage of the par 5s, which is an element of the game I haven't always been good at round here. To be honest, though, I'll be delighted to make it to the weekend. I feel ready to shoot some good scores.
"My aim going out today was to try and stay focused on each and every shot. I did that pretty well. I'm just happy to be getting my head back into golf. And I'm looking forward to tomorrow."
So fear not Rory fans. Albeit slowly, he's already on the mend.