News
Masters 2017: Rory McIlroy's Grand Slam quest on hold ... still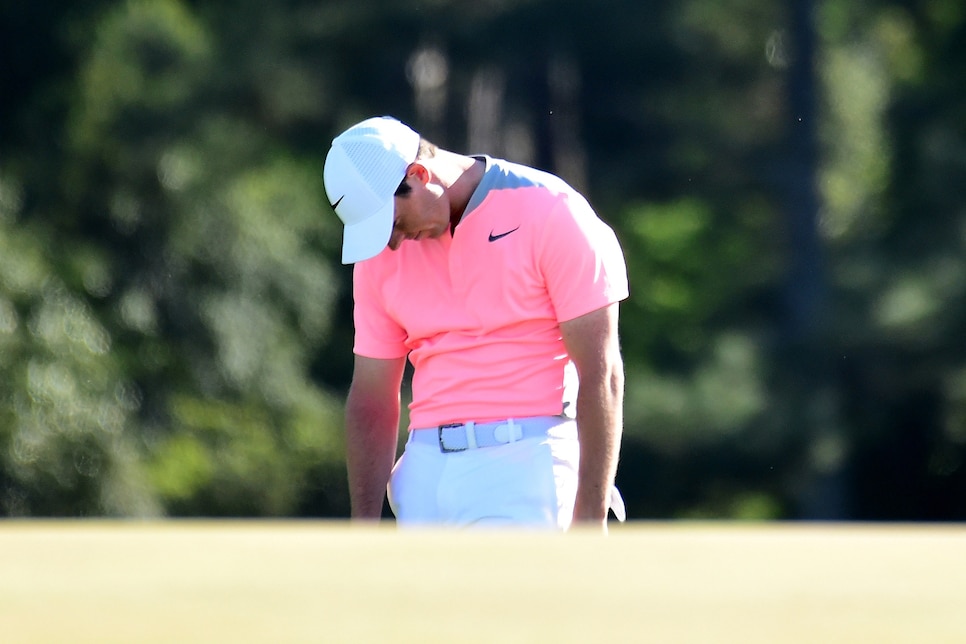 AUGUSTA, Ga. — All week, his public utterances were littered with telltale phrases. "Somewhat disappointed" was in there after an opening 72. "Disappointed to finish like that" was his verdict on the 73 on day two, alongside the all-too common admission: "I missed a couple of short ones." Other familiar refrains dominated the aftermath of the third-round 71 that left him six shots off the lead: "I hit the wrong club," "I had chances I could have converted," and "I was a little frustrated."
So it continued in the final round of the 81st Masters for Rory McIlroy, who will return to Augusta National next year still searching for the fourth and final piece of the career Grand Slam. His closing 69 was his best effort of the week and lifted him into a tie for seventh. It was also a round littered with "might have beens," even if the man himself professed to feeling "encouraged" by his overall performance.
"This wasn't as adventurous as previous Masters have been for me," he said. "I didn't get too high with some really low nine-hole scores. But I didn't shoot any nine-hole scores that were in the 40s. It was quite a consistent, steady Masters for me. It wasn't quite good enough, though. I had an opportunity to shoot something in the mid-to-high 60s yesterday, which would have got me closer to the lead today. I didn't quite do that so it is a case of what could have been. I feel like I gave a good account of myself. And I'll come back next year and try again."
Which is a familiar refrain.
While no one is disputing McIlroy's superior ability—he is one of only a few who can so obviously perform well below his best, yet still finish so high—yet again his carelessness proved too heavy a burden, even for all the innate talent with which he has been blessed. Since 2010 as many as 15 double bogeys have dotted his Masters scorecards. No player under the age of 50 has had as many.
But it's not the over-par holes that hurt McIlroy most. It's the birdies he doesn't make. As he conceded, prodigious drives off both the 13th and 15th tees on Saturday were followed by sloppy second shots and, in turn, disappointing pars on holes where fours should have been close to routine.
For all that, this was McIlroy's fourth top-10 finish in succession at the Masters, the one major he has yet to win. Not that such a record of consistency/failure will be any consolation to the World No. 2. For the game's most-gifted player, only one thing matters. It's winning, not an accumulation of frustrating near-misses and minor-league places.
So what's the problem? Nick Faldo, three-time Masters champion, has one theory.
"Distance control is the secret to Rory achieving the career Grand Slam," said the CBS commentator. "I watched him warm-up a couple of years ago and he was striking it beautifully. Then I looked at where his 8-irons were landing and they were sometimes 15 yards apart. You've got to know exactly what you're doing, so it's a good math game.
"Get your math right and land it right on the number. But you've got to hit the right shape as well. You can't say, 'I'm going to fade it into that spot' and then draw it. That's what happens to Rory. If you're going for a fade, you better hit a fade. If you hit the opposite the slopes will repel the ball."
Indeed, the last four days have been marked by more than a few instances of McIlroy and caddie J.P. Fitzgerald staring at each other in disbelief as seemingly solid shots came up way short or blazed way past the intended target. Perhaps the time has come to reassess the accepted wisdom on how best to play Augusta National. Maybe blasting away from the tee is not really the way to go, especially if distance control with the shorter irons is lacking.
The obvious danger is that, as time drags on, McIlroy's desire to win golf's biggest tournament will become more curse than cause. Masters history is littered with "can't miss" guys who never donned a green jacket. Tom Weiskopf, he of the majestic swing and massive talent, was runner-up four times between 1969 and 1975.
Just over a decade after that last near miss, the 1973 Open champion was part of the CBS commentary team when Jack Nicklaus arrived on the 16th tee in the final round of the 1986 Masters. "What is Jack thinking right now?" Weiskopf was asked. The plaintive reply? "If I knew that, I'd have won this tournament."
So eternal failure is not unthinkable, as other non-winners like Greg Norman and Ernie Els can also testify. Quite apart from his epic final-round meltdown in 1996, Norman recorded eight other top-six finishes between 1981 and 1999. Els was twice a runner-up, in 2000 and 2004.
On the eve of this Masters, three-time champion Phil Mickelson had this to say: "You always have those players like Ernie and Greg that you know are going to win the Masters and they haven't done it. It would be that kind of surprise if Rory didn't."
Els, who knows a thing or two about coming close at Augusta, concurred with his long-time rival. "I would be really shocked if Rory doesn't win at least four," said the four-time major champion. "He is built for this place. Rory has that slinging draw. This course is perfect for him. If I was to give advice it is just to be a little bit patient. I fell out of patience with the place."
Ah. More patience. McIlroy feels like his is headed in that direction.
"The last four years have been a transitional period for me," he said on Sunday. "I feel like I am figuring it out, though. Coming off the course yesterday I was frustrated. But today I am encouraged. I feel more comfortable around the place. I feel like every time I tee up here I have a really good chance to win. I prepared well. I came a couple of times beforehand and that is something I will keep doing in the future.
"I felt as comfortable on the greens as I ever have. Even though I had a few three-putts, I made some good ones and holed out for pars when I needed to. I just didn't convert the chances I should have yesterday. It's another year and another missed opportunity, but I'll move on, focus on the U.S. Open and try to add to my tally there."
Four majors and counting. Still.