The Loop
Rory McIlroy's disastrous Saturday still ends with a glimmer of hope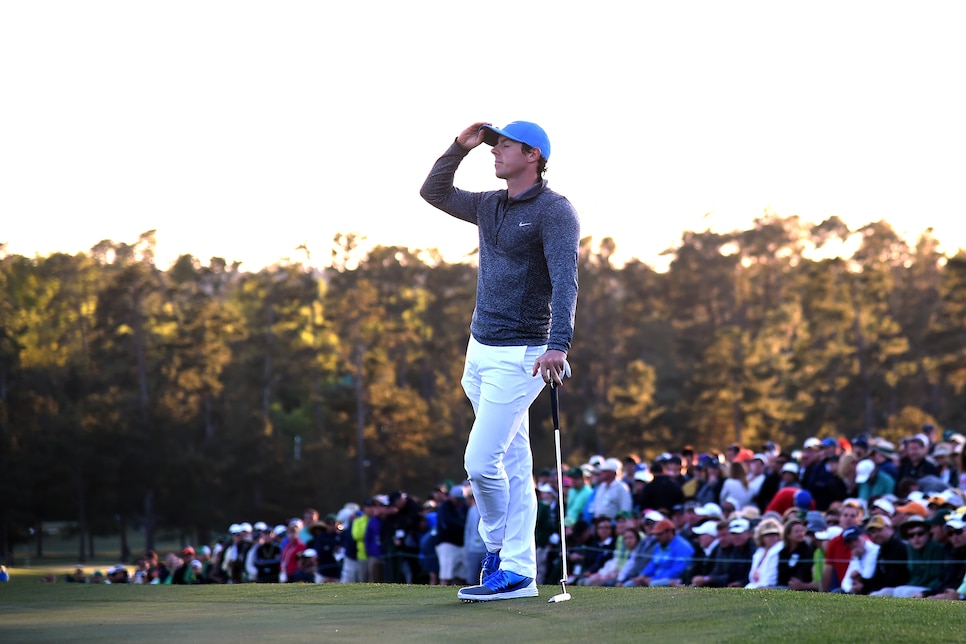 AUGUSTA Ga. -- On the first tee Saturday, Rory McIlroy and Jordan Spieth greeted each other with smiles and a handshake, along with a few words of encouragement. When the Northern Irishman blasted his tee shot past Spieth's, it could have been portent of something. It wasn't. For the rest of the day, it was McIlroy gasping to keep up.
The third round of the Masters was a continuation of a troubling trend for McIlroy, one that saw him plummet out of contention so quickly he could have been wearing ankle weights. With a 77 while playing in the final pairing alongside the defending Masters champion, McIlroy appeared to sabotage any chance of winning his first green jacket and completing the career Grand Slam. Yet when Spieth bogeyed the 17th hole and double bogeyed the last to fall back to three under, he extended the rest of the field a lifeline. And that included McIlroy, who had no birdies in a taxing, blustery third round but could still harbor hope of clawing his way into contention on Sunday.
"To be honest with you, I would be feeling a lot worse about myself if I hadn't have just seen what Jordan did the last two holes," said McIlroy, who enters Sunday five strokes behind Spieth in a tie for 11th. "I sort of take a bit of heart from that, that I'm still in this golf tournament."
There was little else to be happy about on a day in which McIlroy registered his sixth round of 77 or higher in the Masters dating back to 2010, and his fourth round of 75 or higher on the PGA Tour this season.
Such is the feast-or-famine nature of McIlroy's game. When he's on, you could argue no one is better. But when he's off, he tends to spiral downward quickly. After bogeying the third, McIlroy's real regression began when hit what he thought was a fine approach into the seventh green, then three-putted from 23 feet. It got worse from there. McIlroy pulled his tee shot left into the pine straw for bogey on 10, then hit a similar tee shot off 11. A rope hook out of the pines kept hooking all the way into the water, and McIlroy was fortunate to make double.
He made seven pars to close, most of the time with his rival Spieth appearing unfazed by the conditions.
"I turned around on, after 15, I said, 'How the hell is he two-under par today?' But it's his most impressive asset. As much as it could be annoying to his competitors, it's very, very impressive," McIlroy said. "I think that the guys that are out there that are playing that golf course today, we're the ones that appreciate that the most. And as much as it does dishearten you seeing those putts lip in, you got to take your hat off to him, because he is such a grinder and such a battler and he always sticks in there. "
Although he didn't say it outright, McIlroy seemed to be implying that ability to grind is one part of his game that he lacks. At least he gets another chance on Sunday.