Wells Fargo Championship
After 66, Rory McIlroy is committing to cuts with driver: 'I can't hit the swinging draw'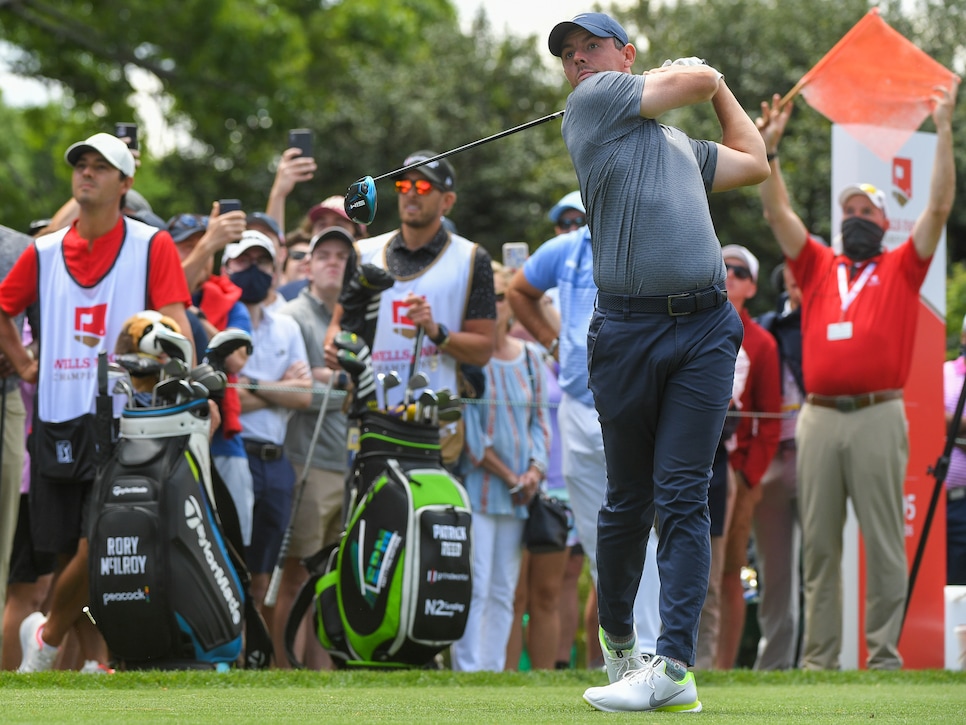 Rory McIlroy tees off on the ninth hole during the second round of the Wells Fargo Championship.
Ben Jared
CHARLOTTE — The Push-Draw King is dead. Long live the Push-Draw King.
Rory McIlroy has played a sweeping draw with driver all his life. It's the shot that first caught the golf world's attention back in the late 2000s, when a pudgy teenager with a curly mop of hair somehow generated all that speed. It's the shot that won him his four majors, the shot that brought him to World No. 1, the shot that made him a gazillionaire. And now it's in the doghouse.
McIlroy, like Dustin Johnson before him and Will Zalatoris after him, will henceforth almost exclusively play a cut with the D-stick.
"That's the most consistent shot that I hit with the driver," McIlroy said after shooting 66 on Friday at Quail Hollow, a hugely encouraging round that will see him play the weekend for the first time in four events. He gained nearly six shots tee-to-green, his best ball striking performance since 2019 and perhaps the most convincing sign yet that his work with Pete Cowen is beginning to reap rewards.
So why would a guy who belted draw after draw after draw in his heyday make such an eye-popping switch? The 32-year-old—he celebrated his birthday here in Charlotte on Monday, in what has become something of a yearly tradition—suggested it has more to do with modern equipment than anything else.
"I think these modern drivers nowadays, it's harder to turn them over than it used to be, so I've had to adjust," said the two-time Wells Fargo Championship winner. "I can't hit that big swinging draw that I used to hit. I mean, that was my bread and butter. I'd aim it down the middle of the fairway, I know if I made my normal swing it would start on the right edge and draw back to the middle. It just doesn't—it doesn't quite happen anymore.
"And that's how I've played most of my life, so it's committing to seeing a different way to hit tee shots and it's just, it's taking a while to get used to it … so I just have to commit to going down the left side and trusting that it's going to come back."
The cut, and his golf game, remain a work in progress. Rory came into this week ranked No. 15 in the World, the lowest he's been since November 2009. The semi-slump prompted him to begin seeking Cowen's counsel at the Players Championship, where he opened with 79 and missed the cut badly. His next start, at the Masters, wasn't much better, and he fired up the private jet on Friday afternoon yet again. Next came a week of rest at the Ocean Club—"It looked cool on James Bond, so I went there"—before grinding away back home in South Florida.
On Friday in Charlotte, he hit just five of 14 fairways and still gained over a shot on the field off the tee, a distinctly modern statistic that prompted a jovial "take that, traditionalists." It was his iron play that sparkled; he hardly ever short-sided himself and looked in firm control of his ball. His level of comfort around this pristine place cannot hurt—this is the site of his first-ever PGA Tour victory, back in 2010, and he has another win and five more top-10s to round out his seven starts at Quail Hollow.

McIlroy said his decision to abandon the draw was based on feel, rather than any data analysis. But it's sure to please the growing number of statisticians who implore players to stick with one shape off the tee.
Perhaps the seminal display of one-shape golf came last month at Augusta, long-considered the ultimate "shot-maker's course." Zalatoris, who has worked with stats guru and one-shape advocate Scott Fawcett since he was a child, ignored that chatter and hit exclusively cuts with his driver. On holes like 10 and 13, where a draw is preferred, he simply pulled 3-wood. It's really not that complicated.
The logic is this: There isn't a human being on the planet who is perfectly comfortable shaping their driver both ways, and trying to work a ball against your normal shot can lead to the double-cross—which is exactly what happened to McIlroy on the 14th hole on Friday.
"It was me trying to hit draw with driver," McIlroy said of the wild miss, which finished a good 50 yards right of the fairway. "I should have probably just hit 3-wood like I hit yesterday, but it was back into the wind a little bit more and I felt I wasn't able to get 3-wood close to the green. So I tried to hit draw, didn't commit to it, came out of it. Actually, in the air I thought it was probably going to go out of bounds."
He wound up making birdie, the product of a fortunate drop and a wonderful wedge shot to tap-in range. But that's beside the point, and McIlroy knows it. The cut is here to stay.