PGA Tour
Rory McIlroy plays good golf, and has good conversation, on Day 1 at the CJ Cup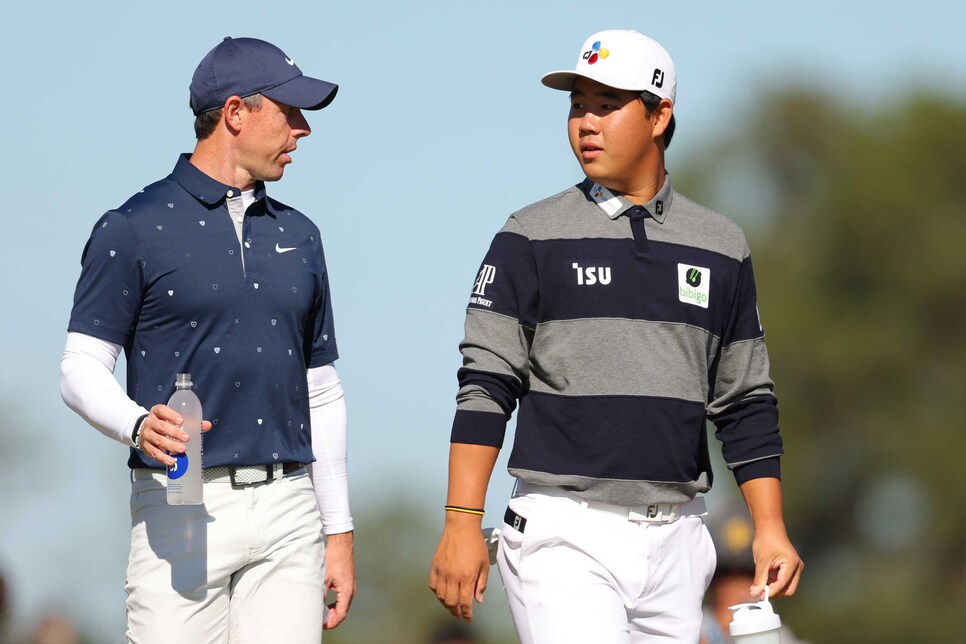 Rory McIlroy and Tom Kim played together for the first time on the PGA Tour, each shooting opening-round 66s to sit one off the Day 1 lead at the CJ Cup.
Kevin C. Cox
RIDGELAND, SC. — As good as Tom Kim has been playing, the burgeoning South Korean star admitted he felt overwhelmed at times while watching Rory McIlroy drive the golf ball during the first round of the CJ Cup at Congaree Golf Club.
Indeed, McIlroy was driving it as good as he ever has. The four-time major winner hit 11 of 14 fairways with an average driving distance of 329 yards. Three times McIlroy launched it more than 350 yards.
"It's something you can't copy," said Kim, who has won two PGA Tour events in his last five starts as well as made a splash for the International team at the Presidents Cup. "It was really hard to play my own game sometimes. Seeing the lines he took; [on one hole it was] like 380 to run out [of fairway] and he was [telling the ball to] sit. I was like, 'Really? Sit?' It was 380, but he almost made it. Things like that."
Not even McIlroy appreciated how well he was hitting it off the tee. On the shorter par-4 15th, McIlroy blasted a 354-yard drive to the green and two-putted for an easy birdie.
"I hit while the guys in front were on the green because I didn't think I was getting quite as far up as I did, so I had to give them a little wave and apologize," McIlroy said.
By day's end, the tournament's defending champion had posted a five-under 66 that left him one shot behind Trey Mullinax and Gary Woodland.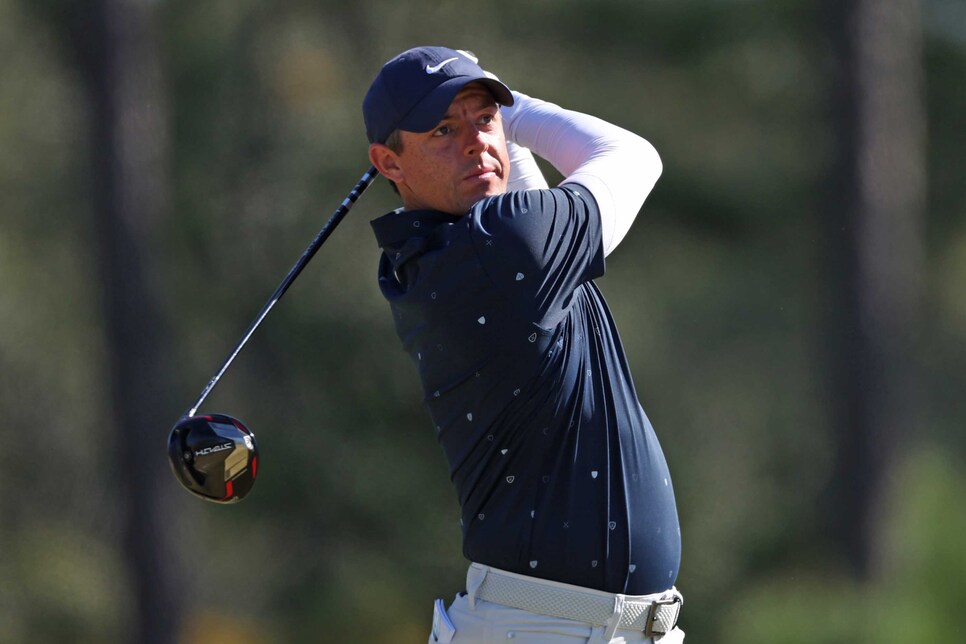 Rory McIlroy had his driver dialed in on Thursday at Congaree Golf Club, hitting 11 of 14 fairways and averaging 329 yards off the tee.
Gregory Shamus
While Kim might have watched in awe, he played pretty well himself, shooting a matching 66. This despite being 40 yards behind McIlroy on almost every hole.
During the round, the first in which they've been paired on the PGA Tour, the 20-year-old Kim took advantage of playing with the tour veteran, picking McIlroy's brain on various topics. At one point Kim curiously asked him about speed training, knowing McIlroy had dabbled with it in the wake of Bryson DeChambeau's 2020 U.S. Open win at Winged Foot.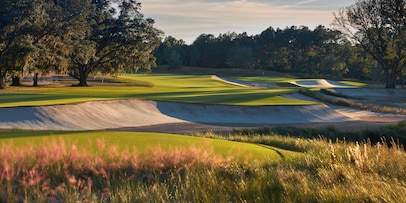 Tom Fazio has designed countless compelling golf courses on sites that weren't. But at Congaree, 30 minutes inland from Beaufort, S.C., he at least had great material: sand, in the form of two deep sections of it separated by a lowcountry wetland area. The sand made it easy to scoop and shape long ridgelines, creating significant movement across an otherwise level property—and dozens of stately live oaks, carefully transplanted for effect—further outline the design. Finely edged Melbourne-style bunkers sweep up to the edges of fairways and into greens, catching shots that drift too far and leading to challenging hi-lo recovery situations. Congaree hosted the 2022 CJ Cup after making its debut as a tour venue for the previous year's Palmetto Championship, which replaced that year's Canadian Open.
View Course
"I was like, 'no no, no, no,' " McIlroy said. "I think as he gets a little older and maybe a touch stronger, he'll get that naturally. Nut I was like, 'Do not go down that path, you're good the way you are.'"
Added Kim, who averaged 289 yards off the tee Thursday: "The most important thing for me today was trying to play my own game and not look at his [driving] lines, but it was still so much fun.
To take Kim's mind off driving distance, McIlroy chatted to him about fast food of all things.
"I know he likes fast food, so I asked him [if he prefers] Chick-fil-A or Popeye's and he told me he hasn't had Popeye's yet," McIlroy said with a laugh. "So I said, 'no, you've got to have Popeye's, I think it's better than Chick-fil-A.'
"[We also talked about] the fact he got a place in Dallas and that he practices at Dallas National and Trinity Forest. Just a lot of golf chat."
The easy conversation seemed to help McIlroy, making his first PGA Tour start since winning the Tour Championship and FedEx Cup title in August, relax as well considering the stakes this week in South Carolina. With a victory, McIlroy could return to No. 1 in the World Ranking, a spot he hasn't occupied since July 2020.
"Obviously, I have a chance to do it this week, but I'm proud of the fact that I've at least given myself a chance again," Mcilroy said on Wednesday. "The last [time at No. 1] we were coming back from the lockdown from COVID in July 2020, and I feel like my game and my life has changed considerably since then, so it's nice to have the opportunity again."
Should McIlroy pass current No. 1 Scottie Scheffler, it would be the ninth different time the Northern Irishman has been atop the OWGR. But there is hardly a been there, done that feeling to the situation in McIlroy's mind.
"This is a point of pride for all of us out here to be highly ranked, and to get to No. 1 in the world at whatever you do is an unbelievable accolade and something that you should be proud of."