The Loop
Rory and Tiger are enjoying the familiar ride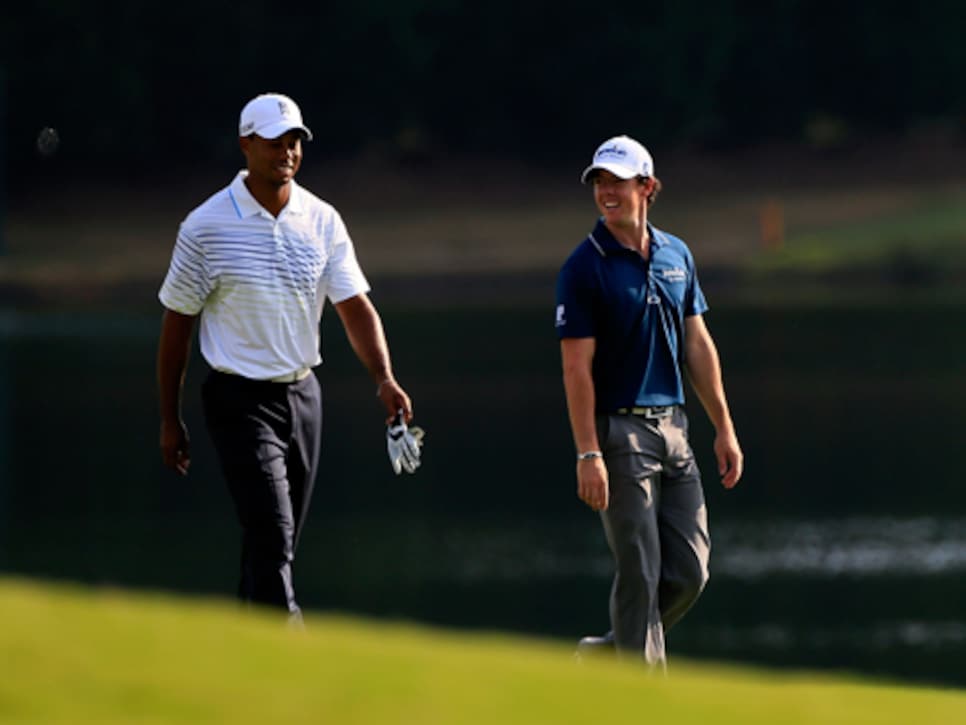 ATLANTA, Ga. -- Despite the comedic offerings of the baton-passing Greg Norman  -- who, unencumbered by excessive knowledge, was able to divine like Carnac the Magnificent that 36-year-old Tiger Woods was, in reality, intimidated by 23-year-old Rory McIlroy -- what seems to be increasingly clear is that Woods is neither envious or afraid of the youth and skill of the young Irishman; nor is McIlroy in any way awed by the elder statesman who has won 12 more major championships than he has. If anything, they seem to share a mutual respect and actually enjoy playing together, which is something they've done a lot of lately.
Woods and McIlroy have kicked off three of the four FedEx Cup Playoff events paired together. Tiger was one shot better in the opening round at the Barclays while McIlroy nipped Woods by a shot the first day at BMW. Tiger put a little distance between them with a four-under-par 66 to McIlroy's 69 in the opening round of the Tour Championship at East Lake CC. It was also good enough for a share of the lead with Justin Rose. Of course, McIlroy won two of the three previous playoff events, so opening round results, like a financial prospectus, aren't necessarily indicative of future returns.
By now, neither Woods nor McIlroy can dodge the questions about one another, with or without the help of Norman. "I enjoy playing with Rory," said Woods. "He's a great kid. Over the years there are certain pairings for me that I've enjoyed and Rory is one of them. You probably don't believe this, but I get along really well with a lot of guys out here. Rory is no different. I give it, they dish it, and we have a great time. This is a fraternity out here."
McIlroy agreed. "It was great. I always say groupings like that, it's a great atmosphere, it's a great buzz. I wish I could have shot a couple shots better," he said.
Woods birdied two of the first three holes, both of East Lake's par fives and hit it close on the 12th and 16th holes against a bogey on the fourth when he didn't get up and down from a greenside bunker and another on the 14th when he lost his driver right into the deep Bermuda rough. "It's long enough but it's also thin enough that every ball is going down to the bottom," said Woods. "It's tough to get out of there. I mean, I saw Rory at 13, he missed the first cut by less than a yard and had no shot."
Rose, who along with McIlroy will be facing Woods and the rest of Davis Love III's American squad in the Ryder Cup next week at Medinah CC, rolled in a downhill 52-footer for birdie at the last to cap off his four-under-par 68.
While Woods and McIlroy are among the Fab Five who win the FedEx Cup automatically if they win the Tour Championship -- and thus control their own fate, as it were -- Rose, not so much. The scenario for the Englishman taking the $10 million goes something like this: McIlroy finishes 17th or worse; Woods in a three-way tie for fifth or worse; Nick Watney in a three-way tie for third or worse; Phil Mickelson T3 or worse; Brandt Snedeker a three-way tie for second or worse; Louis Oosthuizen T2 or worse; Sean Foley's digital video camera implodes; the entire state of Georgia runs out of barbecue sauce; and the Atlanta Falcons are flexed into prime time. Or something like that.
"From a FedEx Cup point of view, it's a position of having nothing to lose, really," said Rose. "I've only got this tournament on my mind. A lot of other guys have two trophies on their minds." And, lest we forget, Samuel Ryder makes three.