The Loop
Rory McIlroy succeeds in his salvage mission, winning European Tour Championship, Race to Dubai
It was a day to remember in a year to forget for Rory McIlroy, who in 2015 made more news kicking a ball than hitting one.
McIlroy won twice on Sunday, his victory in the European Tour's DP World Tour Championship also giving him a victory in the tour's Race to Dubai.
Now he won't have to limp off toward a new year, and instead can prance toward it, having replenished his storehouse of confidence in what now is officially a quest to reclaim from Jordan Spieth the No. 1 spot in the World Ranking.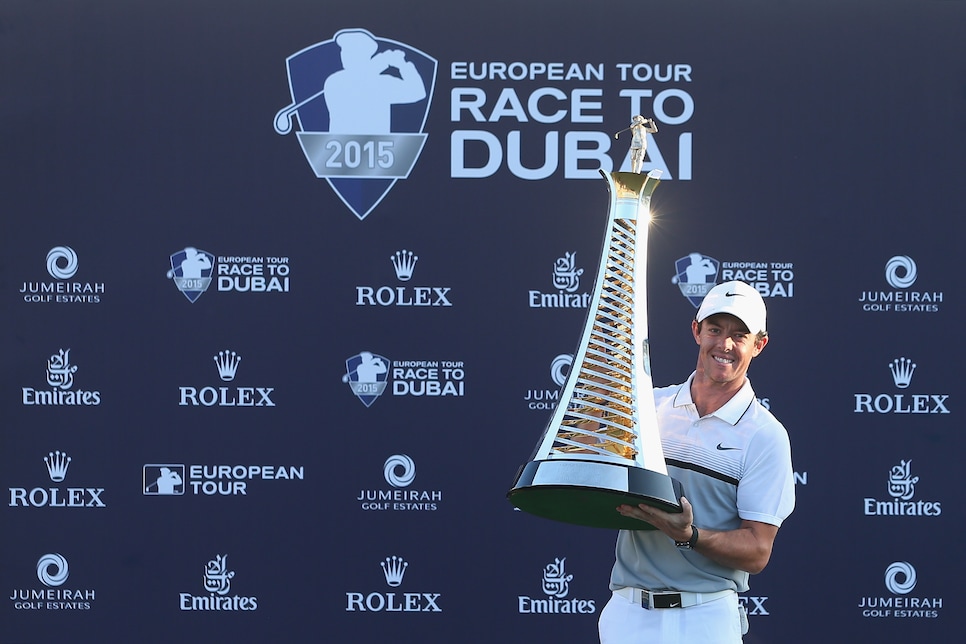 McIlroy, 26, went out and shot a 66 at Jumeirah Golf Estates in Dubai on Sunday to beat Andy Sullivan by a shot for his fourth victory of a season from which he demanded more.
The burden of expectation that allows a year with four wins to be regarded as disappointing is a testament to his skill and his standing in the world of golf. He under-delivered.
He was aiming for the Masters, the missing link to a career Grand Slam, and finished fourth. He was not a factor in the U.S. Open, then decided to have a kickabout with friends, as they say in those parts, kicking a soccer ball around. Two weeks before the British Open at St. Andrews, he ruptured a ligament in his ankle.
He missed the British Open, then returned for the PGA Championship and was not a factor in it, either.
And so he came to Dubai to salvage the year gone by and to brighten the outlook for the year ahead and did so with a splash, albeit at an inopportune time.
McIlroy took a two-shot lead into the par-3 17th hole, then hit a deplorable tee shot into the water. "It was 40 yards off line," he said. "It was just a horrendous golf shot."
Yet he regrouped quickly and holed a 25-foot bogey putt to retain a one-stroke lead that he took to the clubhouse and into next year.
"I just want to get as strong and as healthy as possible going into next year," he said, "and just keep on top of the things that I'm doing well and keep trying to chip away at the things I want to do a little bit better.
"But I think all aspects of my game are in good shape now, and I think if my game is in this shape going into next year, I'd be very happy and feel like I could do very well."
So once again, all signs point to Augusta National and the Masters, the start of a do-over for McIlroy, as though 2015 and the kickabout gone awry never happened. Amazing what a win can do.