The Loop
If McIlroy has learned how to play the Stadium Course, then watch out
PONTE VEDRA BEACH, Fla. -- This much we know about Rory McIlroy: When he has his A-game everyone else in the field becomes a B-list celebrity. Winning the 2011 U.S. Open and last year's PGA Championship by eight strokes each proves that.
What the 24-year-old lad from Northern Ireland has yet to demonstrate is whether or not he has the resolve to win when he is not playing his best. And the way he's started this Players, we may not find out this week.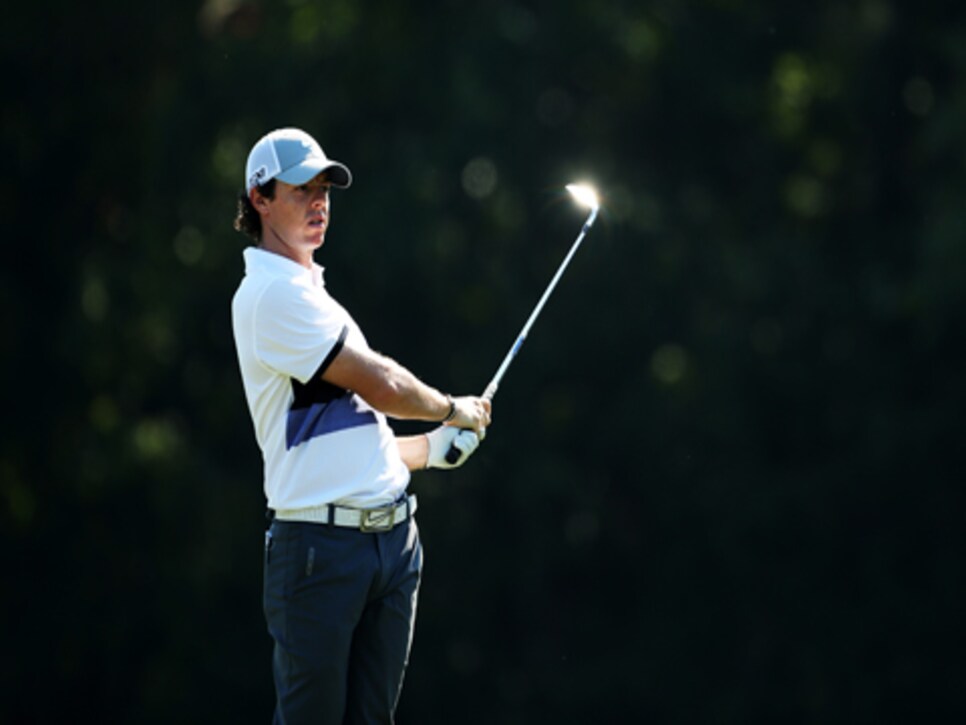 McIlroy watches his second shot on the 14th hole during the first round of The Players Championship. Photo: Richard Heathcote/Getty Images
McIlroy appears to be on his game. He also seems to have figured out how to play the Stadium Course at TPC Sawgrass, so he's got that going for him.
"I don't hit any drivers on the front nine," McIlroy said after opening with a bogey-free six-under-par 66. "I mean, I hit driver on 11 and 16 on the back nine, and one more, 14, so I only hit three drivers around this place. Now I see why I don't. . . . There is no point hitting driver off either (par 5) for me, because I'm still going to reach the green with a 3â¿¿wood off the tee, if I want to."
Remarkably, it took Rory McIlroy seven trips around the Stadium Course before he was able to break par. Now, he pretty much just needs not to lose a sleeve of golf balls in Friday's second round to make it to the weekend for the first time in four tries.
Before posting his 66 on Thursday in what may become the Vijay Singh Invitational if the 50-year-old Fijian wins his lawsuit against the PGA Tour, McIlroy's scores at Sawgrass resembled the summertime highs in San Diego -- 74, 77, 73, 72, 72 and 76.
His ball-striking was so precise on this day -- especially his iron play -- that the length of his six made birdie putts combined barely added up to one reasonable putt: 29 feet total as he turned in 31, playing the back nine first.
That was followed by a cruise-control 35 on the front side, finishing off his best career round here by six strokes in the tour's flagship event.
"It's just these [Pete Dye-designed] courses and this especially is just about getting your ball in play," McIlroy said. "Once you do that, you can . . . the way I feel like I'm hitting my irons, I can take advantage of that."
There is an axiom about the Stadium Course that long hitters don't fare well here. That's mostly true, except when a bomber is hitting a lot of fairways. Rory seems to have found a middle ground -- forget about the driver. While he missed a few fairways, he never missed badly and his iron play had the kind of precision Dye had in mind when he designed this course more than 30 years ago.
McIlroy, who came into the year as the No. 1 player in the world but started the season slowly and lost the top spot to Tiger Woods when Woods won the Arnold Palmer Invitational in March, appears to be reclaiming his form.
So far, his best effort of the year was a second-place finish at the Valero Texas Open when he closed with a 66 only to be bested by two strokes when Martin Laird closed with a 63.
The year started miserably for him when he missed the cut in Abu Dhabi, was knocked out in the first round of the Accenture Match Play and when walked of the course at the Honda Classic while in the process of shooting a million.
"I'm definitely a lot more relaxed coming in here this year," McIlroy says about flying somewhat under a radar screen jammed with Tiger and the Vijay lawsuit. " I guess in a way whatever I do this week is what I felt coming in, I'll do better than I ever have before, because I've played well and I am playing well. I feel like I've got the game to contend. I came in here with not much pressure, and just wanted to go out and play well, and that's what I've done so far."
There have been just enough hiccups in McIlroy's career to give you pause -- five lackluster major championship performances after he won the 2011 U.S. Open and three consecutive years with one nine in the 40s at the Masters -- but the obvious talent makes you think the hiccups will be cured.
And then there is this: On a week when a World Golf Hall of Fame member who has won $67.5 million on the PGA Tour and likely has more than $20 million coming in his deferred income plan sues the tour, the apparent niceness of McIlroy shines even brighter.
There is something about McIlroy that makes you feel as if the kid who cuts your grass on Saturday afternoon went out and won the U.S. Open or the PGA Championship on Sunday.
And for the first time at the Players, it appears as if Rory will survive to see Sunday. The young man appears to have reclaimed his A-game from the pawnshop and he's learned that out-thinking a golf course can be as dominating as overpowering it. It will be fun to watch him put that skill and knowledge to use the rest of the week.