The Loop
Rory McIlroy shows no ill-effects, shoots 65, takes two-stroke lead in WGC-Mexico Championship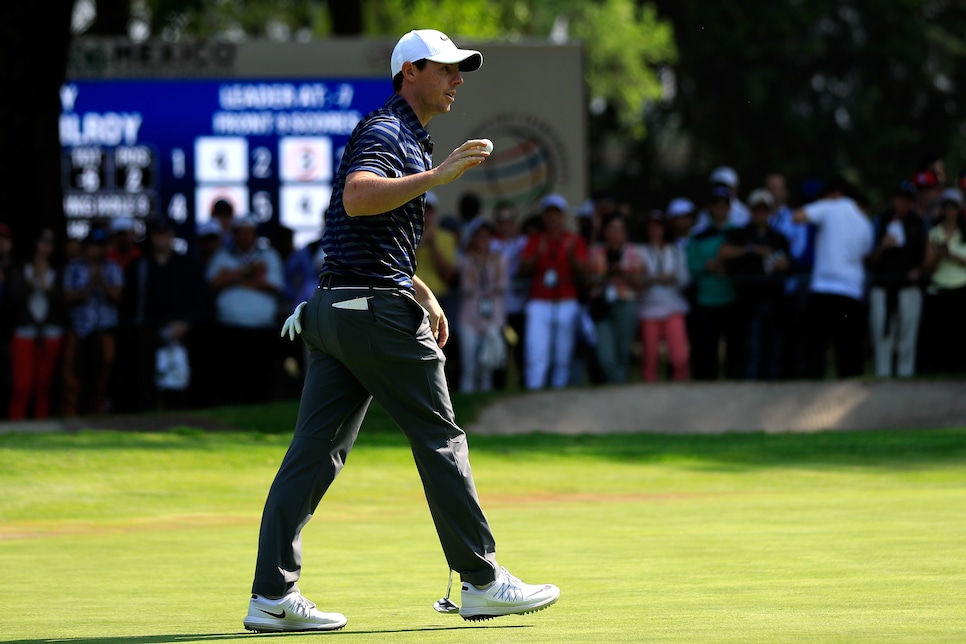 MEXICO CITY -- So much for rust, or food poisoning.
Playing in his first tournament in seven weeks after suffering a rib injury, and a day after falling ill to a stomach ailment, Rory McIlroy shot a six-under 65 Friday to take a two-shot lead into the weekend at the WGC-Mexico Championship.
Phil Mickelson, Ross Fisher and Justin Thomas are tied for second at seven under.
"Way exceeded expectations," McIlroy said. "I came here not with low expectations, but I didn't really know what to expect."
A day earlier, he was just happy to get through his round after getting sick from something he ate and spending half the night unable to sleep.
On Friday, McIlroy felt much better and played like it.
After going out in 31 with four birdies sprinkled through his first nine holes, the 27-year-old four-time major winner went birdie-eagle-birdie during a three-hole stretch on the back at Club de Golf Chapultepec.
The eagle came when McIlroy holed a 9-iron from 150 yards on the par-4 14th, his ball bounding off a small hill left of the green and rolling toward the flag before finding the bottom of the cup
"Just tried to hit it really soft and cut it in there to take a bit of distance off it," he said. "It pitched a little further left than I wanted it to, but it was a nice break."
McIlroy's lead could have been even bigger if not for a sloppy finish.
He missed a seven-footer for birdie on the par-4 16th, three-putted for bogey from 20 feet on the par-3 17th, and missed a 3 1/2-footer for birdie on the final hole.
Still, he was pleased with his position.
"I've always felt like I've played well coming off a bit of a layoff, but it's different when you come off a layoff with an injury," McIlroy said. "So I really didn't know what to expect but physically I feel really good.
"Coming in here this week, I definitely would have taken a top 10, it would have been a great start to come back, but I'm in a great position and I can think about trying to win this thing."
He'll have to hold off plenty of big names in order to do so.
There are 13 players within four shots of McIlroy heading into the weekend, including the No. 1 player in the world Dustin Johnson, who is tied for fifth three strokes back after a 66 that included three birdies over his final four holes on Friday.
Mickelson, meanwhile, worked his way into contention with a 68 despite being without caddie Jim Mackay for most of the round.
Mackay was suffering from a stomach virus, and Mickelson's younger brother, Tim, took over the bag on the fourth hole of the round.
Thomas, meanwhile, had a wild finish to his day, sandwiching five birdies and a par around a pair of bogeys. He shot 66.
Even with so many big names behind him, McIlroy is feeling good about his chances.
"Anytime you're up at the top of the leader board at a World Golf Championship with the best players in the world around you, your confidence has to be pretty high," he said. "Again, to be at the top of the leaderboard and going into the weekend, yeah, it is a bit of a confidence boost."