The Loop
Rory McIlroy showing signs that 2014 will be different than 2013
ABU DHABI, United Arab Emirates -- "I'm confident again. I'm playing well. I'm driving well. And that has always been the foundation of my game."
Exactly one year on from one of the lowest moments of his still-fledgling professional career -- an inglorious missed cut achieved with a sparkling new set of Nike clubs peeping from his bag -- that was Rory McIlroy's fulsome verdict on his opening round of 70, two under par, in the HSBC Abu Dhabi Championship.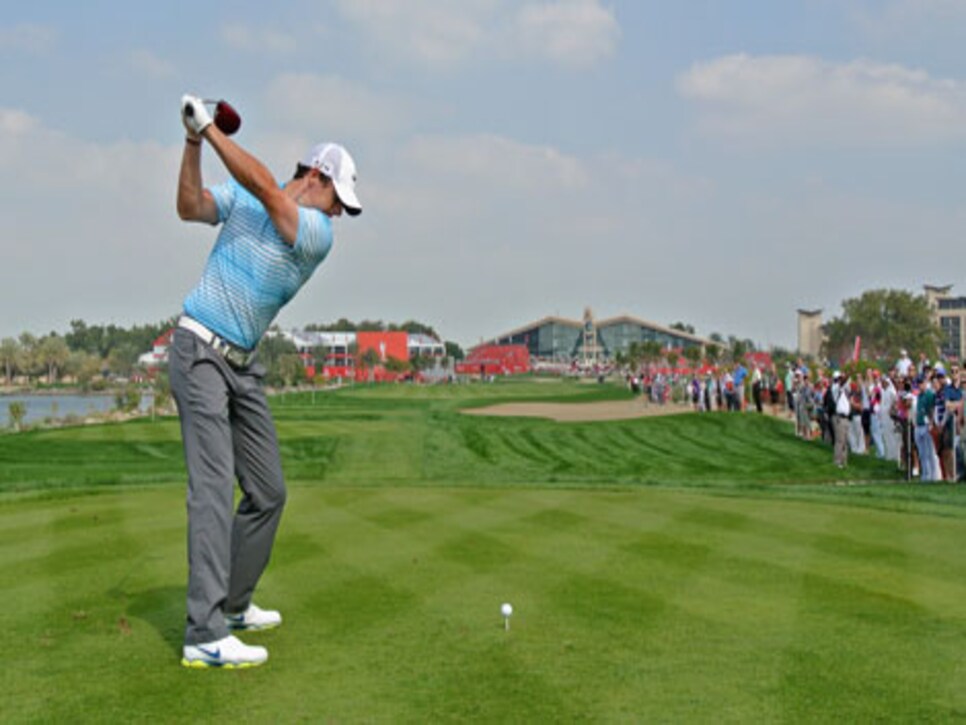 "I was very happy with how I struck the ball tee-to-green," he continued, a wee smile continually playing across his cherubic features. "I just didn't take advantage of some of the opportunities I gave myself. So it was definitely a round that could have been a little bit better."
The 24-year old newly engaged Irishman -- fiance Caroline Wozniacki won her match at the Australian Open tennis while McIlroy was on the course -- speaks the truth. This was an often-breathtaking display of ball striking reminiscent of his superior play in 2011 and 2012 and deserving of a lower score by the close. Consistently long and straight off the tee on a course labeled "dangerous" by Sergio Garcia because of the thickness of the long and lush rough, the two-time major champion was bogey-free but frittered away a number of birdie chances inside 15-feet. A 66 would have been a more realistic reward for his impressive efforts.
That small caveat aside, a once familiar bounce was back in the McIlroy step, one that augurs well for at least the immediate future of the world No. 7. Yes, he was understandably a little disappointed by his opening effort. But a more realistic appraisal of his current status is almost 100 percent positive. It is no exaggeration to say he is rapidly approaching the sort of form that saw him win the 2011 US Open by eight shots and the 2012 PGA Championship by the same yawning margin. He was nearly that good.
"The combination of driver and ball I'm using is one I'm extremely comfortable with," he claimed, not without either evidence or justification. For example, the drive and fairway wood McIlroy struck into a fresh breeze on the uphill 597-yard par-5 8th will live long in the memory of those who witnessed them. On a hole where playing partner Phil Mickelson (who atypically failed to make a birdie in his 17-par, one bogey 73) needed a 7-iron for his third shot, McIlroy was a mere ten yards short of the putting surface in two. That he failed to make what should have been a routine birdie was, however, symptomatic of his ultimately unfulfilled day.
Still, McIlroy is a golfer on the rise. After a frustrating 2013 dominated by off-course "stuff" involving changes in management and subsequent legal actions, the club switch from Titleist to Nike and seemingly endless and spurious speculation over his relationship with Wozniacki, the newly-minted Australian Open champion is looking and playing like a man with less on his mind.
"I'm feeling the benefit of ending last year well and then starting this year with a lot of hard work," he said of his win Down Under and the week-and-a-half of concerted practice he has just completed in nearby Dubai (12-hour days in the gym, on the range and on the course). "That was my first competitive round since the start of December and I drove the ball as well as I have in a long time. I'm starting to hit the ball very well."
Which is where we came in. He's on the way back, folks. He can feel it and we can see it.