Tour Championship
Rory McIlroy puts together one of the more psychopathic scorecards in recent memory at East Lake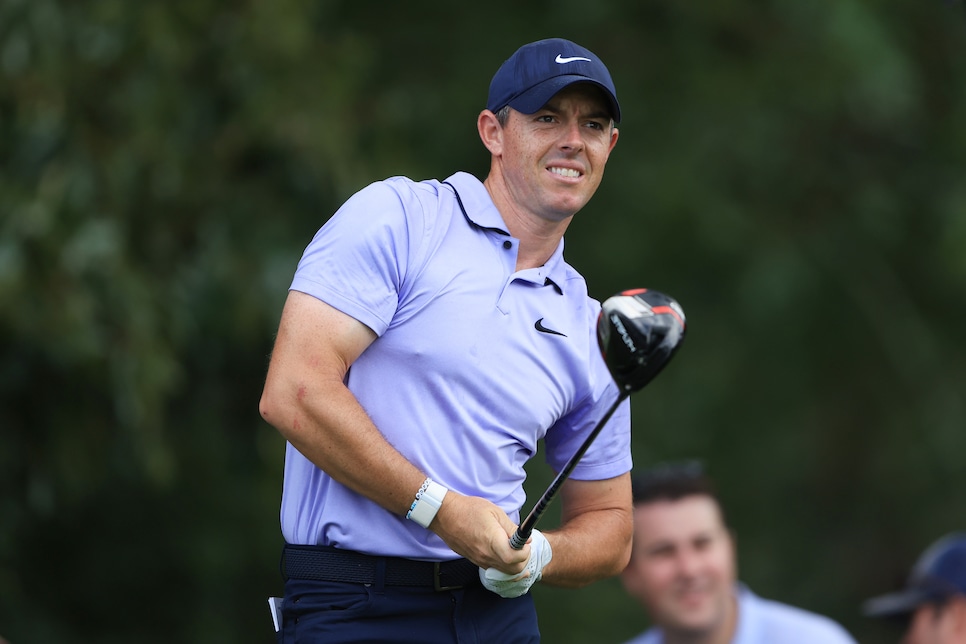 For those of you who do not live on Golf Twitter (lucky you), a quick explainer: a "pyscho scorecard," a term coined by our good friend Shane Bacon, is a scorecard that features all kinds of chaos. Eagles, birdies, doubles and triples, hell, a 9 or a 10, too (looking at you, Collin Morikawa). No one is immune to its allure. Tour pros, single-digit handicappers, high handicappers. Everyone goes pyscho once in awhile.
This includes Rory McIlroy, a two-time winner of the Tour Championship and FedEx Cup who normally feasts at East Lake, which made him a popular come-from-behind pick this week. But before he reached the second tee, his six-shot deficit to Scottie Scheffler became a nine-shot deficit thanks to a disastrous triple bogey to begin his round. His tee shot at the opening par 4 went out of bounds, and his third shot found a fairway bunker. From there, he came up short of the green with his fourth, putted his fifth to six feet and then missed the short double-bogey effort for a swift kick to the teeth to start his day.
What happened after became the stuff of pyscho-scorecard legend. McIlroy bogeyed the second, birdied the third, bogeyed the fourth, birdied the fifth, and then chipped in for eagle at the par-5 sixth:
McIlroy did not record his first par until the very next hole, the par-4 seventh. And all he did after that was birdie the eighth to climb all the way back to four under, even par for the day. Feast your eyes on this bad boy: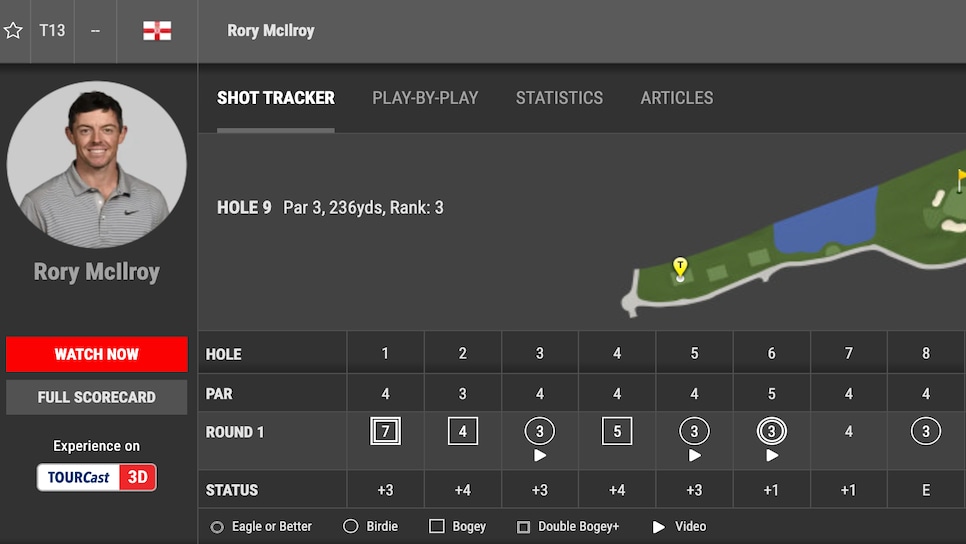 Even par all the way, baby. The beauty of a good pyscho scorecard is how much better it looks than, say, eight straight pars. They are both even par scorecards, but one just looks a hell of a lot more fun, at least for us to look at. We doubt it's fun for Rory, though he did crack a smile for that bounce-back eagle.
At this point, we guessed that Rory would have signed up for 10 straight pars to finish right now, but it would be a lot cooler if there were four or five more circles on the way in. And sure enough he did just that, making five birdies on his last 10 holes. However, he also made two more bogeys, too.
McIlroy ultimately posted the most amazing three-under 67 you'll ever see, complete with one eagle, eight birdies, four pars, four bogeys and a triple. Pure psycho, for sure.
"I knew my game was good, it was just one of those things," McIlroy said afterward. "But not the ideal way to start, but proud of how I bounced back from that. I would have been happy just to get back to even par after the first few holes, but to shoot three under was great."
McIlroy also reminded us all that at the 2016 Deutsche Bank Championship, he was four over for his first three holes and went on to win the tournament. But he's got a lot of work left if he's going to do that this week. Thanks to the staggered-stroke start, McIlroy began the day six shots back of Scottie Scheffler. And then when Scheffler posted a five-under 65, he extended his lead over McIlroy to eight shots.