The Loop
Rory McIlroy puts Tuesday's long drive attempt to shame with Thursday's BOMB on No. 1
SPRINGFIELD, N.J. -- Rory McIlroy said he was "a little bit gutted" to lose Tuesday's long drive contest at the PGA Championship by two yards to Byeong Hun An. Too bad his tee shot on Baltusrol's first hole on Thursday didn't count.
Coming off a 39 to open his tournament, including short birdie misses on 17 and 18 -- Baltusrol's only two par 5s -- McIlroy walked to the first tee with a little extra fire in his step. And his golf ball took the brunt of that frustration as the four-time major champ unleashed a drive on the same line as his long drive attempt on the 478-yard par 4. Only this time, it went farther. Much farther.
By the time McIlroy's ball had stopped it was in the left side of the fairway 360 yards away, 15 yards past Tuesday's poke. Unfortunately, there's no video of the mighty lash, but here's what it looked like on PGA Tour Shotlink: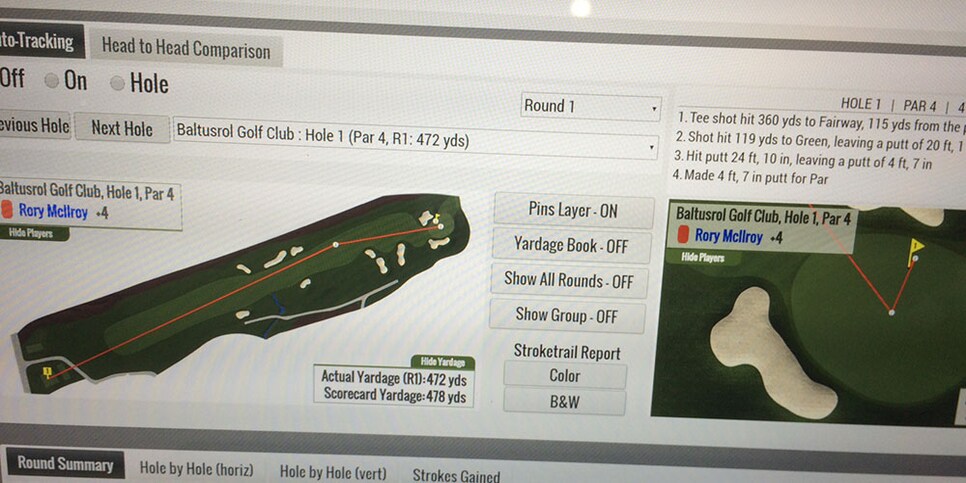 And in case you're wondering what Rory's playing partners did off that tee, they hit impressive shots as well. Jason Day's drive went 319 yards and Phil Mickelson's went 317 yards. Still, they were both separated from McIlroy's drive by more than the length of a basketball court.
What McIlroy couldn't do, however, was use the vicious clout to turn his round around. He only managed par and then bogeyed the next hole to fall to four over. In other words, that 360 mark on No. 1 could be in danger when he tees it up on Friday afternoon.