The Loop
Rory McIlroy puts a tidy bow on the most untidy of finishes
LOUISVILLE, Ky. -- What they should have done, there in the gloaming, was load up the Wanamaker Trophy and drive that beauty down the 18th fairway to Rory McIlroy.
We knew about his gifts. Now we know about his guts.
The first three majors he won, he won walking in the sun. This one was a walk in the scary dark.
There he was, somewhere below the 18th green, barely visible, waiting to hit the final shots in a tournament that may be a pivot point in golf history. Only Jack Nicklaus and Tiger Woods won four majors at a younger age than McIlroy, three months past his 25th birthday.
Come next April at the Masters, McIlroy can complete a career Grand Slam -- a feat achieved only by Nicklaus, Woods, Ben Hogan, Gene Sarazen and Gary Player.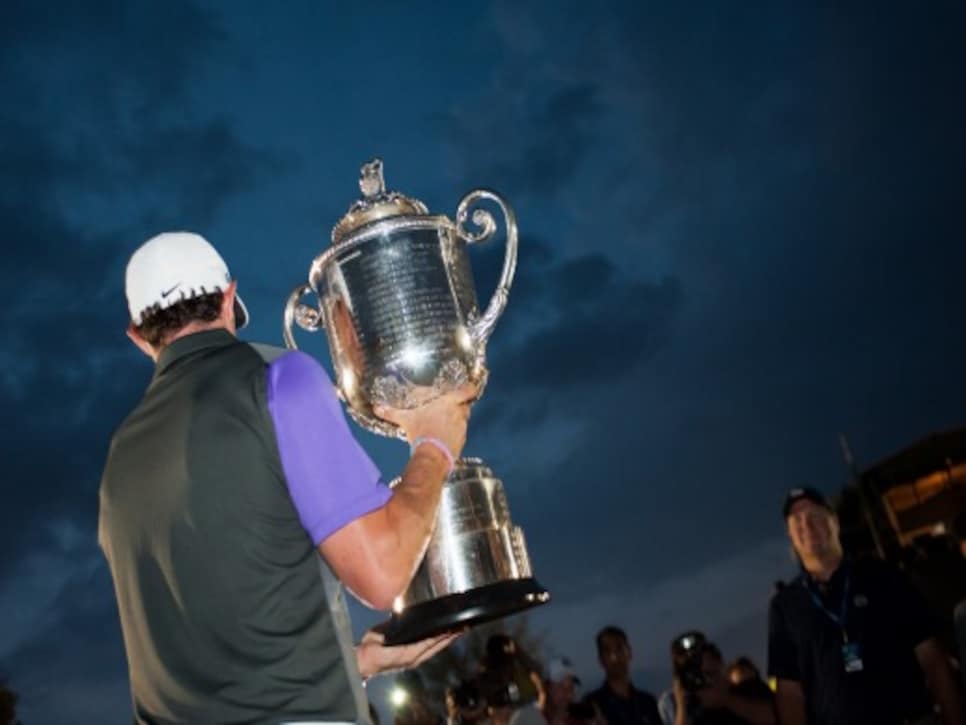 Wait. That 3-wood. It is not nearly enough to speak of that shot as a 3-wood. On the 590-yard par-5 10th hole, it was the goodgawdalmightiest shot of McIlroy's young, happy, charmed life. It was a low, screaming, hard-running shot that traveled 281 yards and quit rolling only when it was 7 feet 4 inches from the flagstick. Make that putt, it's an eagle. Make that putt, he announces to Mickelson, Fowler and all with ears to hear that, suddenly, the game is on.
He made the putt. Of course. Heroes do that sort of thing when it must be done.
Later, when the assembled press leaned forward to hear McIlroy's account of his 10th-hole thrill ride, the kid did the best possible thing.
He told the truth. "I didn't hit a very good shot there," he said. "The ball flight was probably about 30 feet lower than I intended, and the line of the shot was probably 15 yards left of where I intended. It was lucky, it really was."
Then he told the truth again. "You need a little bit of luck in major championships to win and that was my lucky break. I didn't hit a very good shot there, but it worked out well, and I made eagle from it."
Birdies at the 13th and 17th, wrapped around bogeys by Mickelson and Fowler, brought McIroy to the 18th tee needing only a par on Valhalla Golf Club's easiest hole to win his third straight tournament and back-to-back majors, this one a month after the British Open.
It's a $10 million tournament, this PGA Championship. But in its last, fading minutes, it took on the look of an accounting firm's holiday scramble. McIlroy struck his tee shot on the 16th hole before Fowler, in the twosome ahead, hit his second. Then, on the 18th, after Fowler and Mickelson teed off, McIlroy was again given permission to fire away.
Moreover, McIlroy said, "I suggested that we play up as a four."
A foursome on the 72nd hole of a major?
And, while they're at it, why not take the Wanamaker down there where it belonged?
It would have been the PGA's best move of the day. Officials already put their event at risk of postponement or extension into Monday by not moving up tee times in the face of weather forecasts calling for afternoon rainstorms. With the delay ordered when a storm did arrive -- one hour, 50 minutes -- it seemed possible, even likely, that the final two pairings would not finish before it was too dark to play.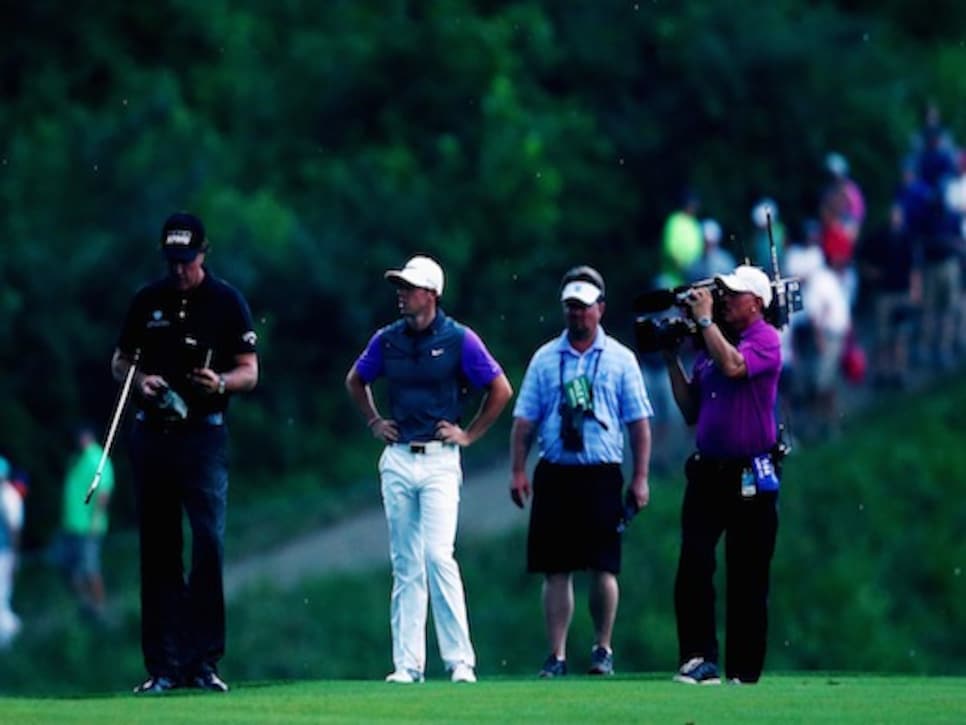 "They didn't need to do that that, they could have just left us on the tee box there and just play normally," he said. "But they showed a lot of class and a lot of sportsmanship by doing that."
So everyone met up at the green, a gangsome arriving just before the daylight gave way to the Super Moon due to fill the sky. Yes, a Super Moon, an astronomical rarity, and only a Super Moon would do for this most thrilling, most bizarre, most meaningful of PGA Championships.