The Loop
Rory McIlroy just had the best putting performance of his PGA Tour career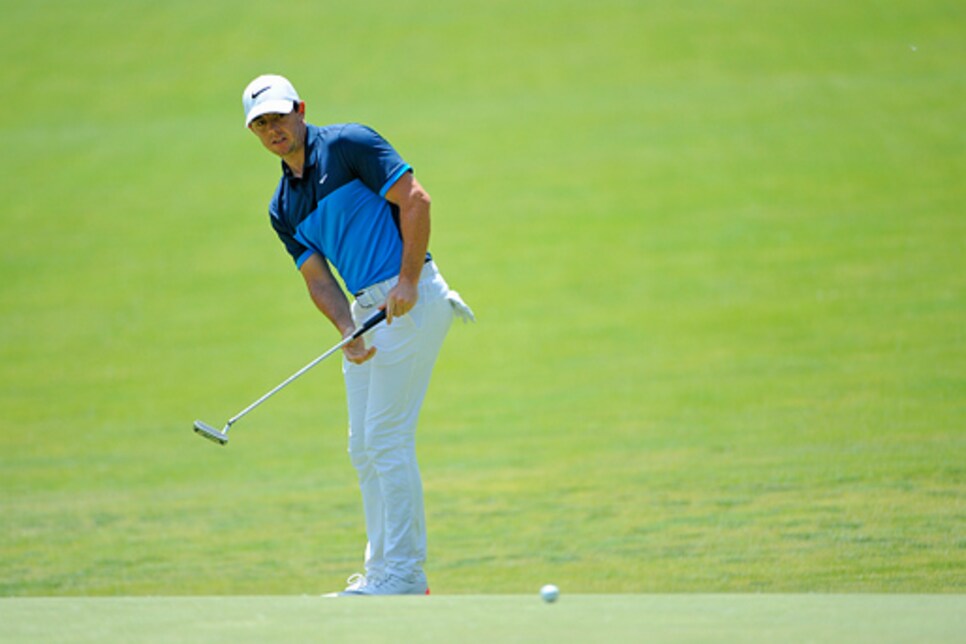 Rory McIlroy's return to a conventional putting grip just two weeks before the U.S. Open seemed like a panic move by the four-time major champ. But his performance on the greens at the Memorial indicate McIlroy made the right choice. Now, it might be his peers who are panicking.
Perhaps, that's a bit strong, but McIlroy's putting at Muirfield Village was eye opening. McIlroy didn't just putt well, he putted better -- at least, statistically -- than he ever has in a PGA Tour event. McIlroy finished T-4, thanks mainly to being third in the field in strokes gained: putting (SGP) for the week. And his 1.826 average is the best four-round total of his career.
"Off the tee I was really good this week, and I feel like my putting improved quite a lot," McIlroy said on Sunday. "I feel like, if you look at the stats from my putting this week, it's actually been really good."
We'd call that an understatement.
McIlroy came into the week ranked 122nd in SGP. He left ranked 65th (Jason Day is first. Obviously.) and with a lot more confidence heading into the year's second major. Still, his timing of the switch back from a left-hand-low grip was curious, especially coming off a win at the Irish Open. McIlroy explained by saying that it was "my ball-striking alone" that won that event.
"I feel like my pace was a little off left hand low, and I feel like coming into golf courses like here where the greens are really quick, and obviously Oakmont where the greens are ridiculously fast," said McIlroy, who is No. 3 in the Official World Golf Ranking. "I felt like, to give myself the best chance of having a little bit more feel and a little bit more visualization and stuff, I just needed go back to what I've done for most of my career."
McIlroy switched to a left-hand-low grip following a missed cut at the Honda Classic. His results were pretty solid (T-3, T-27, 4, T-10, T-4, T-12) using it, but obviously, McIlroy is frustrated by not winning on the PGA Tour since last year's Wells Fargo Championship. McIlroy even won that event despite ranking only 20th in SGP that week.
The only time McIlroy ranked higher for SGP during a tournament came at the 2012 Deutsche Bank Championship when he was second in the field. However, his SGP during that win (1.658) didn't match what he did for his four rounds last week at the Memorial.
McIlroy's best season of putting on tour came in 2014 when he finished 41st in SGP with a .274 average. He's only finished in the top 100 one other time in his career (88th in 2012).
But perhaps, going "back to what I've done for most of my career" will produce better results this time around. It's just one tournament to go on, but it was quite a (re)start.