The Loop
Rory and Jagermeister: An unauthorized history
The pictures of Rory McIlroy and the claret jug have been flowing since his win at Hoylake. And apparently, the Jagermeister has been flowing among his inner circle as well.
Not that we should be surprised.
McIlroy, 25, has had a long, eventful history with the dark syrupy drink, which is impressive. There aren't too many people who could stomach a long history with Jager. We start in 2010, when a 21-year-old McIlroy tweeted this the day after Europe's win over the U.S. at the Ryder Cup in Wales:
"What a week!! Think I'm still drunk! Jagerbombs out of the Ryder cup! Great banter with euros and Americans last night!"
A "Jager Bomb" is a Jager and Red Bull concoction. It's also the key that unlocks McIlroy's inner dance machine:
@GaryBoyd86 @TheRealDjSpoony i only dance with a few vodbulls or jagerbombs on board! And lucky for me there won't be any of those tonight!
Unfortunately, there aren't any photos of McIlroy dancing. Yet.
In a 2011 interview with ShortList Magazine, McIlroy confirmed his game plan when it comes to drinking. Like his strategy on the golf course, it's aggressive:
"I try to start on beer to start off slow, but then I tend to get into vodka Red Bulls and Jagerbombs."
Rory just drinking beer would be like Rory trying to hit all irons off the tee. Rory don't play that!
Then, there was the infamous night of February 17, 2011. It was a Thursday night, but McIlroy, who has a history of Friday struggles on the course, wasn't playing in a tournament that week. First, McIlroy tweeted this:
"5 Jagerbombs before midnight!! #goingtobealongnight"
Then, less than an hour later:
So much for taking it slow! The guy must have been dancing up a STORM that night. The next morning, McIlroy wrote:
Attention, fellow golfers: this is how you beat Rory McIlroy! Jager is his Kryptonite! Friend Lee Westwood, a man known to throw back a pint or two himself, weighed in on McIlroy's drink of choice later that day:
@McIlroyRory when you going to learn about the jagerbombs Rors?
But apparently, Rors didn't learn -- most guys don't until they're 25. After shooting 80 and blowing a four-shot lead on Sunday at the Masters less than two months later, McIlroy posted this picture of him presumably drinking his sorrows away: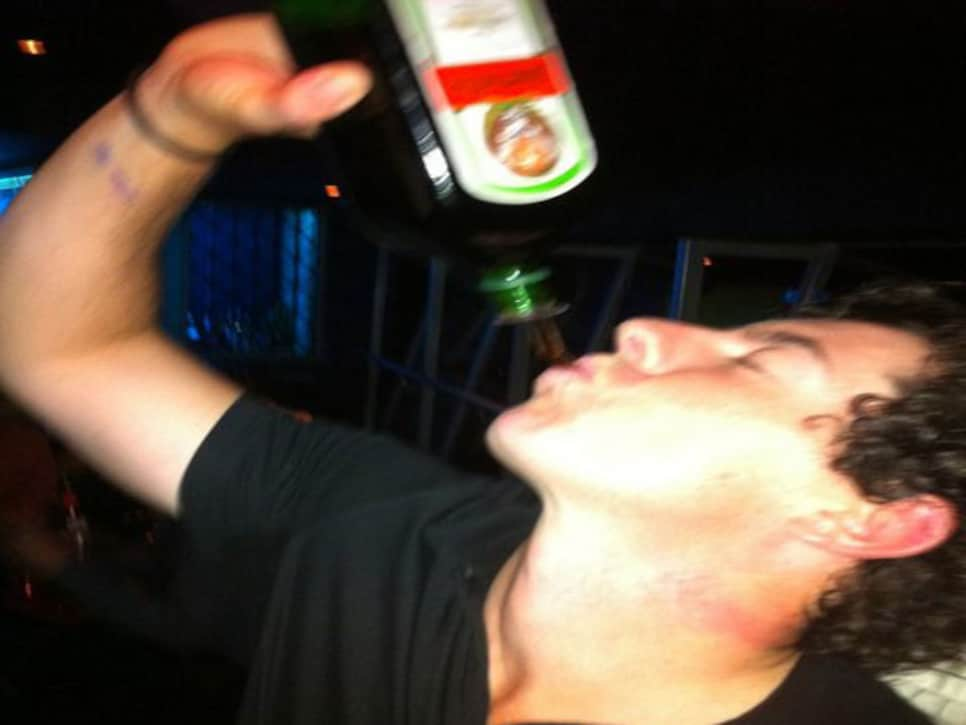 And now, three years later under much happier circumstances, Jager appears to still be a big part of McIlroy's night life (so much for that age 25 stat). In this picture tweeted by golf writer Brian Keogh, the licorice-tasting liquor (ugh, my stomach turned just thinking about it) is being poured into the claret jug as McIlroy's mom -- Jagermom? -- watches intently: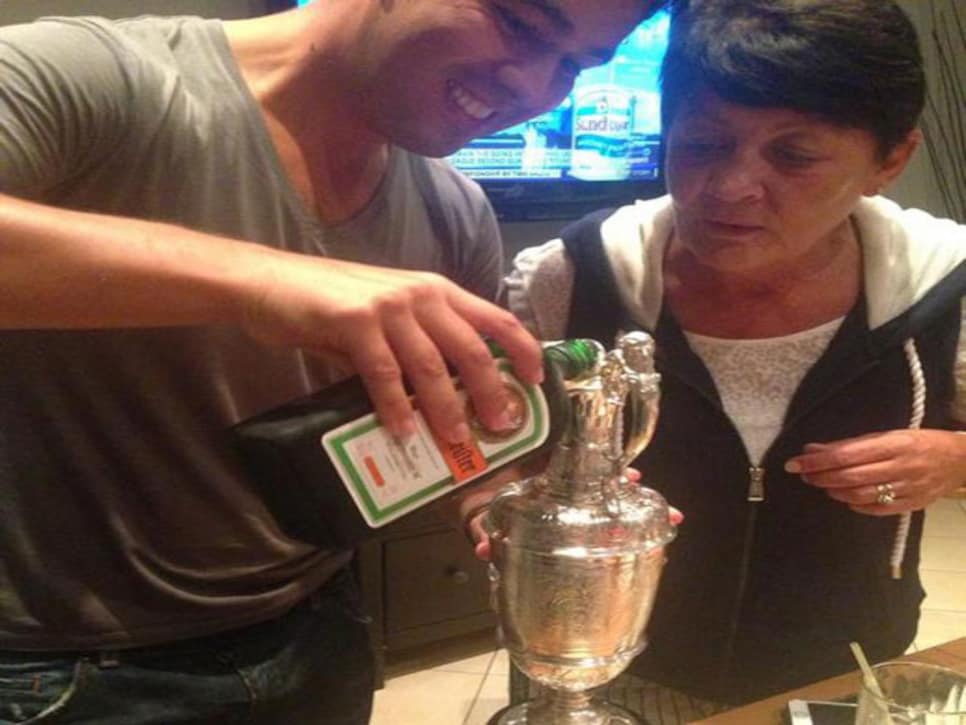 McIlroy said he'd drink "everything or anything" from golf's oldest trophy following his victory at the 2014 British Open and it seems like he didn't waste any time doing just that. So what's the score now between Rory and his liquid frenemy? We await a follow-up tweet.