The Loop
Rory McIlroy 'is just showing off now'
The two-tee start as a means of eluding a possible afternoon weather delay deprived those in the western states of seeing the third round of the British Open in its entirety, even those who woke up early on Saturday. Not that it mattered. The day could be boiled down to a 20-minute window.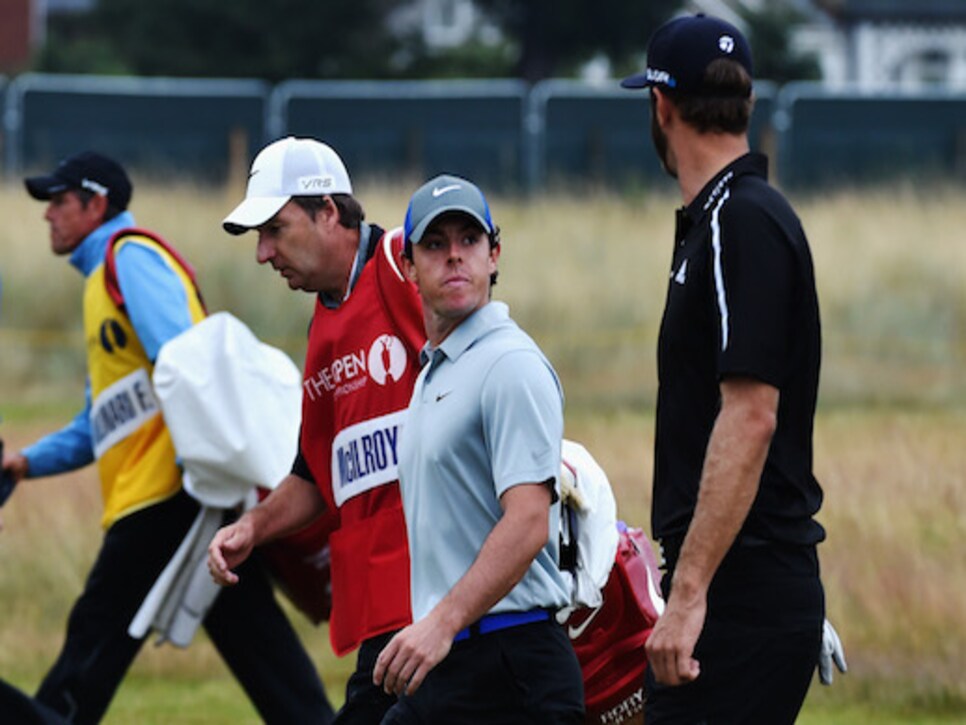 Rory McIlroy talking with Dustin Johnson (Getty Images photo)
Midway through the back nine, Rickie Fowler had pulled into a tie with Rory McIlroy when, boom, the tournament was over. Again.
Fowler made bogeys at 14 and 16 playing in front of McIlroy, who followed with a birdie and an eagle at the same holes to turn a dead heat into a five-stroke lead.
On the 577-yard par-5 16th hole, McIlroy hit driver 336 yards and a 4-iron to about 20 feet from the hole.
"To have that extra little gear you can go to," ESPN's Andy North said, "that hole's a perfect example. Driver and a 4-iron. A lot of the guys can't even get there. What an advantage."
On the next tee box, McIlroy was standing next to playing partner Dustin Johnson.
"Look at the size of Rory compared to Dustin Johnson and they hit it the same distance," Paul Azinger said. "He [McIlroy] has great width and rhythm. The power comes from the lower body and the arms and hands carry the message. Most make the big mistake in assuming that the power comes from the arms and hands, but they're more like spark plugs in a car. They can backfire."
For good measure, McIlroy hit another prodigious drive at the par-5 18th, 331 yards, then hit a 5-iron second shotfrom 237 yards to 12 feet and made another eagle to increase his lead to six going into the final round.
"He's just showing off now," Azinger said.