The Loop
Rory McIlroy: 'I'm happy with where I am now'
PALM BEACH GARDENS, Fla. -- There was no mention of whether he ever fixed that pesky wisdom tooth, but plenty of other things have changed since Rory McIlroy hastily pulled out of last year's Honda Classic, perhaps the low point to a disappointing year for the two-time major winner.
"Yeah, there was a lot of things going on at that time," McIlroy said Wednesday at PGA National Resort, recalling last year's messy withdrawal midway through the second round. "Obviously my game wasn't where I wanted it to be. My mental state wasn't quite where I needed it to be. There were a few things occupying my thoughts that probably didn't need to be and shouldn't have been, but it was just a very difficult time."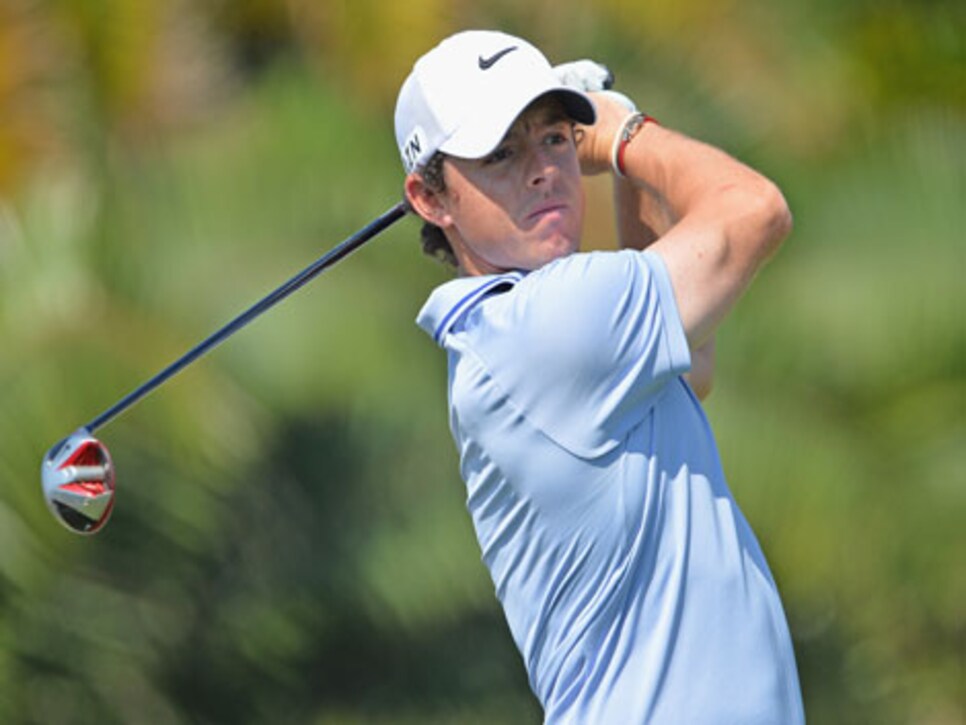 The defending champion after holding off Tiger Woods and Tom Gillis by two strokes in 2012, McIlroy stomped off the Champion Course without finishing the 18th hole, his ninth of the day. He had rinsed his second shot on 18 after playing the first eight in seven over par. As he exited the grounds that day, he was clearly frustrated, and he said so. Later, he blamed his struggles on a sore wisdom tooth.
As he prepares for his second U.S. start of 2014, McIlroy, winless on the PGA Tour since the 2012 BMW Championship, more readily shows off a toothy smile.
"You should never walk off the golf course, no matter how bad things are," said the former No. 1 player in the world. "It was just one of these days, I just felt like I couldn't cope with anything more, especially not the way I was heading. I was going to shoot 90 -- the last thing I needed.
"It's not embarrassing because I think a lot of people in the same situation might have done the same thing," added the native of Northern Ireland, who promised he would react differently if confronted with similar adversity. "I've learned from it, and I've moved on. Yeah, I mean, it wasn't my finest hour, but at the end of the day, everyone makes mistakes.
"I'm glad that everything has sort of just been cleared up. I'm happy with where I am now."
McIlroy, 24, is in a better place for several reasons. He's in the process of concluding some legal matters related to leaving his management company and starting his own, he is engaged to one of the world's top tennis players, Caroline Wozniacki, and he has made several equipment adjustments that have restored confidence in his game.
McIlroy, No. 8 in the world (three slots higher than Wozniacki's WTA ranking), said he employed a new ball-driver combination in October, about 10 months after he switched to Nike equipment.
"The ball and the driver, figuring out what that combination is, definitely helped," he said. "I'm swinging the club much better than I have done and as good as I ever have done, and I'm very comfortable with it. It's been a lot of hard work and a bit of a grind, but I'm definitely back to a place now where I feel comfortable off the tee."
While he regrets his behavior during last year's tournament, McIlroy has no regrets about the nearly yearlong trial-and-error process with his equipment.
"You want the clubs to fit you, and it's going to take time tinkering and giving feedback and everything. But if I had to do it all over again, I'd do the same thing, because I'd rather just do it, just get six months, seven months, whatever it is, and say, okay, I don't really care about results here, I just want to make sure that this is right, and I've said this before, six months out of a 20, 25-year career isn't that much."