Timing is everything
How good is Hero co-leader Rory McIlroy playing right now? 'I wish it was the end of March'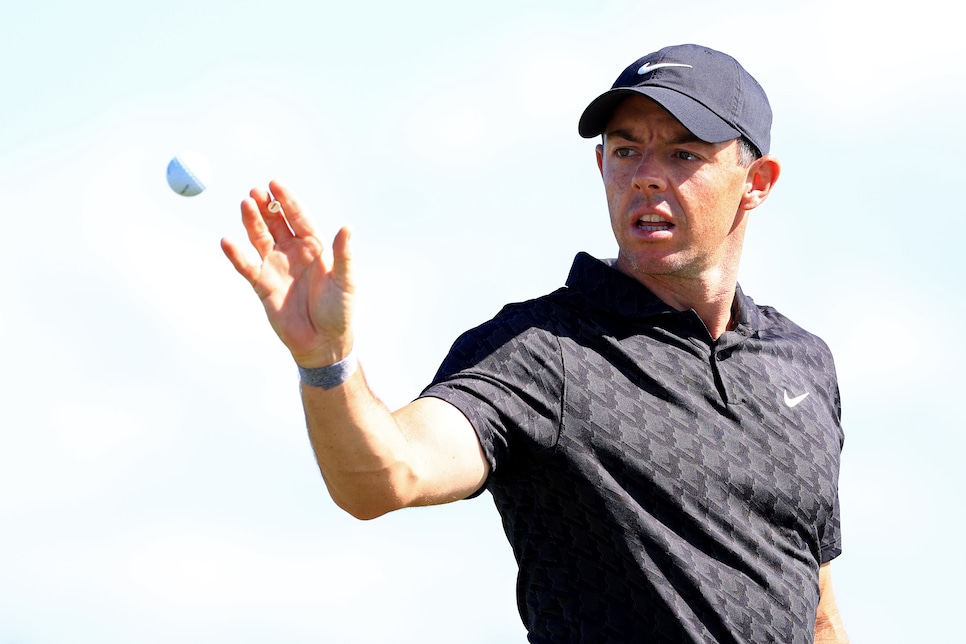 NEW PROVIDENCE, Bahamas — At Rory McIlroy's level, you don't rip shirts after a missed cut. You simply fire up the jet and try to make it home for dinner. It's the near-misses that cut deep, and blowing the DP World Championship in spectacular fashion led to that clandestine picture that went viral.
A hugely frustrating finish, for sure. But in order to blow a lead, you must have a lead. Rory did that day. He seemed set to win his second straight start, an unexpected flourish to end a turbulent year. He faltered. Collin Morikawa won instead. And that poor shirt.
McIlroy has one last chance in 2021 to flush away that collapse, make this a three-win year and restablish himself in the best-in-the-world conversation. And he's off to the perfect start. Despite playing Albany's five par 5s in even par—including a water-ball double at No. 9—McIlroy played the other 13 holes in six under par to post 66, good for a share of the first-round lead at the Hero World Challenge with Daniel Berger and Abraham Ancer. His teary breakdown at the Ryder Cup looks increasingly like a turning point.
"I feel like I found something those few weeks between Ryder Cup and CJ [Cup]," McIlroy said on Thursday. "CJ was a bonus, like that [win] sort of came out of nowhere and gave me some confidence. I had the lead going into the last day in Dubai, had the lead with four holes to go and got off to another good start here. The three starts since the Ryder Cup have been really good, I've shot some good scores, low scores. Yeah, the game's feeling a lot better and it's just another … another chance to get into contention and feel that, you know, whatever it is you feel on Sunday when you're trying to win a golf tournament. The more I can just get into that position and sort of have those experiences, the more comfortable I'm going to be going forward."
What, then, did he find? Himself, it seems. McIlroy has since weened himself off of coaches and taken ownership of his golf swing. You may not believe that a 32-year-old with dozens of professional victories and millions in the bank would have self-belief issues, but he did.
"I feel like the last couple weeks I've realized that just being me is good enough," McIlroy said after winning the CJ Cup, "and maybe the last few months I was trying … not trying to be someone else, but maybe trying to add things to my game or take things away from my game. I know that when I do the things that I do well, this is what I'm capable of. I'm capable of winning a lot of events on the PGA Tour and being the best player in the world."
McIlroy was the best player in the world before the world stopped. His post-COVID hiatus play starting in mid-2020 hasn't been all bad—two victories, plus a chance to win this year's U.S. Open on Sunday—but the four-time major champ has seemed a bit aimless. No longer. The only downside to all this is the timing: McIlroy's first tournament of 2022 will all but certainly be the Abu Dhabi HSBC Champions event on the DP World Tour, which doesn't begin until Jan. 20. He'll return to Florida after this week for a month-plus break. He'll be wearing his Dad Hat. This will be the first Christmas that his daughter, Poppy, will have any clue what's going on, and he wants to be present for that.
"It sucks," McIlroy said of the timing of his game coming around, with a smile. "I wish it was like the end of March."
And while a number of players put the sticks away for a good chunk of time during the holidays, McIlroy figures he'll still head to the golf course a few times per week. The reason is simple.
"I'll get out there and play and practice, just not take a complete break like I've done before," he said. "Because my game's in good shape, and I want to keep it there."