The Loop
Rory McIlroy eyeing a big year as he starts his U.S. swing at Match Play
MARANA, Ariz. -- You can hear the difference in his voice. Instead of uncertainty, there's confidence. Rory McIlroy knows he could've -- maybe even should've -- won in Abu Dhabi and Dubai, where he finished second and ninth.
McIlroy also knows that he has four top 10s in four official tournaments played in since November.
That's why when McIlroy addressed the media for the first time in the United States this year, on the eve of the WGC-Accenture Match Play Championship, the 24-year-old had a completely different tone than at the start of the season in 2013, when a sluggish start and questions about equipment changes dominated the conversation.
"Yeah, I mean, definitely I'm much more settled [than I was last year]," McIlroy said Tuesday. "Just, yeah, everything is sort of in a good place. The game is in great shape, I feel. I haven't hit the ball this well for a long time.
"Compared to this time last year, it's so much different."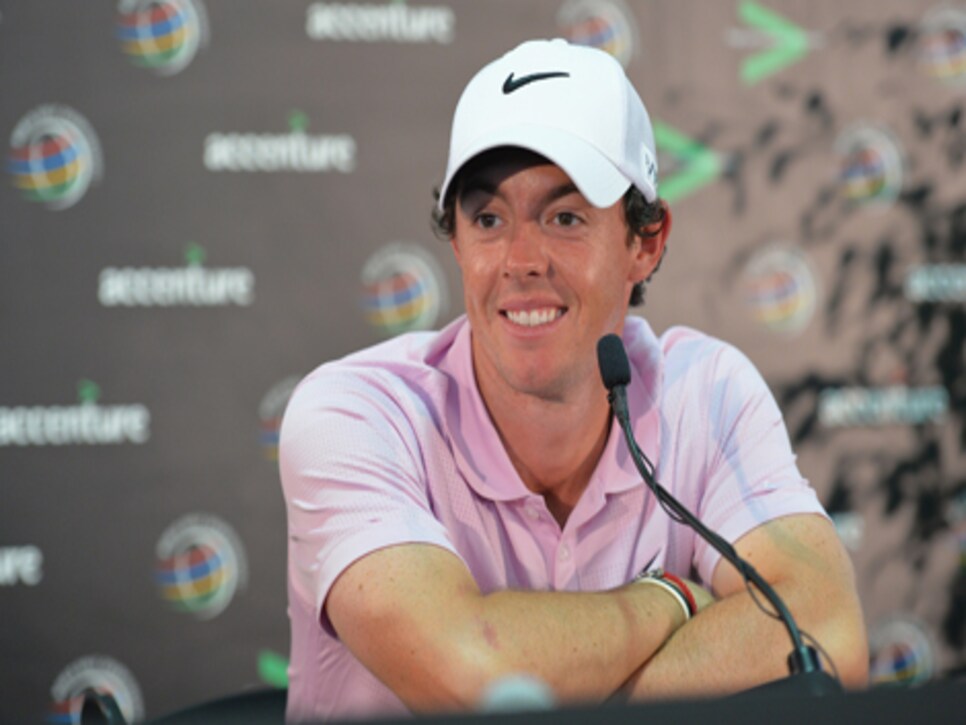 McIlroy was all smiles today at Dove Mountain. Photo: Stuart Franklin/Getty Images
McIlroy said he made an adjustment in his putting grip after working with Dave Stockton prior to this week's Match Play, where he will play Boo Weekley in Wednesday's first round. (They tee off at 1:25 p.m. EST.) So he's feeling more confident in his putting stroke after starting the European Tour season a mediocre 47th in putts per round (29).
Stockton had McIlroy move his right thumb on top of his grip to help his left hand continue his stroke through impact, McIlroy said.
Since last October, McIlroy said he's also more comfortable with his overall swing, and his stats seem to prove him out. Currently he ranks second on the Euro Tour in driving distance and sixth in greens in regulation.
"Yeah it's been a long process," he said. "I've worked hard and I feel like I'm seeing the results of that."
Surprisingly, there were no questions about his engagement to tennis star Caroline Wozniacki in the Tuesday press conference. But that's another part of McIlroy's life that is stable. It's unclear just how much that impacts the seventh ranked golfer in the world on the course. But when average Joes like us have stability in our personal lives, we tend to perform better, right? Why not McIlroy, then?
We're just a week away from the one-year anniversary of arguably McIlroy's competitive nadir -- his infamous toothache incident at the Honda Classic. It's hard to say how McIlroy will fare this week given the unpredictable format that is match play. But if he keeps his form going the way he has over the last four months, this could be the start of a standout year for McIlroy.