DP World Tour
With big-name contenders, a somber day at Wentworth figures to be followed by roaring Sunday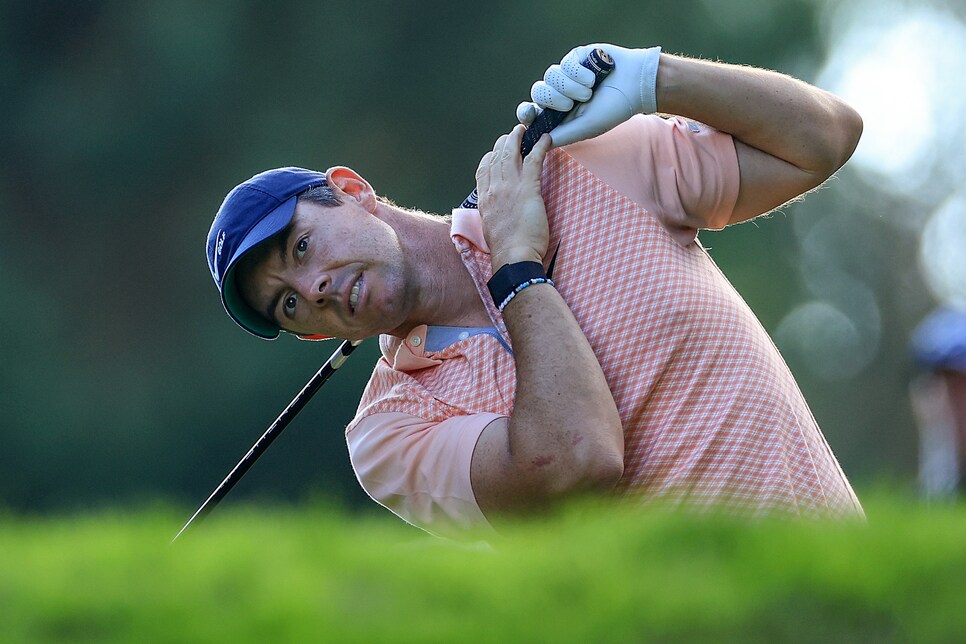 Rory McIlroy anxiously follows his tee shot on the 17th hole during the second round of the the BMW PGA Championship.
David Cannon
VIRGINIA WATER, England — At the end of a day that always had the potential to look and feel a bit different, many of the names at and near the top of the leaderboard at the BMW PGA Championship have a familiar ring to them. On 12 under par, Viktor Hovland leads alongside Soren Kjeldsen. But piled up behind and all within two shots of the pacemakers are three major champions: Rory McIlroy, Shane Lowry and Francesco Molinari.
Also in contention is a sprinkling of European golf's most promising youngsters—men like Thomas Detry and Matthew Jordan. Then there are the leading LIV players, Talor Gooch and Adrian Otaegui. The American and Spaniard are on 10 under and well placed to create the nightmare scenario dreaded by all connected with the DP World Tour at its flagship event.
All of which will be decided in the third and final round Sunday. For all that, the play of those at and near the lead was laced with distinction over the 7,267-yard Wentworth course, the delayed second round was also one for quiet reflection. The perfectly observed two-minute silence at 9:50 a.m. in memory of the late Queen Elizabeth II set a somber tone of introspection that was not eclipsed until late in the day when McIlroy made his way towards a screaming horde of autograph-seeking children.
"She was dignity, dedication and grace personified," declared McIlroy of Her Majesty after a bogey-free seven-under-par 65 that has him one shot off the lead. "She's been such a steadying figure. I saw a stat yesterday; she ascended to the throne two years [actually one] before Ben Hogan won his Open Championship. So it just shows you how long she's been around and things that she's seen.
"She was an absolutely incredible woman. I was very fortunate, I got to meet her a few years ago, and she couldn't have been nicer. I have a picture of that wonderful moment in my house alongside my MBE [Member of the British Empire] which I'm very proud of."
McIlroy was in an understandably fine fettle at the end of a round in which he played steadily, holing two vital and momentum-saving putts for par on the 13th and the 16th, before making the most of a huge slice of luck on the par-5 17th. His drive, pulled yards left of the ideal line, flew into the trees alongside the heavily cantered fairway and disappeared.
But only for a few seconds. Boasting "two big yellow marks," upon its reappearance, McIlroy's ball somehow emerged from its leafy grave and landed back on the fairway. Little wonder then that the Northern Irishman would call his good fortune "a three-shot break" as he made his way to an up-and-down birdie that followed a light-hearted exchange on the tee with caddie Billy Foster.
"Who did you pay to throw the ball out there?" asked the bagman, who works for U.S. Open champion, Matt Fitzpatrick. "Where's your wallet?"
"It's too heavy," was the recent FedEx Cup winner's rejoinder. "I put it in the locker."
For all that piece of outrageous luck was crucial to his fine score, McIlroy was giving more credit to those aforementioned scrambling pars on the back nine.
"That's been the difference this year between even when I don't play well, being able to hole those putts for par and being able to keep grinding it out," he said. "That's what golf is about. Sometimes it doesn't have to be pretty but getting up-and-down and making pars when you can, that's effective. That's what consistent golf looks like and it's what wins you golf tournaments, essentially."
Elsewhere on the crowded leaderboard, perhaps the most interesting—and somewhat unlikely—challenger is Molinari. Playing his first event since the Open Championship in July, the Italian, who has slumped to 169th in the world from a high of fifth in 2018, nipped along the Burma Road course in 65 shots.
Those facts might suggest a slow decline into his recent anonymity over the closing 18 holes, but they would also ignore the former Open champion's pedigree. Five times in the six years before his victory four years ago (when he outdueled a lad by the name of McIlroy down the stretch), Molinari finished in the top 10.
"I've been working hard on my long game since the Open," said the Turin native, who now makes his home in Los Angeles. "My short game and putting are in a really good place. I had lost my way a little bit off the tee over the last couple of years. It was always my strength in terms of accuracy, so finding myself playing from the trees wasn't something I was used to."
Still, a recent week-long visit from his longtime (and semi-retired) swing coach, Denis Pugh, has provided Molinari with more of his former confidence. Yes, the Wentworth course is soft—and so playing wider—but the 39-year old has made only one bogey in the 36 holes he has played so far. You can't do that from the trees.
None of which is to conclude with any certainty that Molinari and McIlroy will finish one-two, as they did in 2018. Too much class surrounds them in this now-54-hole event/sprint. "All to play for" remains the order of the final day.