The Loop
Rory McIlroy clears a huge relationship hurdle, a fantasy football stud hangs with a golf legend, and the end of float season
Welcome to another edition of The Grind, where we are sad to see the end of summer with the passing of Labor Day weekend. That went by too quickly, didn't it? We're blaming the Olympics. Unfortunately, this also means Monday was the unofficial finale of float season. And it was a pretty strong season at that.
But as adults return to a more normal everyday grind and the kids return to school (Are there any kids reading this? We apologize to parents around the world), at least there's plenty else happening in the golf world to cheer us all up. Here we go.
Rory McIlroy: He's back! In the Big 3! The four-time major champ won his first PGA Tour title since last May to jump up to No. 3 in the Official World Ranking. With a Monday 65 at the Deutsche Bank Championship, McIlroy rallied from six shots back – the biggest comeback victory of his career. It's also his first PGA Tour win since getting engaged to Erica Stoll.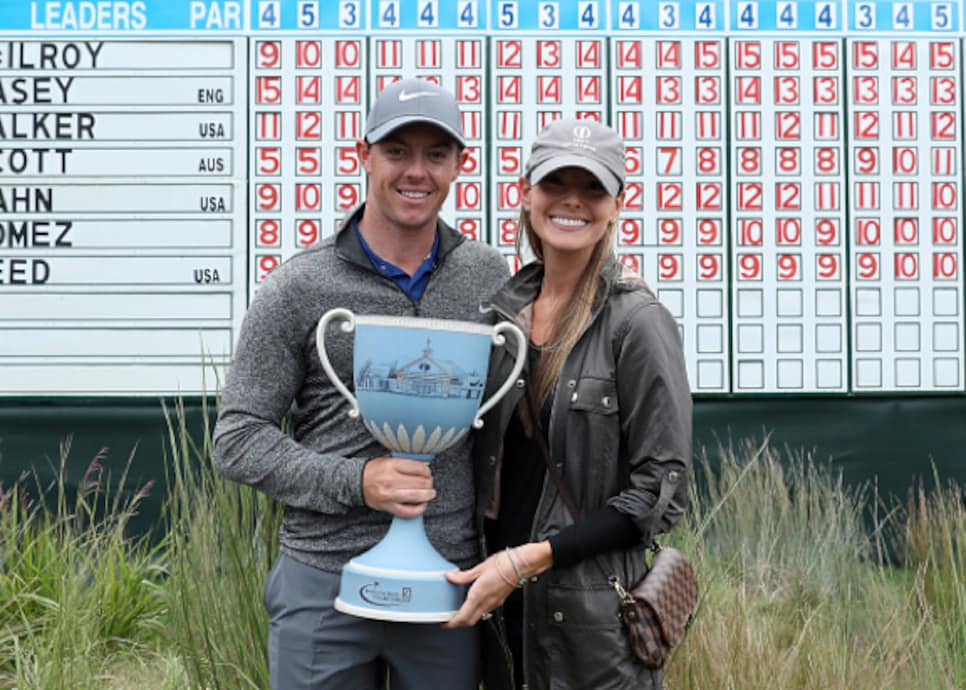 So good news, Erica, you're not a jinx! Well, in non-majors anyway. . .
BEEF in the U.S.: American golf fans, get ready to see more of Andrew "Beef" Johnston. The popular Englishman has committed to play in the Web.com Tour Finals, meaning he's eyeing earning a PGA Tour card for next season.
Phil Kenyon: The week after being hired as Rory McIlroy's putting coach, McIlroy, in the midst of a terrible putting slump, finished seventh in strokes gained putting and won his first PGA Tour title in 16 months. How's that for a client testimonial?
Antonio Brown: How high am I on the Pittsburgh Steelers wide receiver? I took him with the first overall pick in my fantasy football draft. OK, so that wasn't exactly a stretch, but what sealed the selection was this photo of AB with AP from a few weeks ago:
Paul Casey's finishing skills: We would have enjoyed the controversy surrounding the fact that Casey isn't on the Ryder Cup team (he's not a member of the European Tour) had he won the Deutsche Bank, but let's be honest, it probably wasn't going to happen. McIlroy's amazing Monday got most of the attention, but we're not forgetting that Casey, for all of his talents, is still stuck on one PGA Tour win.
Alex Noren's timing: The good news for the Swede? He won his second European Tour title in two months at the European Masters and climbed to a career-high No. 27 in the Official World Golf Ranking. The bad news? His latest victory came the week AFTER the European Ryder Cup squad was set. Between Noren, Casey (No. 22) and Russell Knox (No. 19), Europe's B Team is shaping up nicely!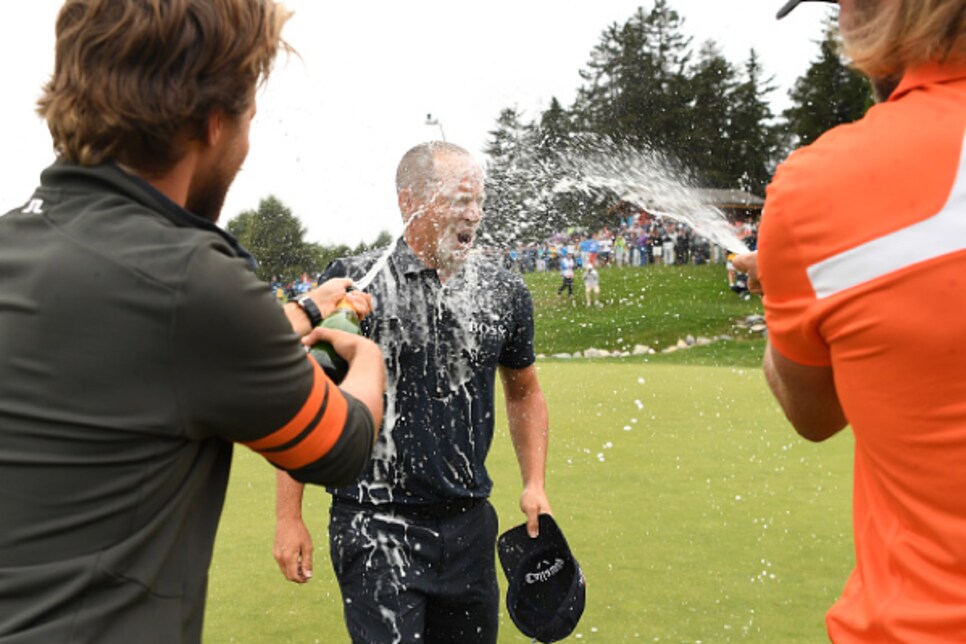 Jim Furyk's Ryder Cup chances: I'll be the first to admit, I was all about #Team58, but the Furyk Ryder Cup train lost a lot of steam with him failing to advance to the third leg of the FedEx Cup Playoffs. It's going to be tough to impress captain Davis Love III from his couch this week.
The PGA Tour heads to Crooked Stick in Carmel, Ind., for the BMW Championship. After this third FedEx Cup Playoff event, Davis Love III will make three of his Ryder Cup captain's picks.
Random tournament fact: Rory McIlroy won at Crooked Stick the only time it hosted the BMW Championship. John Daly won at Crooked Stick the only time it hosted the PGA Championship. So we guess you could say long hitters dig Crooked Stick.
RANDOM PROP BETS OF THE WEEK
-- Rory McIlroy will go back to his old putter: 1 MILLION-to-1 odds
-- Rory McIlroy will win the FedEx Cup: 7-to-2 odds (Actual odds, co-favorite with Jason Day)
-- Antonio Brown will get injured now that I picked him: LOCK
The automatic qualifiers and captains of the U.S. Ryder Cup team had a nice bonding experience at Gillette Stadium before heading to TPC Boston. And assistant captain Jim Furyk got a nice present from the New England Patriots.
OK, so I'm leaning toward being on #Team58 again. . .
The creative people at Skratch TV had a huge week. First, there was Robert Streb and Ben Crane taking on the "Tin Cup Challenge" and showing off remarkable hand-eye coordination.
And then there was James Hahn's bold swing thought.
Give that one a try next time you play.
"I just tried to have it [the shot] come in dead because we have that rubbery astroturf. I didn't want to put too much sauce on it. I just got it on the line and it hit and just stayed there." -- Phil Mickelson on the right-handed wedge shot he hit to win a closest-to-the-pin contest against his Ryder Cup teammates. It doesn't get more Phil than that.
THIS WEEK IN DUSTIN JOHNSON-PAULINA GRETZKY SERGIO GARCIA-ANGELA AKINS PUBLIC DISPLAYS OF AFFECTION
Unfortunately for DJ, there were no floats this weekend for him and Paulina as he toiled away at TPC Boston. Sergio was there, too, but he and his girlfriend had fun staying up late on Saturday and watching Texas upset Notre Dame.
THIS WEEK IN TENUOUS GOLF CONNECTIONS
How about this sweater Pablo Escobar wears in the second season of Netflix's brilliant Narcos: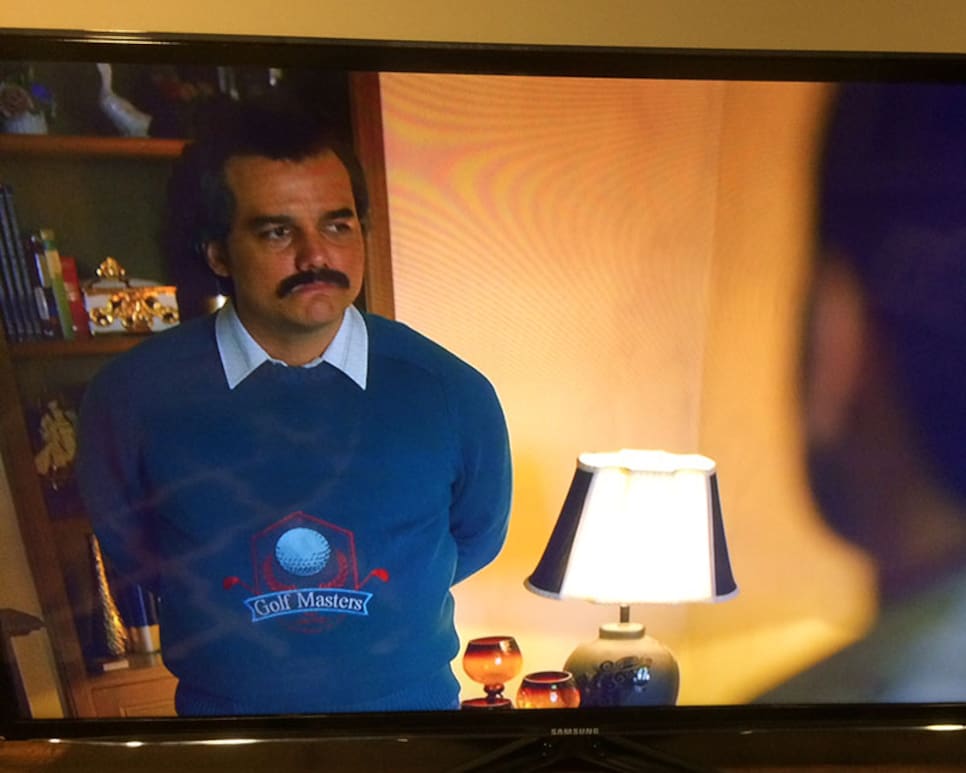 Apparently, even the world's biggest drug lord had difficulty getting official Masters gear. That being said, that thing is straight fire.
Jason Day's wife, Ellie, was involved in a car accident, but thankfully, is OK. We know she's tough considering she survived getting run over by LeBron James last year. . . . Lee Westwood won the European Tour's Hickory Challenge in a chip-off against Danny Willett. But Miguel Angel Jimenez stole the show:
Henrik Stenson has re-torn the meniscus in his right knee and will skip the BMW Championship and possibly forego a shot at the FedEx Cup's $10 million bonus to rest up for the Ryder Cup. Talk about a team player. . . . Greg Shaughnessy, a self-proclaimed "high handicapper," made TWO holes-in-one in the same round -- a round in which he also lost both balls on the ensuing tee shots (WTF?!) and didn't even keep score (Again, WTF?!) because "the rest of the round was so painful."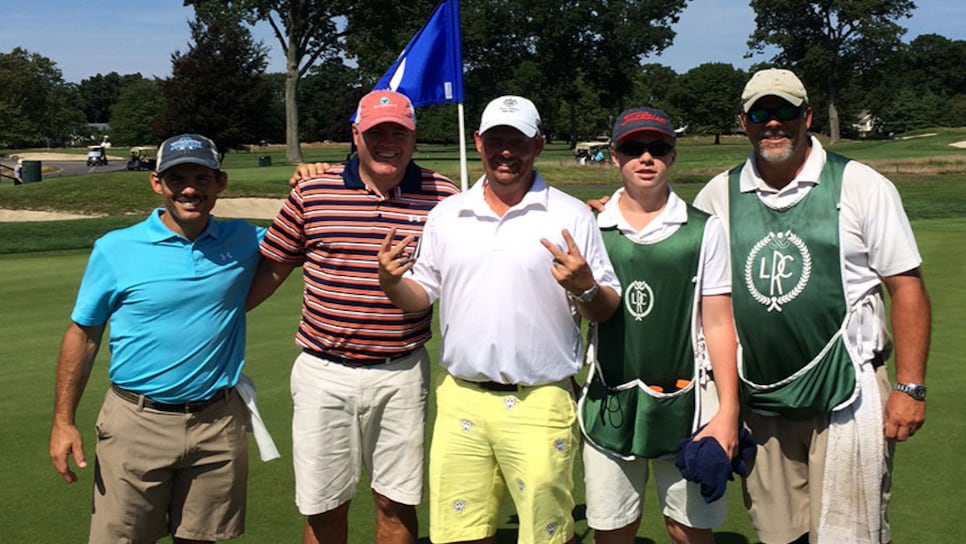 And he got that lucky despite wearing those shorts. But nooooooo, the golf gods can't grant me one measly ace.
RANDOM QUESTIONS TO PONDER
Is there ANY justice in the world?!
How much does Phil Kenyon charge for putting lessons?
Has Team Europe bought its champagne already?