The Loop
Don't laugh, but Rory McIlroy might not be a lock to win Player of the Year. Here's why
When Rory McIlroy won the PGA Championship to cap a three-tournament winning streak that also included the British Open and a WGC event, he also seemed to end any debate over who should win the PGA Tour's Player of the Year Award. But what about Bubba Watson?
The reigning Masters champ has had his own career season and a runner-up at last week's BMW Championship could wind up being a lot more important than you think. With the points Watson earned at Cherry Hills, he moved back into the top five on the FedEx Cup points list at No. 3. That means that like No. 4 Rory McIlroy, if Watson wins this week's Tour Championship he would also be the season-long FedEx Cup champ.
For our argument, we're assuming that happens. And if it does, here's why Watson could win POY as well.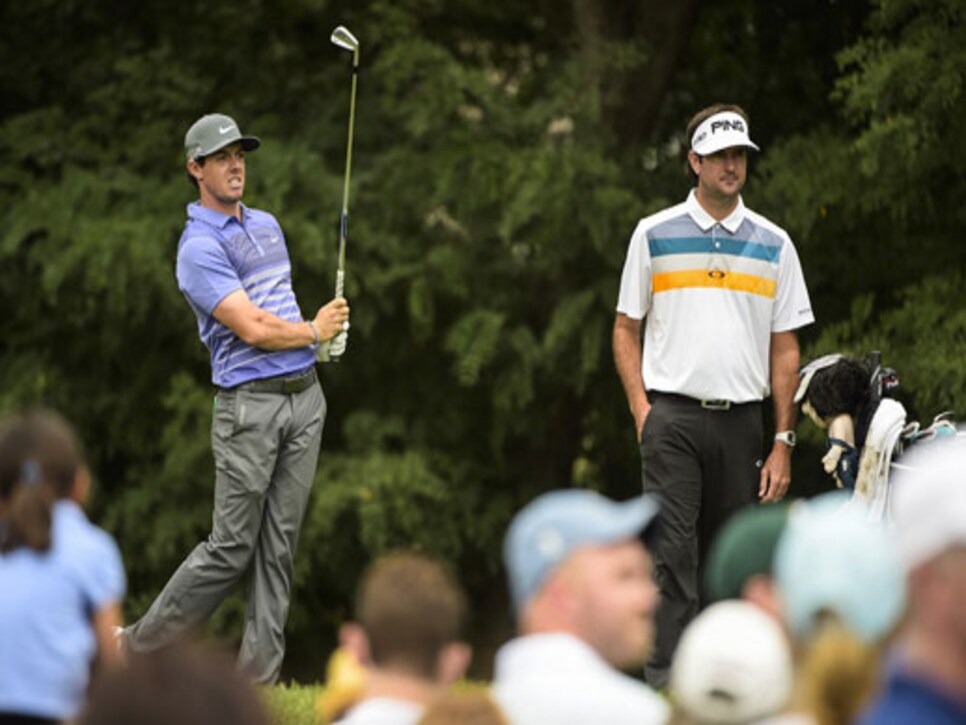 They'd have the same number of wins
Yes, McIlroy would top Bubba when it comes to majors, but they'd be equal in tour titles with three (McIlroy's BMW PGA win on the European Tour doesn't count towards his PGA Tour POY chances). McIlroy's third win was a WGC event, but Bubba's wins at the Tour Championship and at Riviera carry considerable weight as well.
FedEx Cup champs usually win POY
Since the FedEx Cup's inception in 2007, four of the seven winners have gone on to win the Jack Nicklaus trophy as well. McIlroy in 2012, however, was one of the three players in the last seven years who didn't win the FedEx Cup and was still voted Player of the Year.
That's right, it's a vote
Unlike the PGA of America's Player of the Year, which is based on a points system, the PGA Tour's season-ending award -- which has been given out as well since 1990 -- comes down to a vote by PGA Tour members. And votes are obviously more unpredictable -- something McIlroy knows as well as anyone. In 2010, he seemed to be the logical choice for PGA Tour Rookie of the Year, but lost to Rickie Fowler, which really ticked off Lee Westwood. We're not saying players would favor Bubba Watson, but you never know.
Watson's great play didn't come in one spurt
In the same way we don't know if voting players will have any bias toward one player or another, we also don't know how they'll weigh each player's seasons -- specifically, the timing of their accomplishments. From February to June, no one played better golf than Watson, who won the Masters and the Northern Trust Open, finished runner-up at Doral and in Phoenix and threw in a third-place finish at the Memorial. He struggled for three months after that, but his BMW runner-up and a win in Atlanta would mean he finished the year like he started it. In contrast, McIlroy only had one top five before his British Open win, and, as impressive as his three wins were, they came in one hot stretch of golf that lasted for less than a month.
With all that being said, our vote would go to McIlroy no matter what happens in Atlanta this week. His two majors and much better finishes in golf's biggest events (T-8, T-23, Win, Win) than Watson (Win, MC, MC, T-64) give Rory an edge. So do his 11 top 10s, better scoring average and the fact that he hasn't missed a cut all year.
Because of all those things, it remains highly unlikely that Watson would win his first PGA Tour Player of the Year. But a first Tour Championship, a first FedEx Cup title and an extra $10 million wouldn't be a bad consolation prize.