Arnold Palmer Invitational
A 'punch drunk' Rory McIlroy calls weekend at Bay Hill 'crazy golf'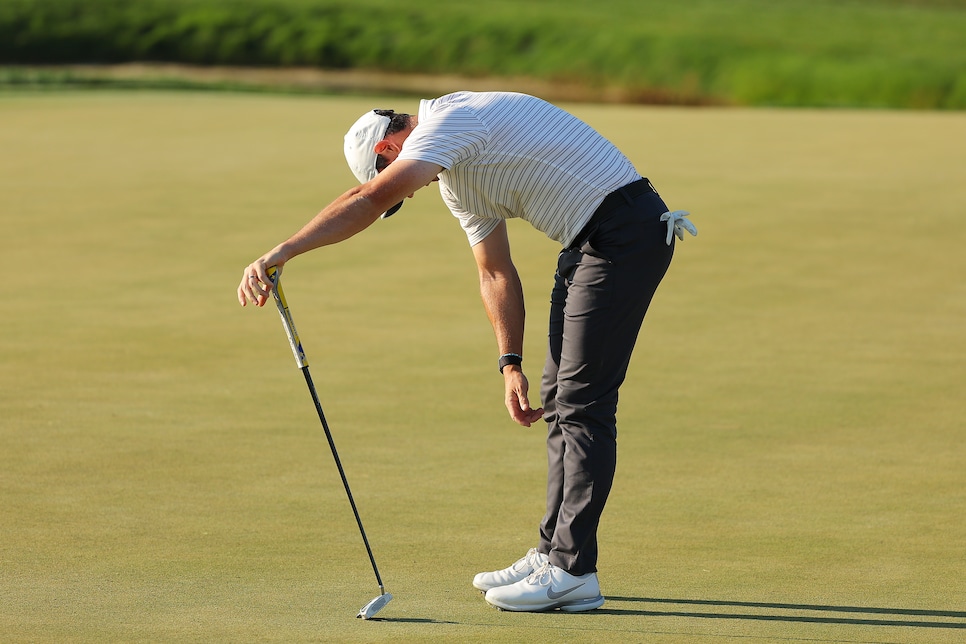 Rory McIlroy reacts to a missed putt on the 13th green during the second round of the Arnold Palmer Invitational.
Kevin C. Cox
It would be a cliché to say that playing the weekend at the Arnold Palmer Invitational was like being in a heavyweight fight, Bay Hill Club in Orlando packing quite the wallop on the field. However, we're not the ones who brought up the boxing analogy on Sunday. Rory McIlroy did the honors.
After a second straight four-over 76 to fall from T-6 to start Sunday to T-13, the four-time major winner (and 2018 API champ) couldn't hold back any longer. "I feel punch drunk, to be honest," McIlroy said. "The weekend, it's like crazy golf."
The scoring average Sunday at Bay Hill was a 75.481, almost five shots higher than the final-round mark of any other tournament during the 2021-22 season. Scottie Scheffler's winning 72-hole score of five under par was the highest in relation to par on the PGA Tour since Jon Rahm won the 2020 BMW Championship at four under. Scheffler's 283 total tied for the second-highest winning score on tour since the start of the 2014-15 season behind Tyrrell Hatton's 284 at the 2020 Arnold Palmer Invitational and Danny Willett's 284 at the 2016 Masters.
It wasn't just that scores were high and birdies were tough to come by that led to McIlroy's frustrations. Rather, it was the notion that his game actually was pretty solid (he did shoot an opening-round 65 to lead on Thursday), but that a tricky course setup—firm, fast greens combined with five- and six-inch rough and windy conditions—resulted in players being unfairly penalized at times.
"Sort of the way the conditions are, it makes you feel as if you're not playing as good as you are," McIlroy said. "Like, I'm playing good. I'm hitting good shots. I'm swinging the club well. I'm chipping well. I'm putting well. But it can knock your confidence whenever the conditions are like this. I'm certainly playing better than shooting eight-over over the weekend."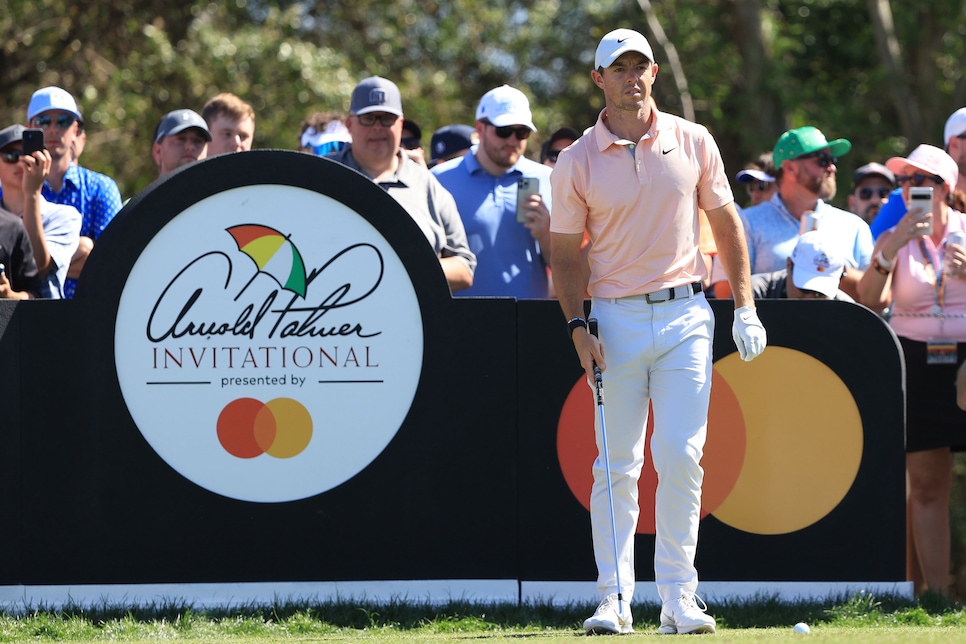 McIlroy says it's been three straight years that weekend setups at Bay Hill have been a problem.
Sam Greenwood
McIlroy says this isn't something new at Bay Hill, that it's actually been happening for three years running, the course allowed to get dramatically harder as the tournament moves into the weekend. And that by allowing the trend to continue, the tournament is developing a reputation that might cause some top players to re-consider playing in the future, particularly given when the tournament is held.
"Yeah, they need to do something about it," McIlroy said. "There's a lot of guys that sort of stay away this week to get ready for [the Players Championship] next week. Next week's become such a big event, $20 million purse. The four majors are sacred in this game, but it's very close to being among them with the way it's going.
"As I said, I just need a day off tomorrow to forget about what's happened this week and then just sort of focus on next week."
The comments are interesting in light of the firm stance McIlroy took in 2019 about course set-ups on the European Tour and his disappointment in conditions not being tough enough.
"I'm sort of honestly sick of coming back over to the European Tour and shooting 15 under par and finishing 30th," said McIlroy after the Alfred Dunhill Links Championship in 2019. "I don't think the courses are set up hard enough. There are no penalties for bad shots. It's tough when you come back and it's like that. I don't feel like good golf is regarded as well as it could be. It happened in the Scottish Open at Renaissance. I shot 13 under and finished 30th [actually T-34] again. It's not a good test. I think if the European Tour wants to put forth a really good product, the golf courses and setups need to be tougher."
But not so tough that good shots are penalized.