The Loop
Rory McIlroy and Thomas Pieters flipped a coin on the 1st tee for who would hit first in foursomes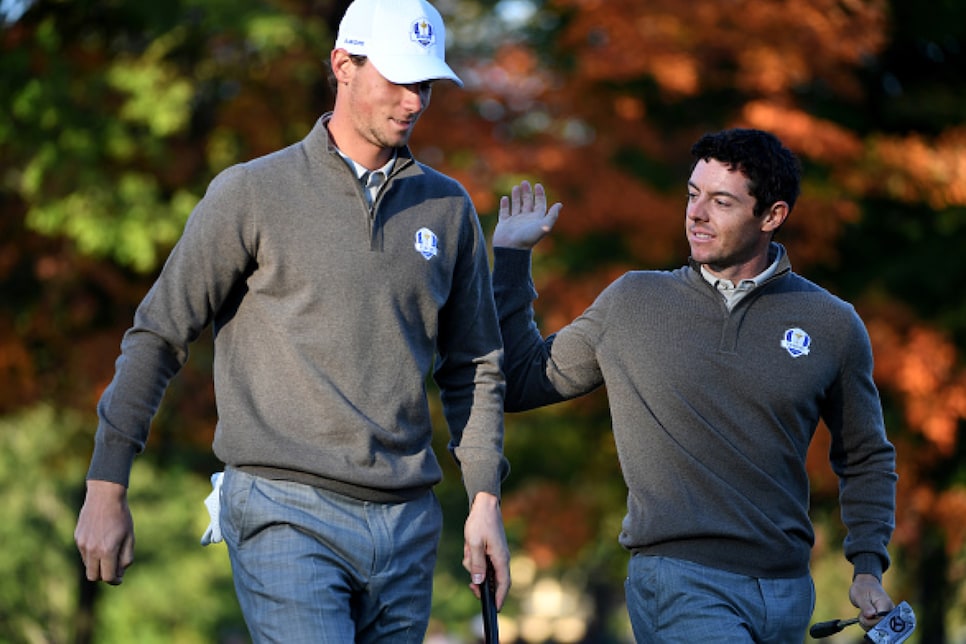 CHASKA, Minn. -- For all the (over)preparation that goes into the Ryder Cup, there's perhaps something to be said for simplicity.
At least, for Rory McIlroy and Thomas Pieters.
"We had not really practiced, had not chosen what golf ball to play, had not even chosen what tee to go off. We flipped [a coin] for it on the first tee," McIlroy said after the duo dispatched Phil Mickelson and Rickie Fowler, 4 and 2, in Saturday morning's foursomes. "But it seemed to work out pretty well."
Indeed. The two are undefeated in two matches together with a third under way against Dustin Johnson and Brooks Koepka in the afternoon four-balls.
After anchoring the afternoon session a day earlier, and helping secure a critical point for Europe to help swing the momentum following a morning sweep, the two were first out on Saturday and wasted little time grabbing the lead.
Pieters made a birdie to earn a halve on the first hole (and shushed the Hazeltine crowd) before McIlroy added another one a hole later to give them a lead they never relinquished. The ball, by the way, was the same Nike that McIlroy uses.
Their victory also set the tone for Europe's 2½-1½ win in the Saturday foursomes. And it was McIlroy's first win over Mickelson in a Ryder Cup after having been on the losing end on three previous occasions.
"While I was speaking to all you guys in the media [Friday night], my phone was buzzing; Clarkey was trying to call me to see if [we wanted to play together again]," McIlroy admitted. "And of course, who wouldn't want to play with him? He's a young guy but he's so talented and he's got obviously a great future in the game."