The Loop
Rookie says Woods quote was "misconstrued"
SCOTTSDALE, Arizona -- For a guy who has played in just three PGA Tour events and has made the cut in only one, Brendan Steele still found himself the talk of the golf world when he showed up at the Waste Management Phoenix Open this week. Problem is, it wasn't at all for reasons the rookie wanted.
After comments he made about Woods at the conclusion of their round together in the Farmers Insurance Open on Sunday were highlighted in multiple news reports, Steele sent a letter of apology to the former world No. 1, then sought to clarify his remarks in an exclusive interview with GolfDigest.com on Wednesday.
Paired with the superstar for the first time in the final round at Torrey Pines Golf Course, Steele, 27, watched Woods shoot 75 to finish in a tie for 44th, and was quoted afterward saying, "I don't think (Tiger) gave it everything he had today."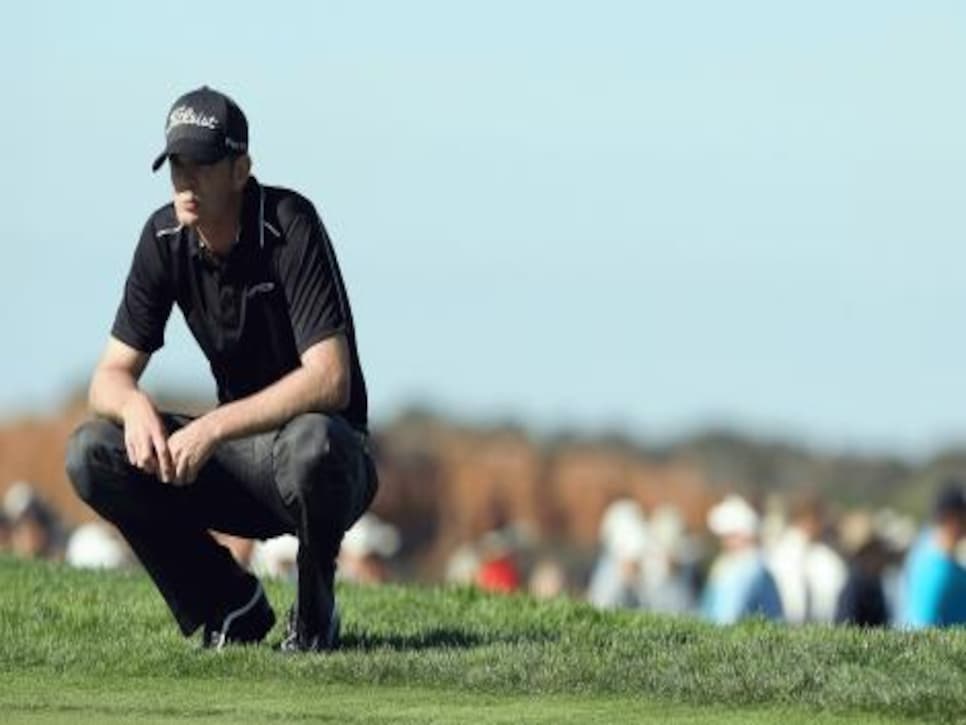 Photo by Donald Miralle/Getty Images
That line was repeated back to Steele several times by friends on Monday who had read about it, and on Wednesday, he said it was "twisted and misconstrued."
"What I was really trying to say was that . . .when it came down to being two guys that were not going to win the golf tournament, you know, as Tiger has said, he's working on the process of his golf swing," said Steele, who finished T-17 to collect his first check on the PGA Tour. "He's got it on the range, and he's trying to make it transition over to the course, and I could see that. I could see that he was working on some shots and he really wasn't going to win the tournament.
"You could see him, after every swing, he's rehearsing things. He's working hard on the mechanics of it."
Steele, who earned his way onto the PGA Tour by finishing sixth on the Nationwide Tour money list last year, had never met Woods before Sunday, but said Woods couldn't have been nicer to him. As they walked the South Course at Torrey, the two chatted about everything from where the pins and tee boxes were when Torrey played host to the U.S. Open in 2008, to their homes in Southern California. Steele lives in Irvine while Tiger talked about his home in Newport Beach.
"We went out there, we had a great day. He was really, really nice to me, which I appreciated, because I didn't think he had any reason to be," Steele said of Woods, who has since dropped to third in the world ranking. "He's never met me before, doesn't know anything about me, and, on the second hole, he came up and started talking to me and really broke the ice for me and helped me out a lot."
At the end of the round, after coming out of the scoring trailer, Steele said he was approached by some members of the media and was asked about Tiger. One of the questions was if Woods is less intimidating when he's not playing his best and Steele's response included the statement, "Once he kind of saw it wasn't going the right way, I think it didn't have his full attention."
And in a follow-up question about why he felt that way, Steele said, "just some loose shots, just some things that I haven't seen him do before."
After thinking about his comments for a few days, Steele said, "That's just me being a rookie and not understanding that I needed to be a little more careful. In my defense, I was trying to be careful with what I said. I didn't think I said anything negative about him. There was no bad intent. If I really thought that, and said that, I'd stand by it.
"I was trying to be really careful and people jump all over you no matter what you say about him. And I said about 10-15 things about him that I thought were really, really positive and never thought anything of it.
"It's really upset me a lot because it was such a positive day and he was so nice to me."
Steele said he was told Woods received his letter and was "very understanding" of the situation.
(Follow Ron Kasprise on Twitter: [@ronkaspriske)
](http://www.twitter.com/ronkaspriske)*