News
Consider 23-year-old Amanda Blumenherst an anomaly. She was a college star at Duke University who finished 10th at the U.S. Women's Open as a freshman in 2006, and she won the U.S. Women's Amateur in 2008. She obviously had the chops to compete with the best in the world years ago, yet she waited until after graduation, in June 2009, to turn pro. Imagine that.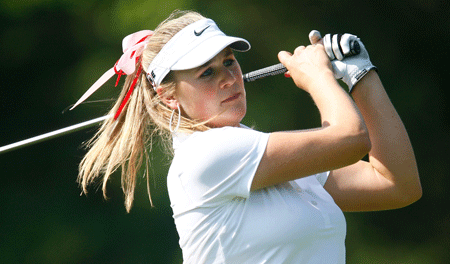 These days, after not only qualifying for the the LPGA Tour but winning last fall's Q-School, Blumenherst is on the road as a tour rookie. The 2010 season kicked off with back-to-back events in Thailand and Singapore, and in the hiatus between the Asian swing and the tour's first event on U.S. soil (the KIA Classic in Carlsbad, Calif., March 25-28), Blumenherst, like many LPGA players, has opted to compete in the two Ladies European Tour (LET) events that are taking place in Australian this week and next. In her first rookie-blog post on LPGA.com, she gives a comical account of what international travel has been like so far:
__ "I didn't realize how much I have left to learn on being a player on the tour. And it's all little things, like the shuttle rides from the airport to the golf course are taken care of (I was very stressed about this before leaving the States), that traveling lighter is not just better but a necessity, which airlines allow three bags and which ones have a cow if you have more than two and charge you an arm and a leg for being the ridiculous American that needs two suitcases AND a golf travel bag, the SPF needed in Thailand and Singapore (really I suggest 100+, SPF45 just doesn't cut it), where to eat, what to eat, which calling cards work, how many practice rounds I need...etc. It's a learning curve out here on the Tour."__
But don't feel too sorry for Blumenherst. After a Wednesday pro-am was cancelled due to heavy rain, the ANZ Ladies Masters kicked off Thursday at the RACV Royal Pines Resort on Australia's Gold Coast, and the college grad from Indiana is the first-round leader. Blumenherst shot a six-under-par 66 in soggy, lift-and-clean conditions, and sits one stroke ahead of defending champion Katherine Hull from Australia and two ahead of a group that includes Karrie Webb and Anna Nordquist.
Whether she wins this week or not, Blumenherst promises to become the next big American star on the LPGA Tour. She has both game and personality, and she's happy to poke fun at herself. She finished her blog post, written the day before the ANZ's first round, this way:
"Keep your fingers crossed for the next two events and that I don't get into a brawl with the person weighing my bags in the next airport. It could get ugly."