News
Rookie Angel Yin tears it up on par 5s, takes halfway lead at the Hana Bank Championship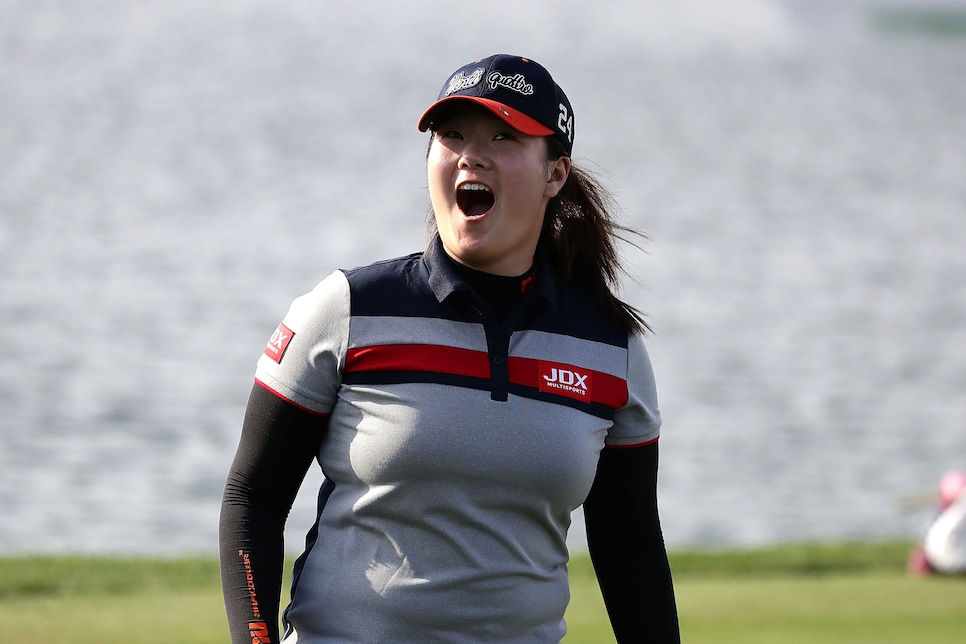 Chung Sung-Jun/Getty Images
You have to work hard to find anyone who doesn't think big things are ahead for big-hitting Angel Yin. The 19-year-old LPGA rookie's powerful swing caught the eye of Juli Inkster early in 2017. Combined with her outgoing personality, Yin enticed the U.S. Solheim Cup captain to take her in August with one of her captain's picks. In Iowa, Yin didn't let Inkster down, going 1-1-1 in the American victory while hitting drives more than 340 yards.
While the potential is real, Yin's first year on tour still has room for improvement as she is winless in 20 starts with just three top-10 finishes. That's something the California native could remedy this week at the KEB Hana Bank Championship in South Korea. With a seven-under 65, Yin jumped to 11 under after 36 holes and took a two-stroke lead over local favorites In Gee Chun, Jin Young Ko and Sung Hyun Park.
Naturally, it was an impressive eagle on the par-5 fifth hole at the Sky72 Golf & Resort in Incheon that kick-started Yin's round. Driver, 6-iron to 12 feet, putt rolling into the center of the cup. From there, Yin made six birdies over her final 13 holes, three more on the par 5s to go five under on those holes alone.
"The par-fives, I'm able to hit irons into them, which is very helpful. I can get closer," Yin said. "The last hole, the par-five 18th, I had a 4-iron in."
Playing with her Solheim Cup teammate Lizette Salas, Yin says the pairing helped inspire her play.
"I really enjoyed playing with Lizette at the Solheim Cup and we have been hanging out a lot, so it was fun to play with her again," Yin said. "It just puts you in a good mood. You're having fun out there, which is important. Sometimes it gets too intense. It's a tournament, but at the same time you have to have fun to play well."
It didn't hurt Salas, either, as managed a three-under 69 to sit three strokes back in a tie for fifth along with another American Solheim Cupper, Cristie Kerr.
Yin is a distant second to Park, the 2017 U.S. Women's Open champ, in the rookie of the year race, but has been happy with her season to date.
"From one to 10, I would say I'm doing like a seven. That's pretty high. I know I'm a good player. Played on the LET (Ladies European Tour) last year, which helped me grow as a person and with my golf game. So I knew I was going to do pretty well here. My goal was to win rookie of the year."
An LPGA title is a worthy alternative.