The Failed Coup At The USGA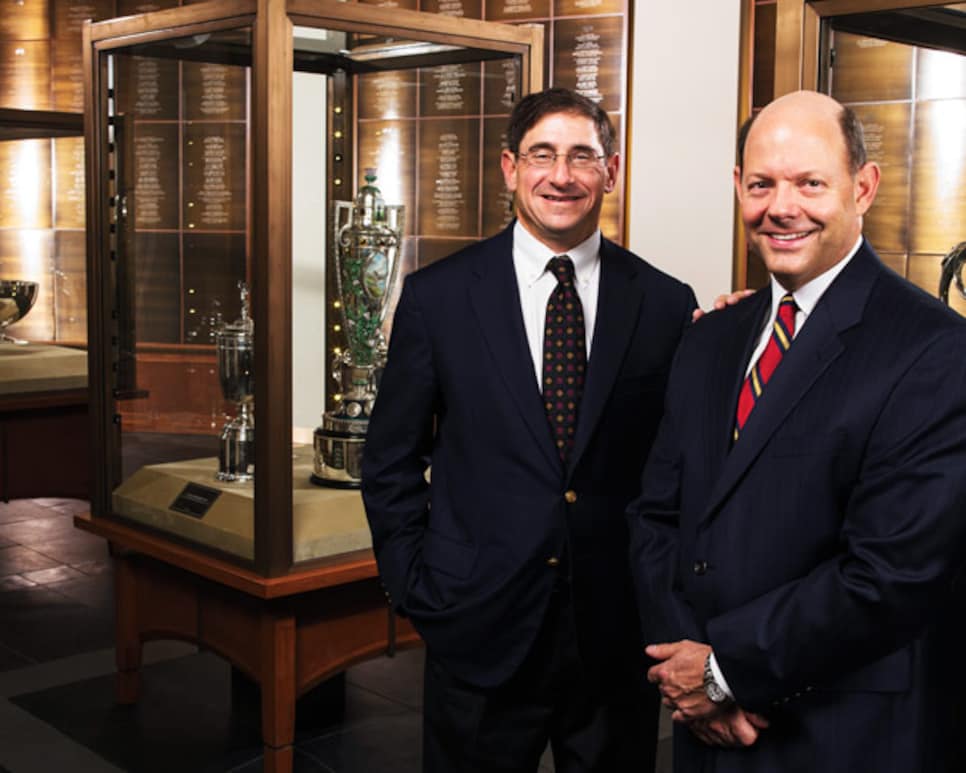 HAPPIER TIMES: President Glen Nager (left) and executive director Mike Davis at USGA headquarters.
After losing a power struggle to bring broad organizational changes to the United States Golf Association, including what sources say was a bid to create a long-term chief-executive position, president Glen Nager will leave the organization for good when his second one-year term expires Feb. 8, Golf Digest has learned. "I have been involved with the USGA for eight years," Nager said, "and after I leave I won't be a part of it again."
Nager's plan, presented in September during the Walker Cup at the National Golf Links of America, not only failed, but its audacity unified a group not unfamiliar with political infighting and coalesced support for USGA executive director Mike Davis and incoming president Thomas J. O'Toole Jr., both of whom would have had diminished roles under the proposed restructuring.
According to sources, Nager, who described himself as a "lame duck" in an interview with Golf Digest, wanted O'Toole removed from the 15-person Executive Committee and passed over as president, and he wanted Davis to report to a chief executive. A high-ranking USGA official says Nager wanted to bypass O'Toole because he considered O'Toole too close to Davis, a longtime USGA ally, to work effectively under a chief executive. "Tom and Mike are almost the same person," the source said.
Other sources say it was Walter Driver—the chair of the USGA Nominating Committee who served a contentious term as president from 2006-'07—who said to Nager, "You are not going to do this." Added another source: "The current board just didn't want to hear anymore from [Nager] on this idea and shut him down completely. He had some very radical ideas, and he got nowhere." (One former member of the Executive Committee, when told of Driver's role in standing up to Nager, said: "Gee, I might have to change what I think of him.")
"I am maintaining my commitment to confidentiality—apparently others haven't," Nager told Golf Digest. "I hold myself to a higher standard. It is not appropriate for me to discuss this while I am still in office. The issue that needs to be discussed is what makes for a great organization as opposed to a mediocre organization. I am trying to be as dignified and gracious as I can. Not everyone loves me. But leadership is a lonely responsibility."
In an earlier email, Nager couched his take in the language of a lawyer, which he is for the Washington, D.C., firm Jones Day, arguing before the Supreme Court 13 times after clerking for Justice Sandra Day O'Connor at age 24. "Good organizations regularly discuss and assess their structure, strategies and leadership," Nager said. "I have tried to promote such discussions at the USGA. But to encourage candor in the discussions, I have also asked that our discussions be kept private among the participants. In this spirit, I prefer to avoid comment on this story, regardless of any inaccuracies in it."
As an ex-president, Nager, 55, stood to remain in an influential position in the USGA, if past protocol had been followed. In two years, he would have become vice chairman of the five-person Nominating Committee, and in four years he would have chaired that committee. But that was before Nager's idea to take the power away from the Executive Committee and give it to a long-term chief executive—perhaps himself.
"Some say they heard him say he wanted it, some say they heard him say it in jest, and some say they never heard him say it," says one source close to the situation, who is among those who never heard Nager say he wanted to be the chief executive. Another says flatly: "He wanted it," a sentiment with which several others agreed.
Says Nager: "I would be unqualified for that position. I have been a partner at Jones Day since 1990, and if you look back at my [USGA] inaugural speech you will see that I made a commitment to my mentor and this law firm to return after two years. If you put one and one together [the two one-year terms as USGA president], you will get your answer. Look, when people don't like the message, they attack the messenger. Frankly, I find that offensive."
"The USGA can't get to Tom O'Toole fast enough," says one longtime insider, describing the mood at the Far Hills, N.J., headquarters as O'Toole prepares to succeed Nager as president beginning with the organization's annual meeting in February. According to another source, Nager had lost the support of the USGA Nominating Committee, Executive Committee, staff and many past presidents, a startling slide so soon after a string of successes that included prevailing over the PGA Tour and PGA of America on banning the anchored putting stroke and negotiating a $1.1 billion TV deal with FOX. The FOX deal was announced Aug. 7, a month and a day before the Walker Cup ended.
"Glen's ideas were heard at the Executive Committee and Nominating Committee levels," says a senior USGA official speaking on the condition of anonymity. "While his proposal didn't gain any real traction this time, there seemed to be an appreciation by some that good governance requires a continuous review of the status quo."
Under the USGA structure, the Executive Committee would rule on the idea of creating a chief executive, and the Nominating Committee would decide on whether to bypass O'Toole as president. Nager clearly lost in both places.
"The reality is, we have a president out there on an island," says a senior USGA source. Says another: "The headline, as I see it, is: The USGA rejects a challenge to its governance structure."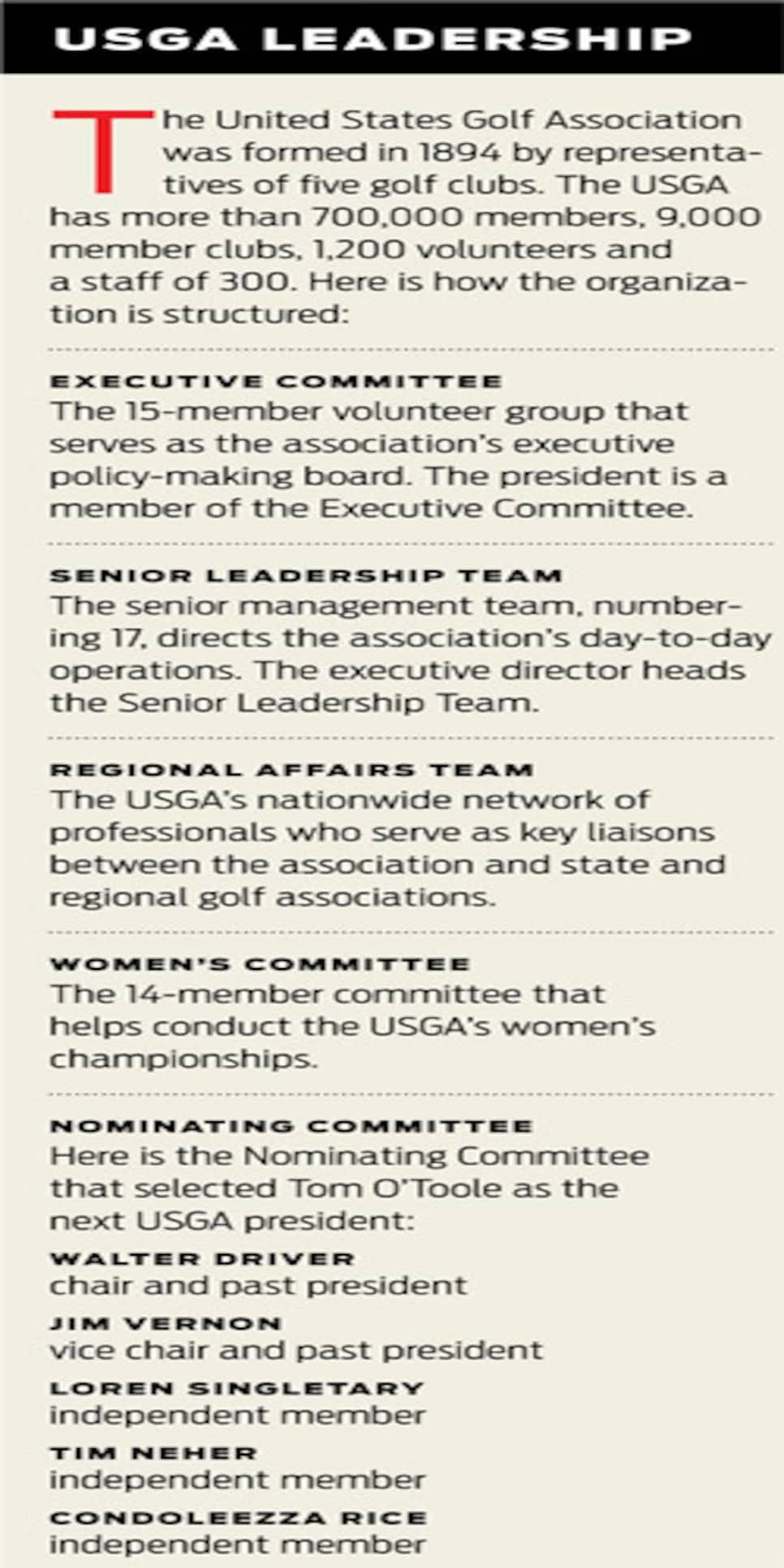 Asked multiple times if Nager tried to have him passed over as president, O'Toole steadfastly declined to comment. But several sources say it is a fact, some citing O'Toole as their source, and one very much in a position to know adamantly saying: "It is 100 percent true." Added another: "Tom had the support of the Nominating Committee and the Executive Committee. He had the support of everyone—except Nager."
When asked about his role in opposing Nager's ideas, Driver said: "The Nominating Committee process worked as intended, and on the typical schedule and process. We have sterling outside members on the Nominating Committee who join all of us in being committed to the good of the game. We listened to all suggestions and points of view, and then voted in accordance with normal processes."
Added another USGA source: "I'll tell you what, you're going to see a 180-degree turnaround in terms of our relationship with some other organizations when Tom takes over."
O'Toole and Davis, who have worked together for more than two decades, emerge in stronger positions. Since being promoted to the executive-director job in 2011, Davis has grown from the best course setup guy in the business to an efficient manager and a reassuring public face for the USGA.
Davis is in a position to reclaim some of the power that was stripped from the executive-director position during the Driver and Fred Ridley presidencies, when David Fay held the job. Fay had the position for 21 years until resigning abruptly on Christmas Eve in 2010 at the age of 60.
Davis is liked and respected, and insiders say the way he handled the attempt to diminish his power only enhanced his stature in the organization.
"There is no question that Mike is sounding more emboldened as a result of this experience," says a high-ranking USGA official.
The clash ultimately was between what USGA insiders are referring to as "the golf guys" versus "the corporate guys." The golf guys won, at least for now.
O'Toole, a 56-year-old St. Louis lawyer who has served as a rules official in every U.S. Open since 1990, and Davis, 49, are guys who have gotten their hands dirty doing golf work in the field. When Nager made suggestions that many believed were making the USGA "less golf and more corporate," in the words of one former Executive Committee member, the golf guys—even those who at one time had battled each other—rallied behind O'Toole and Davis.
Nager, a relative USGA newcomer—his roots go back to 2006, when he entered the association as general counsel—did not work his way up through committees, as have almost all USGA presidents. That likely hurt him when he made his organizational proposal.
The response from Far Hills when asked about this power struggle is to shift attention to what the USGA has accomplished over the past year. And that is not a message without merit.
"In the last year, we have clarified anchoring, we went back to Merion [for the U.S. Open] when people said it was impossible, we have mobilized the industry on pace of play, we started a discussion about environmental impact and its relationship to the cost of golf, we've created new championships with the four-ball, and we have become far more active in making sure the game is healthy," says one senior USGA official, omitting the FOX TV deal.
Part of Nager's thorny relationship with many USGA operatives began with the way those TV talks were handled. Disgruntled staffers and committee members thought longtime business partners NBC and ESPN were not treated with enough respect during the negotiations, nor were they given commensurate consideration for their loyalty. (See "The FOX & The Peacock"
O'Toole and Davis were part of the five-person USGA negotiating group for the TV contract, with Nager, senior managing director for business affairs Sarah Hirshland and Executive Committee member Gary Stevenson. But O'Toole and Davis, seen as the golf guys in the group, were marginalized in the negotiations. The other three, viewed as the corporate component, ran the talks.
Stevenson, fast-tracked onto the Executive Committee because his vast media experience was viewed as helpful for the TV talks, was not re-nominated and will leave the committee in February. Hirshland, a key member of the 17-person senior leadership team, has enhanced her reputation through a series of financial successes in her two years at the USGA, including bringing in Chevron as a corporate partner and helping to secure the FOX deal.
The idea of hiring a chief executive to run the USGA rather than the executive director and short-term president, who are beholden to the volunteer Executive Committee, has been discussed at various levels within the USGA for years. "That discussion won't go away," says one senior USGA official. "At the right time, it's a logical progression for us."
There is also some precedent. In 1980, when rules and competitions guru P.J. Boatwright Jr. was executive director, the USGA created the position of senior executive director to head the organization. Former president Harry Easterly took the position, and he was replaced by Frank Hannigan in 1983. Fay changed the title back to executive director after succeeding Hannigan in 1989.
At times it has appeared as if the president—who traditionally serves two one-year terms—has inordinate power to make changes that can affect the organization for decades after he (there has been only one she in 120 years) is gone.
In 2006, changes went into effect to diminish the influence of the past presidents. Until then, the Nominating Committee, which determines the Executive Committee and officers, consisted entirely of past presidents. Now it is two past presidents and three independent members.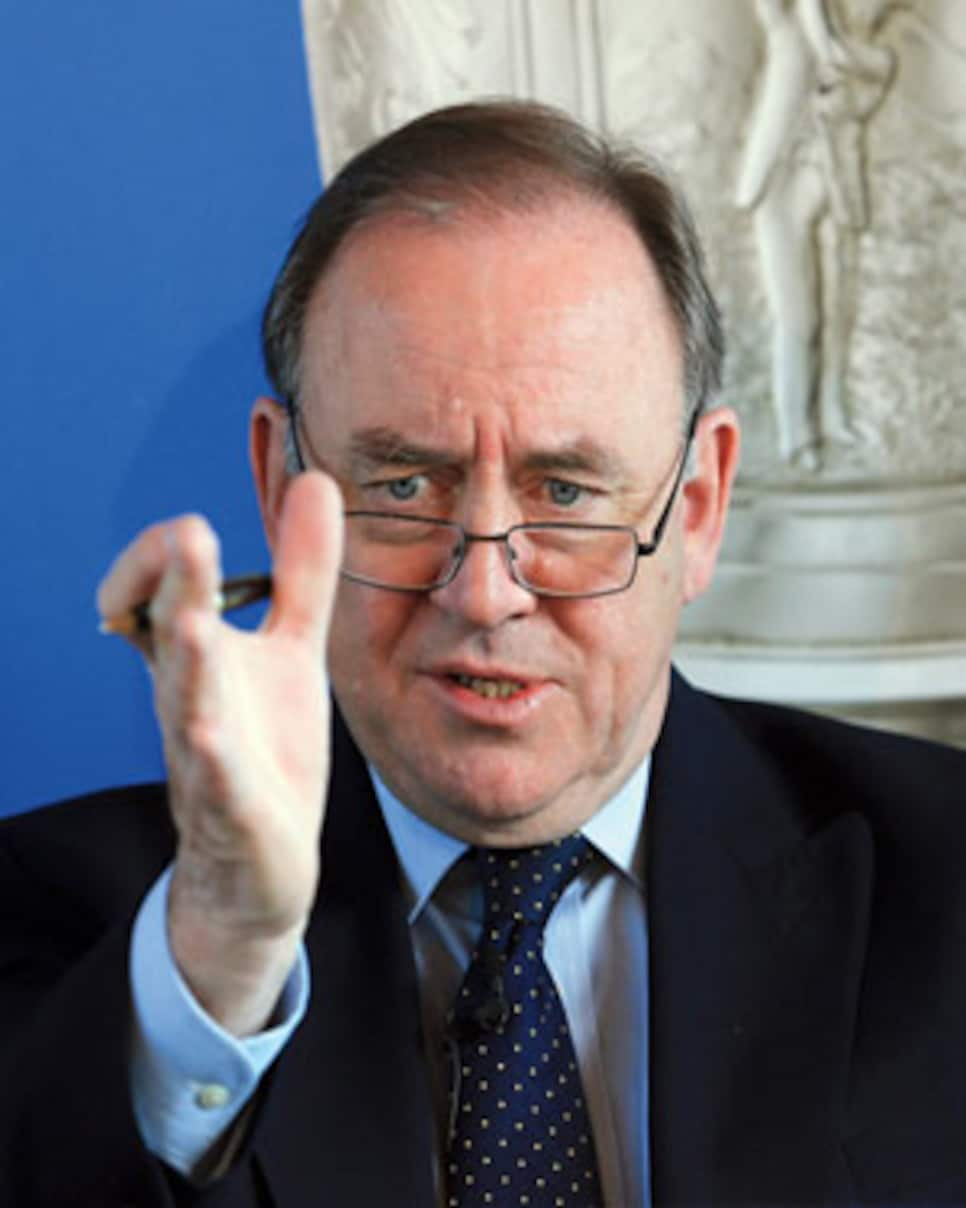 Dawson its CEO to implement a more business-
Photo: David Cannon/R&A via Getty Images
"I've seen a turnaround of 180 degrees on the board," one USGA insider said. "We have to act in terms of what is right for the game of golf, not necessarily what is good for the USGA. That's where we went astray...The board wants to be more of an advisory body than a governing body."
The PGA of America (under Pete Bevacqua, a former chief business officer at the USGA) and the Royal & Ancient Golf Club of St. Andrews (under Peter Dawson) have strong CEO positions that direct their organizations. Despite the widespread opposition to Nager's idea, there was some sentiment that a voluntary board might not be the best way to run the USGA. This was a position the R&A reached almost a decade ago.
In 2004, when the R&A celebrated its 250th anniversary, the R&A Championship Ltd. was formed to oversee all championships, and R&A Rules Ltd. was created to oversee all matters relating to rules, equipment standards and amateur status. This led to Dawson becoming CEO of the companies in addition to his role as secretary of the Royal and Ancient Golf Club. Insiders say the change provided a platform for the R&A to become a more structured, professional outfit.
In addition to the changes with presidents in 2006, the USGA began a corporate-partners program that now includes Rolex, IBM, Lexus, American Express and Chevron, generating more revenue. And in 2011, the USGA dipped into the corporate world to hire communications expert Joe Goode from Bank of America and Hirshland from Wasserman Media Group. Like the R&A, but certainly more deliberately, the USGA seems to be adapting to the ways of a new world while trying to stay connected to its roots in golf.
Less than three weeks after the Walker Cup ended on Sept. 8, the USGA announced its nominations for officers and Executive Committee members who will take over in February. In the seven previous years, only once were the nominations announced before Oct. 19, and five times the announcements came in the last week of October.
That might lead you to believe the Nominating Committee wanted to weigh in on the side of O'Toole, and, by association, Davis, as quickly after the Walker Cup confrontation as possible. The release was issued on a Friday afternoon, considered in the media world as a place to dump news you want to get no attention. This was somewhat similar to announcing the FOX deal on the eve of the PGA Championship, when the golf media was otherwise engaged and could not ask a lot of questions. In fact, there has never been a news conference by FOX or the USGA on the new TV deal.
Though FOX says it's too early to talk about its plans—the first U.S. Open it will broadcast is in 2015—multiple sources say FOX is contractually obligated to stage a full dress rehearsal at a tournament venue in 2014. The thinking is that FOX will try to get a full-field mini-tour event at Chambers Bay in Washington, site of the 2015 U.S. Open, in June 2014 on the same calendar week the 2015 Open will be played.
As with those TV plans, the USGA has not been forthcoming about the details of the internal power structure. Certainly, a large part of this is understandable. And there is precedent for an outgoing president—whose opinion is always solicited by the Nominating Committee—to suggest skipping a sitting vice president. In fact, it has been successfully done in the past.
In any case, come Feb. 8 in Pinehurst, N.C., where the men's and women's U.S. Opens will be played on consecutive weeks in June 2014, O'Toole will take over as president of the USGA and Davis will be the unchallenged power as executive director.
Through the far-flung reaches of the Executive Committee, Nager will be on an island of one.