Media
Roger Maltbie begins another year with NBC's golf team, but it nearly didn't happen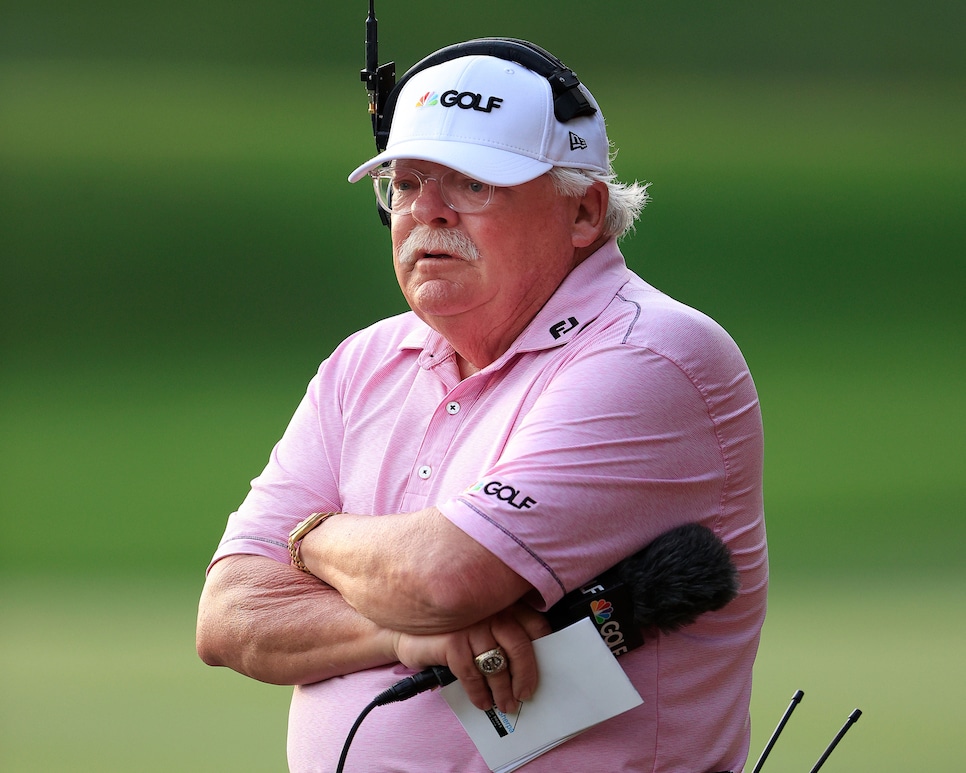 Unbeknownst to most, Roger Maltbie expected last year to be his curtain call with NBC Sports. The former PGA Tour pro turned on-course reporter had been part of the network's golf coverage for 30 years. He turned 70 in June. Nice round numbers. No regrets.
He had one foot out the door before NBC golf producer Tommy Roy pulled him back in. Jim "Bones" Mackay, slated to take over Maltbie's role as lead announcer on the ground, decided in September to re-enter the caddie ranks on the bag of Justin Thomas. Maltbie, after being told he was no longer needed except for perhaps three or four events, accepted a one-year deal.
All this doesn't mean the popular broadcaster with the affable delivery is done after this year. He might well be. But he isn't going to assume anything at this point.
"No, it's not accurate to say this will be it for me," Maltbie said Tuesday during a phone interview with Golf Digest. "I have a one-year contract. I might have another one-year contract next year. I don't know. Let's see how this year goes. However, it is accurate that I thought my announcing days were over. I was ready to ride off into the sunset at the PNC Championship in December, but here I am back in Florida."
Maltbie, a five-time winner on the PGA Tour whose career was derailed by a shoulder injury, returns to the airwaves this week with Golf Channel/NBC's coverage of the Honda Classic in Palm Beach Gardens, Fla. He'll work the next six weeks during this stretch of events on NBC's schedule, and you'll hear him at several other tournaments, including the U.S. Open and the Presidents Cup.
"For the record, we never announced that Roger was done," Roy said. "He's with us in his same role, and we're excited to get going on the new season on NBC."
What likely impacts Maltbie's future will be his health. The California native has a knee that hasn't quite healed fully from surgery in late December 2020, and, in turn, that has caused a back problem that will need fixing. In the last few years Maltbie often has jumped in a cart to get around the course more efficiently, which is why he won't be working the Open Championship at St. Andrews in July. The layout and logistics at the Old Course rule out cart use.
You might say he's come full circle. Maltbie made his broadcasting debut with NBC at the 1991 Bob Hope Classic (now The American Express) as he was recovering from a second surgery on his left shoulder in the fall of 1990. He agreed on the condition he also could work the Ryder Cup at Kiawah Island, the so-called "War by the Shore."
His career looked short-lived when he butted heads with producer Terry O'Neal about interviewing Mark Calcavecchia, who lost the last four holes to Colin Montgomerie in Sunday singles and thought he had cost America the victory by getting only a half-point. Calcavecchia was in no shape to do an interview, and Maltbie held his ground and defied O'Neal's order to try to get the inconsolable golfer on the air. "I'm still a player; I had no visions of a TV career, so what did I care," Maltbie said.
Three weeks later, NBC offered him a contract, a three-year deal. This will be his first contract with the network that isn't for multiple years.
"It's a little awkward, but it's not like I'm not comfortable because I've been around a lot of these guys a long time," Maltbie said. "They [NBC] treated me in a fair and honest way, and I have no complaints, but it is tough to hear you are no longer wanted. I could have just said no thanks, but we all understand the deal.
"In the end, I never left, and yet it's good to be back."