News
Rocky Sunday can't spoil MJ Daffue's promising Workday week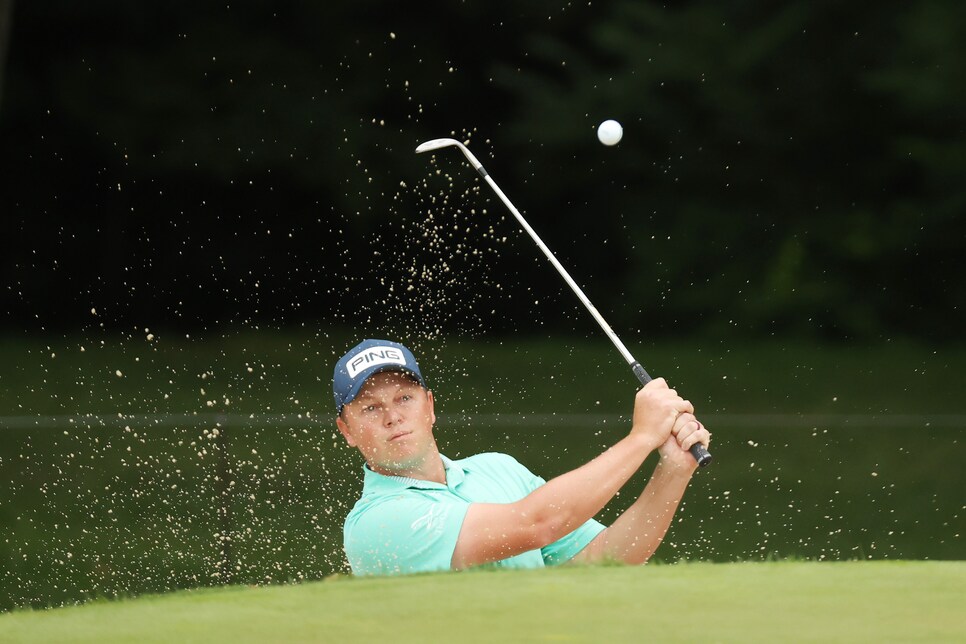 MJ Daffue plays a shot from a bunker on the first hole during the final round of the Workday Charity Open.
Gregory Shamus
Finally, at 18, there was a smile. A tough day, an important day, ended with the kind of validating and satisfying conclusion that means so much to player like MJ Daffue—a player with a lot of heart, little status and no quit in him.
For much of Sunday's final round of the Workday Charity Open, Daffue traipsed about Muirfield Village Golf Club wearing the look of a man who had hamburger money in his pocket but had just ordered the lobster. Worry seemed permanently etched on his countenance. After an impressive bogey-free 7-under 65 on Saturday—just hours after making the cut on the number with a birdie on his final hole—Daffue began the final round inside the top 10 and hoped like hell to stay there.
If he could keep a magical week going for 18 more holes, get that precious top 10 to earn an exemption into the 3M Open in two weeks in Minneapolis, he could build some momentum, something he's rarely enjoyed since he turned professional eight years ago. Maybe he could earn enough FedEx Cup points to finish in the top 200, which would get him in the Korn Ferry Finals.
A lot riding on 18 holes. But, then, there always is for someone.
The South African native battled as best he could, but a few poor swings had immense consequences for his scorecard. But then came the finish, a closing birdie from 21 feet, and Daffue smiled and even laughed a bit. It gave him a final-round 1-over 73 but bumped him into the top 25. At eight-under 280, Daffue finished T-22 with the likes of Hideki Matsuyama and Rickie Fowler.
RELATED: Justin Thomas' brutal Workday finish and other takeaways from Sunday
"Oh, man, obviously a great week. I think if you said 22nd before the week, I would have taken it," said Daffue, 31, who was playing in just his second PGA Tour event. "But just today, it was funny enough the best ball-striking I've had, but I had only four loose shots, and it cost me four shots, and that's exactly where I'm at. Four shots better puts me in the top 10. Just got unlucky, and like I said yesterday, especially this golf course, it will take but it will give, too."
Daffue (pronounced Duf-fee) earned a spot in the 157-man field by claiming the second of two spots in Monday qualifying thanks to converting 11 birdies in a nine-under 63 at The Country Club of Muirfield Village, located across the street from Muirfield Village GC. It was the sixth time in his last 10 attempts he made it through Monday qualifying, but the other five were on the Korn Ferry Tour. His only other PGA Tour start came earlier this year at the Puerto Rico Open, where he ended up T-52.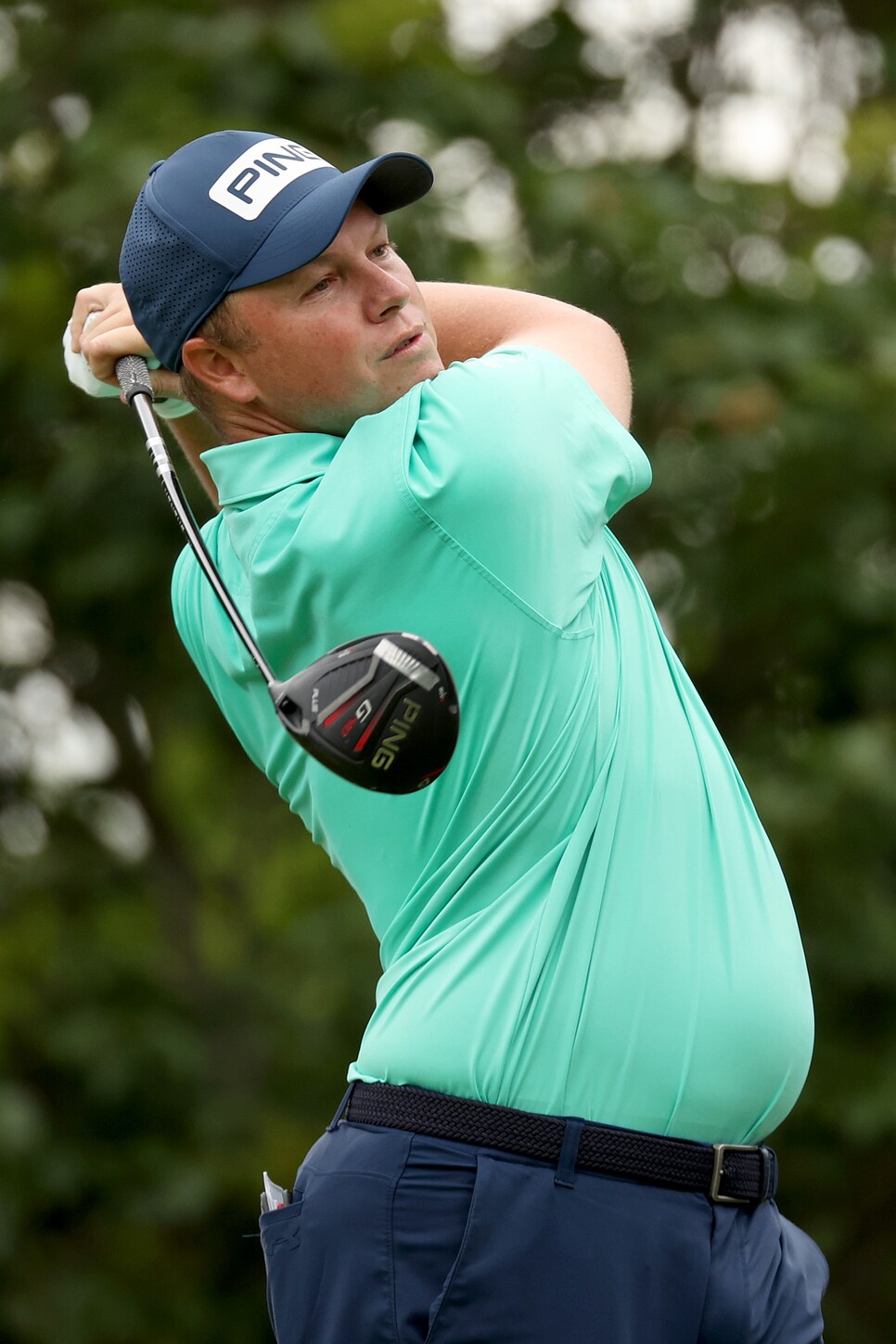 MJ Daffue hits a drive from the 15th tee during the final round of the Workday Charity Open.
Gregory Shamus
He was on the cutline of two under through 14 holes when the second round was halted due to darkness after two weather stoppages. He returned Saturday and promptly bogeyed the sixth. After pars at 7 and 8, his prospects for a third-round tee time hinged on the par-4 ninth. Daffue responded with a pitching wedge from 152 yards to 2 feet. He checked the line three times with his caddie before deciding to simply drill it straight in.
"It's like they say, never take anything for granted," said Daffue, who came to the U.S. in 2008 and played golf at Lamar University, where he won six collegiate titles and earned honorable mention All-American honors in 2012.
After college, Daffue played parts of four seasons on the Sunshine Tour in South Africa. He played nine Korn Ferry events last year, mostly after Monday qualifying, and in the fall and earlier this year competed on the All Pro Tour. Last month he finished a career-best third in the APT's Fore The Kids Shootout at Brownwood Country Club in Brownwood, Texas.
Brownwood is a long way from Dublin, Ohio, and while Brownwood CC is surely a nice track, it's no Muirfield Village, one of the top-rated courses in America and among the most popular on the PGA Tour. Yet Daffue went out in a twosome with Chesson Hadley on Saturday and registered the low round of the day to eclipse six men who shot 66, including third-round leader Justin Thomas.
Sunday loomed larger than Christmas for a 5-year-old, but Daffue couldn't conjure the same magic despite playing well. He blocked a drive on the sixth hole that found the cart path and bounded out of bounds, leading to a double bogey—and it could have been a triple had he not sank a 10-footer. He made bogeys on both par-5s on the inward nine with 5-iron in hand for his second shot at each. It was a struggle.
"I think it was a little bit of nerves," he said.
But he never gave up, not even at the last, the difficult par-4 18th that is among the hardest closing holes on the tour. Something to take away from the week, besides a career-best check of $59,830.
"I think I did a pretty good job of staying in the moment and focusing on the shot ahead, but you lose your vision or your focus for a split second, and you make a bad swing," he noted. "It's not as much a bad shot, it's just I had four mis-hits, and that doesn't work. Yeah, a long tournament, especially if you count my nine under par on Monday, I'm really 17 under."
When you're looking for things to build on, this isn't a bad way to go. Now if he can only get the chance to build on it. His next chance will be a week from Monday in Minnesota.
"If you give me more opportunities, I think I'll be able to somewhat get status," he said confidently. "I'm just glad I got some FedExCup points and I'm creeping closer trying to get in that top 200. There's two more Mondays left [in the season]."
Two Mondays and, if this past week was any indication, endless possibilities.