News
Rocket Mortgage Classic 2020 best bets: Why our experts can't endorse betting Bryson DeChambeau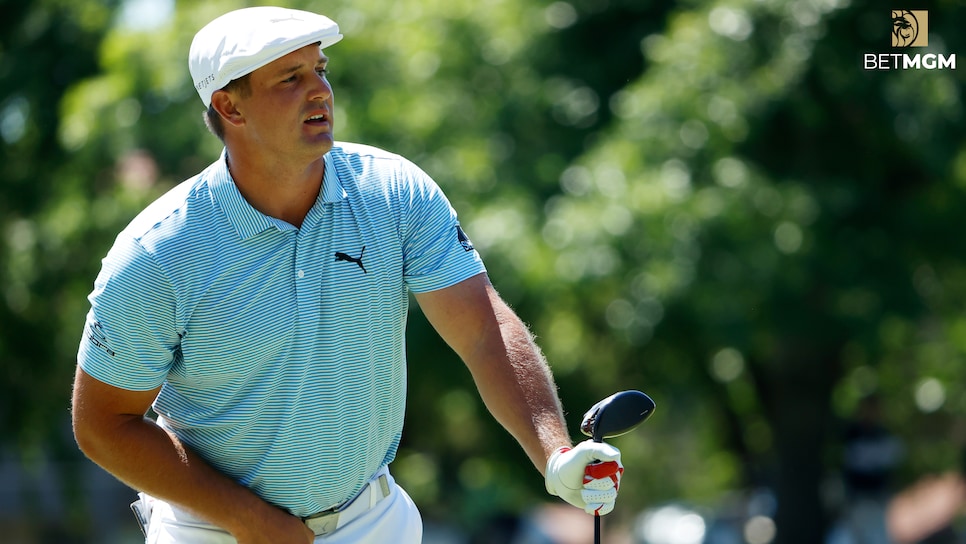 All kidding aside, we are RED hot. Two of our experts, Pat Mayo and Brandon Gdula, were on Dustin Johnson at 28-1 last week, a number that looks increasingly absurd given how DJ looked like his former World No. 1 self at the Travelers Championship (click below to listen to our conversation with Mayo, in which he tells us how he picked DJ and offers advice for anyone looking to get into betting on golf).
This week's Rocket Mortgage Classic could prove to be a bit more difficult to handicap, as the field is the weakest of the post-quarantine events. Only three of the world's top-11 players—Webb Simpson, Patrick Reed and Bryson DeChambeau—are teeing it up. We're not making excuses already, we're just saying this week, which will be a birdie-fest, is anybody's tournament to win (evidenced by Nate Lashley winning last year as an alternate).
Read on to see who we like this week at the 2020 Rocket Mortgage Classic.

Rocket Mortgage Classic 2020: Picks To Win (Odds from BetMGM)
Anonymous Caddie Picker of the week: Bryson DeChambeau (6-1) — I know, the value isn't here. But hey, if you've been following our experts in this column, you should be up big money. Put some of that here on what I think is bound to happen. Bryson's game is so impressive right now. He's going to tear this course apart with him length and pinpoint approaches. If he putts well it will be his week, he just needs to be patient because his recent close calls have clearly been frustrating. It's the mental part that could hold him back; every part of his game seems to be clicking.
Pat Mayo, DraftKings/Fantasy National analyst: Kevin Na (40-1) — On a betting board devoid of any value, Kevin Na is the glimmer of hope. Will he win? I mean, probability would say, "No", but he has a better chance than most the golfers above him. This is the type of course where Na generally excels—an emphasis on irons over driving, Bentgrass greens, a weak field. Here's a question: The last two years who has more PGA wins? Kevin Na, or Bryson DeChambeau, Rickie Fowler, Tony Finau, Scottie Scheffler, Hideki Matsuyama, and Victor Hovland combined? Clearly I wouldn't have asked if the answer wasn't KEVIN NAAAAAAAAA.
Brandon Gdula, FanDuel/numberFire managing editor: Sungjae Im (22-1) — I do quite like the top of the field this week and my win model actually shows some positive value on Webb Simpson (12-1), Tyrrell Hatton (14-1) and Patrick Reed (16-1), which is really odd to see at the top of the betting board. However, Im comes at a much better price due to his short-sample struggles. Im finished 21st here a year ago and ranked seventh in strokes gained/tee to green. I'm fine taking the discount on Im, whose long-term form is great.
Rick Gehman, data scientist and RickRunGood.com founder: Viktor Hovland (20-1) — Hovland became the first Norwegian male to crack the top 50 of the world rankings this week, and he's not going to stop there! He's been one of the best players on tour since the restart, notching top-25 finishes in each event. The only flaw in his game is around-the-greens, which is something he has statistically improved since the restart. Now with his game in top form, he gets to compete against the weakest field we've seen, trying to capture his second PGA Tour win. This isn't an outrageous price for such strong upside.
Stephen Hennessey, Golf Digest dep. managing editor: Bubba Watson (45-1) — You know the narrative: Bubba Watson only tends to win on courses that are "Bubba courses." This is simply a value play. Bubba was 33-1 in a really strong field at the Travelers, and he got a lot of attention. Because of the missed cut, he's 45-1 in this really, really weak field. I'll gladly take the value. In the past three events, Bubba is ranked first in scoring on par 4s of 450-500 yards, of which there are four here at the Rocket Mortgage. Bubba finished seventh at Colonial, which I think could draw some similarities for being an older, tree-lined course. Don't ignore Bubba in this spot.
Christopher Powers, Golf Digest assistant editor: Rickie Fowler (30-1) — That's right folks, I'm back on Rickie Fowler. Will I ever learn? Doubtful. I just can't quit him, especially off of three out of four missed cuts. We rag on Rickie a lot on our "Be Right" podcast, but one thing you can't say about him is that he's a cut-misser. I don't expect this poor form to continue, and this week's the perfect week for him to get it together. Weaker field, lots of birdies available and it's his damn sponsor! What does PMI even mean, Rick? Hopefully it means Fowler snapping out of it, catching fire with the putter and throwing up a few 63s to get into contention on Sunday. That's all we can ask for with an outright bet.
Lee Alldrick, FanShare Sports: Viktor Hovland (20-1) — Sure, this number is short. But it's also fair. Hovland is hitting the ball as well as anyone in the world right now. Per Fantasy National, Hovland ranks second in this field in Opportunities Gained in his past 50 rounds, and fourth since the restart. (Opportunities Gained identifies the number of birdie chances inside 15 feet). And he's second in strokes gained/tee-to-green. It's just a matter of getting the putter hot. Hovland gains 0.3 shots on the field on these Bentgrass greens, so this could be a positive week. Hovland finished T-13 here last year, so with that bit of course experience, that's enough for me to take a shot on the youngster.
Results from this season: We have correctly predicted 11 of the first 24 winners to start the season. FanDuel's Brandon Gdula and DraftKings' Pat Mayo each correctly predicted Dustin Johnson's win at the Travelers last week, the fifth outright winner on the season for each of them. That puts Gdula up a massive 139 units on the season (the equivalent of being up $1,120 on $10 bets) and Mayo up 112 units for the 2019-'20 season. The previous week, data scientist Rick Gehman picked Webb Simpson (25-1) as his outright winner in his first week on the panel! FanShare Sports' Lee Alldrick also has three winning predictions this season. Golf Digest's betting panel continues to be the hottest golf betting panel in the industry, as collectively, counting outright winners, top-10 bets and matchups won and lost, we are up 295.43 units (the equivalent of being up $2,954.30 if you wagered $10 on all of our bets).
Sleepers/Dark Horses That Could Win the 2020 Rocket Mortgage Classic (odds from BetMGM):
Caddie: Doc Redman (45-1) — His game is trending in the right direction after a T-11 at the Travelers. And he has great vibes after Monday qualifying and having his best-ever finish here last year. The youngster has a very well-rounded game, and if he can get it rolling on the greens he'll be in the mix again.
Mayo: Wes Bryan (200-1) — I don't quite get it, but if Brendon Todd was able to emerge from the abyss and win on tour again, why not Wes Bryan? The former Big Break star led all players in approach at Travelers, after gaining 2.5 with his irons at Heritage. He just couldn't make any headway on the greens. He's always going to lose off the tee, that's basically a given, but if he can just hit some fairways and be as close to field average as possible from the tee box, back on Bentgrass, where he's +0.31 strokes per round putting, he'll have a shot in a weaker field.
Gdula: Erik Van Rooyen (60-1) — Van Rooyen ranks 11th in strokes gained/tee to green over the past 50 rounds on the PGA Tour and is top-18 in both strokes gained/off the tee and strokes gained/approach. Van Rooyen's short game isn't nearly as good, but he's fifth in birdie or better rate in that sample and is one of the best tee-to-green players in the world. He can easily contend at this event.
Gehman: Doc Redman (45-1) — Redman has been excellent in one of the most important stats: strokes gained/tee-to-green. Per the RickRunGood.com database, Redman has gained 16.72 strokes from tee-to-green in his last seven rounds. For perspective, Bryson DeChambeau gained 10 strokes in that same span. Now Redman returns to the site of his best career finish, a second place at last year's Rocket Mortgage Classic. Those are great vibes, and you get a decent price because he's not a household name.
Hennessey, Golf Digest: Scott Stallings (100-1) — This is definitely a longshot week. You might have to go even longer on the board than 100-1, but Stallings is worth a sprinkle at this price. A key stat I like this week is strokes gained on par 4s of 450 or more yards, of which there are four at Detroit Golf Club. Stallings boosts the best stats in that category: He ranks second in this field on par-4 scoring on par 4s of 450-500 yards; he's 17th on par 4s of 400-450 yards. Interestingly, Nate Lashley popped in that par-4 scoring stat on 450-yard holes or more last year. If that's a sticky narrative, that could help guide us to another longshot at Detroit Golf Club.
Powers, Golf Digest: Patton Kizzire (125-1) — With Kizzire coming off a sixth-place finish at the Travelers, this number jumped out to me. There are guys in the 40/1 to 60/1 range that have never won a PGA Tour event, and you're giving me Kizzire, a two-time tour winner, at 125-1, and he's trending? I'll hop on that. Kizzire has proven to be a bit streaky in his career, kind of like J.R. Smith when he gets cooking from 3-point range. He had back-to-back top-5s in early 2015, had three straight top-10s including a victory in November of 2017 and went eighth-13th in January of 2019. Let's try and bank on a Kizzire heat check in Detroit.
Alldrick, FanShare Sports: Emiliano Grillo (150-1) — Yes, I'm giving Grillo a chance. The betting community has been off of Grillo for his cold putter, but a change to these Bentgrass/Poa annua hybrid greens could, statistically at least, reverse the trend for him. Consider these stats and the odds you're getting: Grillo ranks 20th in the field in strokes gained/tee to green since the restart, and he's second in Opportunities Gained, per FantasyNational.com. These Donald Ross greens are more benign that others, so brace yourself: This could be a Grillo week.
Rocket Mortgage Classic 2020: Players to Fade This Week (who will disappoint)
Caddie: Hideki Matsuyama (18-1) — Matsuyama's had a rusty start to the season, and these odds are just too low to justify taking him.
Mayo: Rickie Fowler (30-1) — Figure out the driving and get back to me.
Gdula: Bryson DeChambeau (6-1) — Look, I know that Bryson is going to win an event soon—and probably by a significant margin, but this price is just too steep for me. The return isn't there. Detroit Golf Club showed a mitigating effect on off-the-tee play last year, and if that winds up being a trend, DeChambeau gets knocked down. For someone who hasn't won in so long to have this low of a price, there's really no value here.
Gehman: Rickie Fowler (30-1) — Fowler is working through swing changes right now and has been since earlier this calendar year. It's always a tough road when a player decides to make tweaks like this. He's missed three of his last four cuts, and his game is statistically as poor as we've seen it. Since the restart, he's lost strokes off-the-tee in both events and lost strokes putting in both events. There is not another instance in my database of Rickie losing in both categories for two straight events, so clearly a lot of things are not right with Rickie.
Hennessey, Golf Digest: Bryson DeChambeau (6-1) — As the others have said, Bryson could very well run away with this based on what the stats say is possible. But golf isn't purely about stats. To beat a field of 144 players is so tough. This price is just unbettable. I promised a couple weeks ago I'll be betting Bryson at Muirfield Village, so I'm kind of hoping for an off week for Bryson for an inflated number there.
Powers, Golf Digest: Bryson DeChambeau (6-1) — The number is just far too low. If he goes on to win by 10, I'll be happy to be wrong, because the way he's playing he deserves to get a victory. He's by far the best player in the field right now (besides Webb), so I understand why he's 6/1. But this is going to be a wide-open tournament, just like every week is on the PGA Tour.
Alldrick, FanShare Sports: Bryson DeChambeau (6-1) — Fatigue will eventually hit DeChambeau physically and mentally. He is trying so hard to win; it's going to catch up on him. I believe this will be the week. The greens aren't great for his game, and they may well get to him this week as we see him crash and burn early.
Rocket Mortgage Classic 2020: Matchups
Caddie: Tyrrell Hatton (-118) over Patrick Reed (BetMGM) — Hatton's ball-striking is other-worldly right now. His past five events on the PGA Tour, he's gained more than seven strokes on the field, and that doesn't include his win on the European Tour. Reed has regressed in the past few weeks, so this is an easy decision to back Hatton.
Mayo: Rory Sabbatini (+100) over J.T. Poston (DraftKings) — In spite of good finishes recently, Poston has been a lot of smoke and mirrors. JT has Top-10 finishes since golf returned but has lost on approach in all three events, massively the last two weeks. His good results have come from chipping in a few times to save his rounds. Now, he has his only career win at a Donald Ross course last year at Sedgefield, so balance that out with someone who just kills Ross designs even more: The King of Slovakia himself, Rory Sabbatini.
Gdula: Kevin Na (-118) over Brandt Snedeker (FanDuel) — Snedeker's irons haven't been clicking since the return, and while the data shows not to overreact to a two-start sample, it's hard to get behind someone who has lost 9.3 strokes from his approach play alone over six rounds while gaining 8.9 with his short game. Na did miss a cut but also finished fifth since the hiatus with a very steady tee-to-green game. Give me Na's profile over Snedeker's.
Gehman: Rory Sabbatini (+100) over J.T. Poston (DraftKings) — Poston missed the cut last week, but I'm more interested in what Sabbatini has been doing. In his two events since the restart, he's finished T-14 and T-21 in absolutely stacked fields. Now he returns to Detroit where he finished third last season.
Hennessey: Webb Simpson (+110) over Bryson DeChambeau (BetMGM) — We're getting a discount that doesn't make too much sense on the outright market, with Webb being double the odds to win against Bryson. But here, Webb is just slightly above even-money on beating Bryson straight up. That tells me oddsmakers are taking a ton of action on Bryson to win. Ideally this number would be even higher given that outright-market discrepancy, but even at that, I think Webb isn't getting enough credit for how well he's playing, which is insane given he's won two of the past four events he's played in.
Powers: Matthew Wolff (+100) over Mark Hubbard (DraftKings) — Hubbard is the safe play here, as he's been steady all season. Wolff on the other hand has been a bit of a mess. But even odds on Matthew Wolff over Mark freaking Hubbard is not something I'm passing up, no disrespect to Hubbard.
Alldrick, FanShare Sports: Kevin Na (-110) over Scottie Scheffler (Betway) — Na ranks 13th in strokes gained/tee-to-green since the restart and also ranks 12th in the field this week for strokes gained/putting on these style of greens. Compare that to Scheffler, who's 61st in strokes gained/tee-to-green since the restart and 117th in strokes gained/putting on these style greens. I'll take the consistency of Na in this match-up.
Matchup Results from the Travelers Championship: Powers: 1 for 1 (Jon Rahm (+105) over Justin Thomas); Hennessey: 1 for 1 (Marc Leishman (+100) over Matthew Fitzpatrick); Gehman: 1 for 1 (Sungjae Im (-110) over Tony Finau); Mayo: 1 for 1 (Sergio Garcia (-120) over Ian Poulter); Tour Caddie: 1 for 1 (Abraham Ancer (-130) over Paul Casey); Gdula: 0 for 1; Alldrick: 0 for 1
Matchup Results this season: Alldrick: 14 wins, 6 losses, 2 pushes (up 6.04 units); Hennessey: 8 wins, 4 losses (up 5.15 units); Powers: 7 wins, 4 losses, 1 push (up 3.65 units); Tour Caddie: 11 wins, 7 losses, 1 push (up 3.51 units); Gehman: 3 wins, 0 loss (up 2.68 units); Mayo: 11 wins, 11 losses (up 0.14 units); Gdula: 7 wins, 12 losses, 2 pushes (down 4.09 units)
Top 10 (odds from DraftKings Sportsbook)
Caddie: Mark Hubbard (+800) — Mark's having a very consistent season and rightfully so, he has a very complete game. He hits lots of fairways and putts well, two traits that are helpful during a birdie fest.
Mayo: Sebastian Munoz (+800) — Gaining strokes on approach in his past seven events, Munoz's flat stick went into quarantine and failed to reemerge. Strange, as Munoz's baseline over the past two years shows he's actually a very good putter. Just inch back toward his putting stroke from the swing-season (in a field that certainly looks like a swing season event), and he can surge up the leaderboard.
Gdula: Sebastian Munoz (+800) — I'm with Pat. Munoz was 28th at the RBC Heritage with modest ball-striking but picked it up a bit despite a missed cut at the Travelers when he was abysmal around the greens. Munoz has shown the propensity to get hot tee to green and had two strong showings in weaker fields back in September when he was seventh at the Greenbrier and won the Sanderson Farms.
Gehman: Harold Varner III (+550) — HV3 is usually a high risk, high reward play. He's found himself at or near the top of leaderboards a handful of times recently but always seems to crumble. Usually a player needs to build that scar tissue before breaking through. His game is in the right place and he's hitting his irons beautifully. He gained 7.17 strokes on approach last week, good for fifth in the field.
Hennessey, Golf Digest: Rory Sabbatini (+500) — We get some course history here with Sabbatini (T-5 here last year) plus the recent form (T-14 and T-21 since the restart). To get me to bet Rory Sabbatini to win is a bit much, but him finishing top-10 or top-20 in this field is very realistic.
Powers, Golf Digest: Erik Van Rooyen (+600) — In 13 career PGA Tour starts, all EVR has done is finish inside the top 25 seven times, including a third at the 2020 WGC-Mexico and an eighth at the 2019 PGA. This is a big-game player we're talking about here, and while this field doesn't scream "big game," all these starts are still very important in a shortened season. I expect EVR to contend, which should be enough to cash a top 10 ticket.
Alldrick, FanShare Sports: J.T. Poston (+450) — Poston ranks 10th in FanShare's course-suitability ranking this week. He ranks 21st in the field in strokes gained/tee to green since the restart, plus he gains 0.3 strokes per round on this field on these style greens.
Top 10 results from the Travelers Championship: Everybody: 0 for 1.
Top 10 results for the season (assuming one unit wager): Mayo: 4 for 21 (up 15.5 units); Alldrick: 5 for 21 (up 5.5 units); Hennessey: 3 for 11 (up 5 units); Gehman: 1 for 4 (up 4 units); Gdula: 3 for 22 (down 3.8 units); Powers: 1 for 11 (down 8.35 units); Tour Caddie: 1 for 20 (down 15.5 units)
46 - The number of total strokes under par for Bryson DeChambeau since the TOUR restart, the best of any golfer.
1,562 - The number of days since Tony Finau's only career win, the 2016 Puerto Rico Open.
3.034 - The number of strokes per round that Tyrrell Hatton has gained on the field this season. At that rate it would be the fourth-best recorded season ever, behind Tiger Woods in 2006, 2007 and 2009.
9.31 - The number of strokes gained on approach last week for Wesley Bryan, the most at the Travelers Championship. Bryan is playing on a Major Medical Exemption.
119.3 - The average number of DraftKings points scored by Webb Simpson in the five events that he has been priced $11,000 or more.
In addition to Gehman's DFS rundown, here's some fantasy advice for this week from FanShare Sports' Lee Alldrick:
Under The Radar DFS Pick: Emiliano Grillo, $7,100 (DraftKings) — The only thing that has been holding Grillo back of late is his putting. For the reasons I made him my sleeper pick (above), I love him. Also, Grillo is ranked 25th in FanShare Sports' course-suitability ranking, which means he should absolutely thrive this week.
Value DFS Pick: Matt Wallace, $6,700 (DraftKings) — Wallace is the 17th-highest ranked player in the field this week world-rankings-wise, however, he is priced up as just the 60th-most expensive play on DraftKings. Sure, he has performed no better than 64th in any of the three events since the lockdown, but this Detroit Golf Course will suit him much better than the others. He ranks 32nd in the field for strokes gained/putting on these Bentgrass/Poa mix greens.
BetMGM is offering a deposit match up to $500 for any golf fans creating a new BetMGM account. Use the promo code: GOLFDIGEST and create an account with BetMGM to take advantage of the BetMGM offer and try your hand at betting on golf. Offer only valid in New Jersey, West Virginia, Indiana or Colorado.
Pat Mayo is an award-winning video host and producer of long and short-form content, and the host of The Pat Mayo Experience daily talk show. (Subscribe for video or audio. Mayo (@ThePME) won the 2020 Fantasy Sports Writing Association Daily Fantasy Writer of the Year and Golf Writer of the Year awards, along with the Fantasy Sports Trade Association Best Sports Betting Analyst award, and was finalist for four FSWA Awards in 2020 (Best Podcast, Best Video, Daily Fantasy Writer of the Year, Golf Writer of the Year). His 21 FSWA nominations lead all writers this decade and are third-most all-time. Mayo is on the board of governors at www.fantasynational.com.
Brandon Gdula, managing editor and analyst for NumberFire, a FanDuel daily-fantasy analysis company, recently won the 2018 fantasy sports-writers association Golf Writer of the Year *(congrats, Brandon!)*. Gdula also co-hosts the DFS Heat Check podcast.
Rick Gehman is the founder of RickRunGood.com and the RickRunGood YouTube Channel, is one of the industry's leading experts on golf DFS and gambling. Gehman is co-host of the First Cut Podcast and appears regularly on the Pat Mayo Experience golf podcasts. Follow him on Twitter: @RickRunGood.
Lee Alldrick of FanShare Sports started out writing an article highlighting the best bargain plays for fantasy golf under his twitter handle @DKGolfBargains. His success at this prompted FanShare Sports to enlist him as a guest writer, which evolved into him writing the weekly Under The Radar article. As a U.K.-based expert, Alldrick's insight into European Tour regulars and low priced, low owned plays has provided an invaluable edge for readers when it comes to DFS GPPs.