Rocket Mortgage Classic
It was a tough road for this tour pro on his way to shooting 63 in Detroit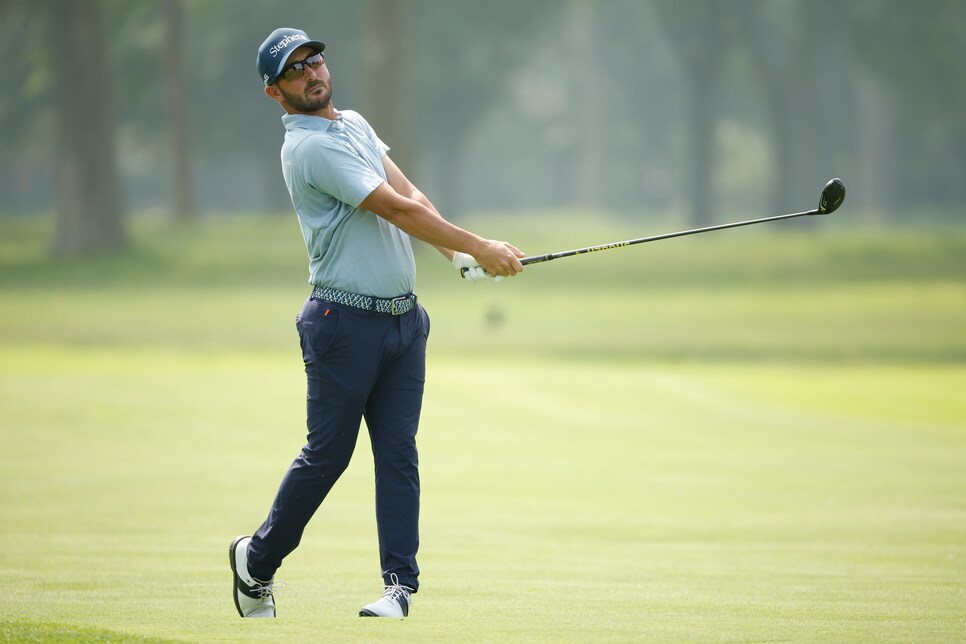 Andrew Landry plays his second shot on the 17th hole during the second round of the Rocket Mortgage Classic.
Cliff Hawkins
At 660th in the Official World Golf Ranking and 210th in the FedEx Cup standings, Andrew Landry is a pretty good professional golfer who hasn't played good golf for quite some time. That fact doesn't make him particularly unique. Good golfers struggle. Great ones do, too.
Here's the thing though: If they're really any good, they'll find a way to prove it.
Landry tied the course record Friday at the Rocket Mortgage Classic, firing a bogey-free nine-under 63 at Detroit Golf Club. That's some pretty good golf—and it seemingly came out of nowhere for a player who hasn't finished better than 40th in his 18 starts this season on the PGA Tour.
True, it's only one round, and there's no telling if he can back up that performance with two more rounds of solid play. But that effort, on a soft and partly cloudy day in Michigan, is a reminder of the depth of talent in golf and that a good player shouldn't be dismissed when he is finally healthy and can make the necessary adjustments in his game.
"I've been needing this one," said Landry, 35, who remains exempt on tour this year after winning the The American Express in 2020 just before the pandemic struck. "It feels good to be able to come out and just play a good round of golf, just solid."
Landry traces most of his struggles to injuries to both shoulders last season, which primarily affected his iron play. Doctors couldn't pinpoint the issue, but periods of rest and some adjustments in his setup have alleviated pain he sensed in one shoulder on the takeaway and in the other on the downswing. Try playing well fighting those constraints, and Landry admits that the mental battle had been taking a toll.
"It's one of those things right now where my ball-striking has not been there for the last couple years. It's been a tough go," said the native Texan, who ranks second in total driving this year but is losing 1.173 strokes in the approach-the-green category, ranking 193rd on tour.
After seeking help from a few swing coaches, he reunited with Layne Savoie, who was an assistant coach at the University of Arkansas when Landry played for the Razorbacks. They began working last month before the Byron Nelson Classic, and although Landry extended his streak of missed cuts to five that week, he made it to the weekend in his last two. Now make that three as he finished at 10-under 134, three behind clubhouse leader Taylor Moore.
Without getting too technical, Landry has made an adjustment in how he uses his hips, which has taken stress off his shoulders.
On Friday, Landry hit 16 greens in regulation and gained 3.02 strokes in approach the green and 6.25 strokes total in the early going. It didn't hurt that he needed only 25 putts.
Landry said it wasn't the purest he's ever struck the ball, but it was a vast improvement over what he had been seeing over the last few years. In addition to his sub-par golf this season, Landry ended the 2021-22 season failing to make a check in his last 11 starts, with 10 missed cuts and a withdrawal.
"You spend some time hitting shots when you're hurt that you don't see those very often, especially as a professional," he said. "So it's one of those deals like you literally can just see different shots come out and you're like, wow, what is that? Then it starts to just creep on you, it starts to wear on you mentally. Then you just start to lose trust in your game and start to lose trust in your golf swing."
But maybe that trust is returning. From there some semblance of confidence can flourish.
"I gave myself opportunities, that was the most important part," Landry said, "and like I told Layne at the beginning of the week, he said, 'What would it take for you to win a golf tournament?' I said, if I could hit 15 greens every single day, I'd win the golf tournament. Because my putting statistics have been so good, I've been rolling the ball so well for so long, I was like, I just need to get it on the green."
Winning is a lot to ask from a guy who last finished in the top 10 in the fall of 2021 at Mayakoba. But that's how a good player thinks when he thinks he's back to being a good player.