The Loop
Robot's hole-in-one brings beer showers to TPC Scottsdale's 16th hole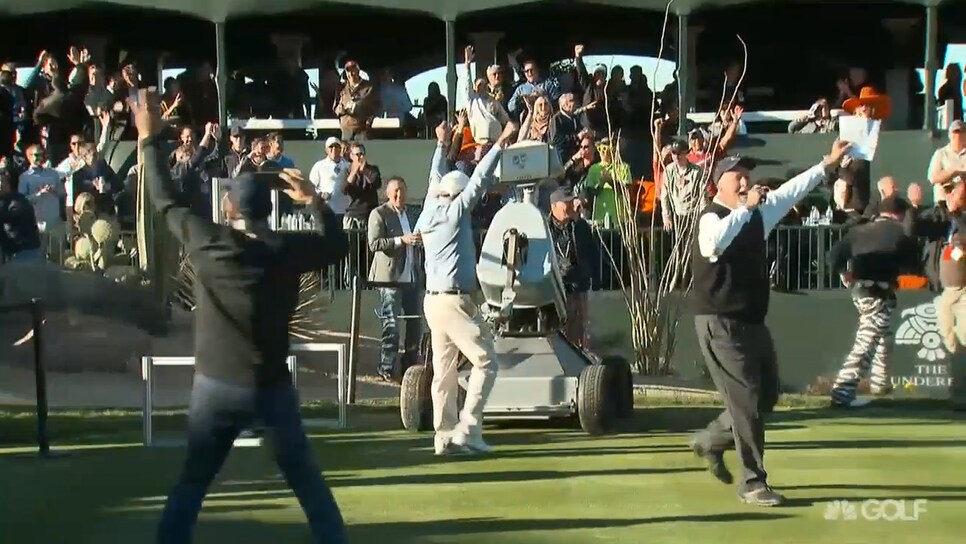 The tradition of soaking the 16th green at TPC Scottsdale in booze and bottles started in 1997, when -- in the fledgling states of Tigermania -- one Eldrick Woods registered a hole-in-one, transforming the crowd from "PGA Tour gallery" to "Bourbon Street patrons during Mardi Gras."
The shot was seminal moment in 16th hole's fame, fueling its reputation as one of the most exciting holes in golf.
On Wednesday, during the Waste Management Open's pro-am event, another ace came via way of Eldrick. But Tiger was nowhere near the Phoenix premises. In fact, the shot wasn't posted by a professional or amateur player.
The lucky golfer in question was a robot.
"LDRIC the Robot," to be exact, is the name of the machine created by Gene Parente. Owner of Golf Laboratories Inc., Gene's robot is the go-to device for equipment and ball-testing in the golf industry. Not only is its swing sound and fluid, but it can replicate hooks, slices and other flaws inherent to the average golfer.
But it's more than just a measuring apparatus. Parente's robot is a stone-cold killer on the course, evidenced here by a demonstration on the 16th at TPC Scottsdale:
Amazing, yes, but just as fabulous is the crowd's reaction, treating the shot like any other hole-in-one. Perhaps I've watched Terminator too many times, but seems like the human-robot rapport is usually adversarial. Phoenix is showing us that, hey, why can't everyone just get along?
No word if the robot had to buy his group a round at the bar.