News
Robert Streb, Peter Malnati put trying years behind them, finish first, second to regain PGA Tour memberships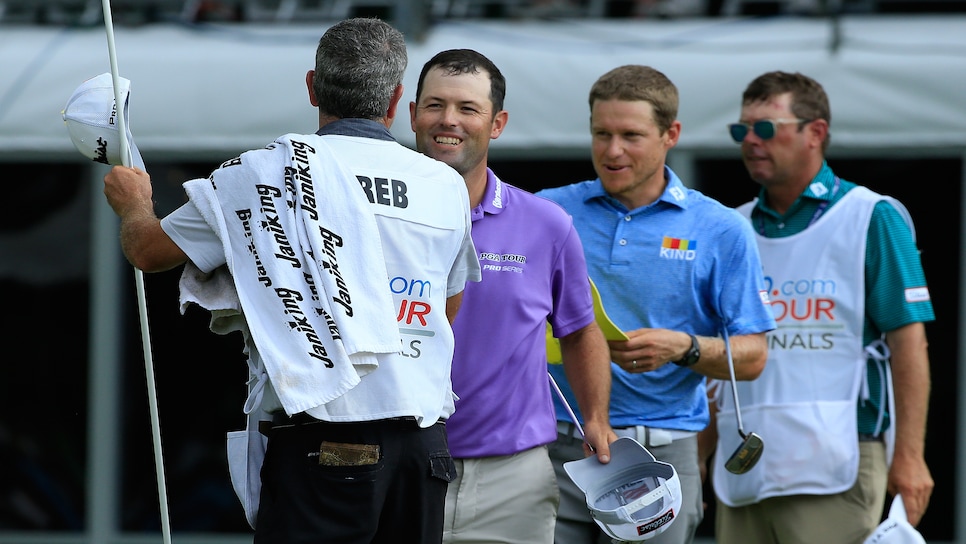 COLUMBUS, Ohio — Nominations have been reopened for golf's ultimate mulligan. Two PGA Tour veterans who truly belonged in the Web.com Tour Finals after disappointing seasons found themselves in a playoff and playing with house money Sunday at the Nationwide Children's Championship at Ohio State University Golf Club.
Robert Streb and Peter Malnati, who between them registered one top-10 and four top-25 finishes this season on the PGA Tour and ranked outside the top 100 in scoring average, ended up atop the leader board after completing 72 holes at OSU's Scarlet Course in 12-under 272. Streb, the 54-hole co-leader with Jim Knous, struggled to an even-par 71 on a breezy, humid and mostly cloudy afternoon, allowing Malnati to catch him with a closing 66.
Malnati would have won outright had he not bogeyed the 72nd hole from the left rough. He bogeyed it again from an identical location in the playoff after his 18-foot par putt lipped out. When Streb got up and down for par from the front fringe, he had his first win since his lone PGA Tour title at the 2015 McGladrey Classic.
Streb, 31, of Shawnee, Kan., collected $180,000, nearly half of his earnings of $411,606 this season when he finished 178th on the FedEx Cup points list in 29 events on the PGA Tour. His best finish was T-10 at the Barbasol Championship in July, the event opposite the Open Championship.
"It's been a pretty big struggle all year," Streb said, his face awash in sweat and relief. "Played a lot and was not playing well, so really nice to get that knocked out the first week."
Malnati, who for the second week in a row wore a yellow bucket hat in honor of his late friend Jarrod Lyle, also was relieved. "Today and yesterday [were] about as nervous as I've ever been because I really want to get back to the tour," said the Knoxville, Tenn., resident, who like Streb is 31 and has one PGA Tour victory, the 2016 Sanderson Farms Championship. "These four events … they're a great opportunity, but you don't want to wait until the last one."
He won't have to after earning $108,000. Since the start of the four-event Web.com Tour Finals in 2013, the lowest earnings required to finish in the top 25, and thus earning a PGA Tour card, was the $40,625 Seamus Power made last year.
"Peter's a good friend. We both more or less achieved what we were trying to achieve," Streb said. "I would say [the playoff] was a little more relaxed than normal. Could have flipped a coin, I think everybody would have been all right. It was nice to come out on top."
He emerged with the victory by making an adjustment with his driver and seeing a few more putts fall. On the first count, Streb, who ranked 181st in scoring with a 71.905 adjusted stroke average, worked diligently on hitting a fade. He gave up yardage in favor of finding more fairways, or at least remaining closer to them.
"They weren't going very far, but it was getting me in play," he said. "I spent a lot of time playing with some longer guys and was 30 yards behind them all week. It was a little different."
But at least he could say the outcome was different than what he's seen of late.
Other winners Sunday were Cameron Davis and Shawn Stefani, who finished third and fourth, respectively, both likely earning their way to the PGA Tour as well—Davis for the first time after beginning the year with no status. The 23-year-old who made headlines in December when he chased down Australian compatriot Jason Day for an upset victory in the Emirates Australian Open, earned $68,000 after equaling Malnati for low round of the day and finishing a stroke out of the playoff at 11-under 273. Stefani closed with 67 for a 274 total to pocket $48,000, which should be good enough to be among the top 25 by the conclusion of the Finals.