The Loop
Robert Allenby and caddie part ways during round, forcing fan to finish on the bag
For a guy who hasn't won on tour in 14 years, Robert Allenby sure makes a lot of headlines. And, like his past escapades, this latest report is filed under less-than-desirable circumstances.
Playing in the RBC Canadian Open on Thursday, Allenby and his caddie, Mick Middlemo, appeared to have a chat before his fourth shot on Glen Abbey Golf Club's par-5 13th hole (Allenby's fourth hole of the day). Allenby's shot went into a creek short of the green, leading to a triple-bogey.
Both parties agree it was at this juncture that things went south. How it happened and what was said is in dispute.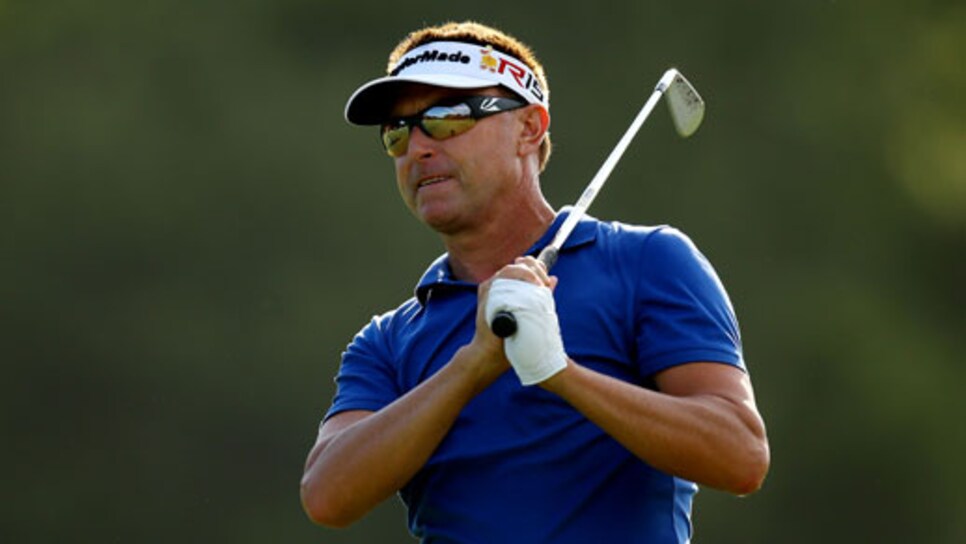 According to the 44-year-old Allenby, Middlemo is to blame, not only for the dropped shot, but the ensuing dustup.
"I said to him, 'You know this happens every week. This has happened for like the last three or four or five months,'" Allenby told ScoreGolf.com. "We keep making bad mistakes, and you're not helping me in these circumstances. And he just lost the plot at me. He just told me I could go eff myself."
"And I said, 'Look, you need to slow down. I mean just calm down.' And then he just got right in my face as if he wanted to just beat me up. I said, 'Stop being a such and such and calm down and get back into the game.' And he just got even closer and closer, and I just said, 'That's it, you're sacked.' I said, 'I will never have you caddie ever again.'
"And we never spoke for the rest of the (first nine), and when we got to 18 we walked off, and he said some smartass remark to me, and I said, 'You don't deserve to be caddying out there.' And he just got right in my face and threatened me, so I said, 'Go.' So he left."
Not quite how Middlemo remembers it.
While the caddie did confirm some of Allenby's remarks, he has a different version of what started the fight.
"I just wished it had never gone this far. But he is again using the media to make himself look like the victim," Middlemo told ESPN, alluding to an incident in Hawaii earlier this year involving Allenby and an alleged kidnapping.
According to Middlemo, it was Allenby who messed up on the 13th.
"The discussion was only about waiting for the wind to die down and hit the 8-iron; the 7-iron was never discussed. Not once. He came up 10 meters short of the front of the green. He hit a bad shot.
"He said, 'I can't believe this fat c***,' loud enough for everyone to hear. There's a lot as a caddie I can take but a personal attack like that. ... If this was an office in any country in the world, that would be considered bullying. ... I can take it if you call me the worst caddie in the world, tell me I'm horrible at picking clubs, but there's a line you just can't cross."
According to FOX Sports Australia - Allenby's native land - Middlemo is the fourth caddie to walk off during a round with Allenby. A person following the group on Thursday confirmed Middlemo's rendition of the story to ESPN.
Allenby played the 18th hole carrying his own bag before a 61-year-old fan offered his looper services for the remaining nine.
"He did a great job. He did everything he was told. He was a nice guy. I'm really thankful that he helped me out. It was nice to have someone friendly on the bag who didn't want to threaten me."
Allenby, who finished with an 81 and withdrew from the event, is no stranger to controversy.
The aforementioned kidnapping story has drawn allegations of falsehoods and exaggerations. In 2009, Allenby accused Anthony Kim of being out on the town before their Presidents Cup match, which Kim won. Two years later, after losing all four of his matches in the 2011 Presidents Cup, Allenby deflected blame, claiming bad teammate play as the catalyst for this record.
In a 2015 poll, Allenby was voted by his fellow pros one of the least-liked players on the PGA Tour.