The Loop
Rob Oppenheim 'dream week' at Pebble Beach began as a consolation prize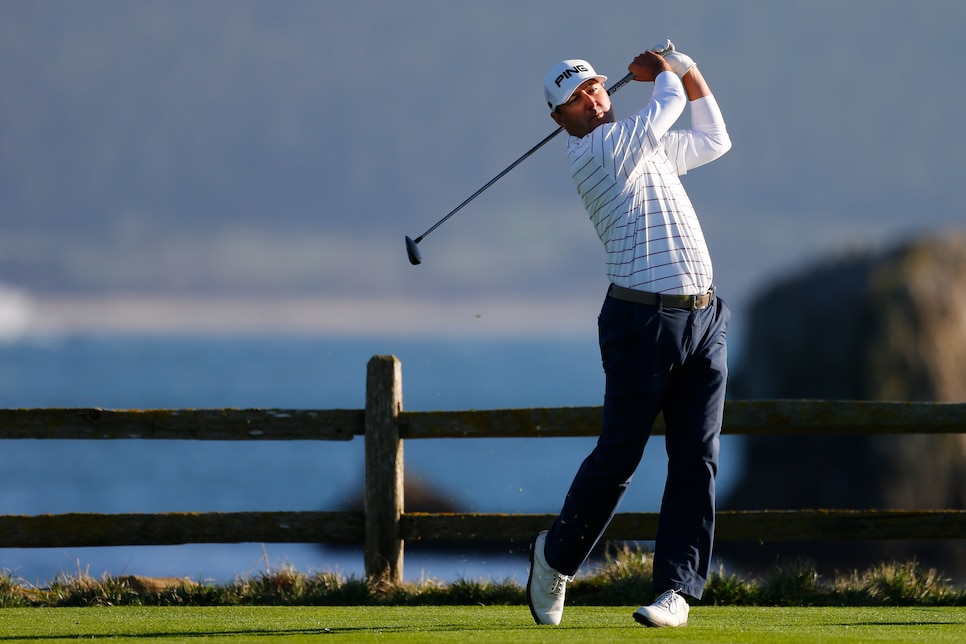 PEBBLE BEACH, Calif. – Rob Oppenheim was informed in December that he was going to receive a sponsor exemption into the AT&T Pebble Beach National Pro-Am, a consolation prize of sorts after he fell $392 short of retaining his PGA Tour card.
The invitation from Pebble Beach CEO Bill Perocchi helped ease that disappointment, but it would pale in comparison to what a solid finish today at Pebble Beach Golf Links could do for Oppenheim's nomadic career. Oppenheim, 37, began the final round alone in fifth place at 9-under-par 206, and if he can stay in the top 10, he'll earn a berth in next week's Genesis Open at Riviera CC. Trailing Jordan Spieth by nine strokes likely eliminates him from winning, but for a guy who had just two top-25 finishes a year ago, victory is relative.
"To be honest I was thinking if I could parlay this into another week it would be unbelievable. That would be awesome," said Oppenheim, this year's feel-good story here after Vaughn Taylor won a year ago after getting into the field as an alternate. "It's amazing. My family's not happy with me for the stress I have put them through. But that's golf. I just have to play a little better."
Which he is doing this week. He wasn't playing poorly at the end of last season either. After failing to finish among the top 125 in the FedEx Cup standings – he was 158th – Oppenheim was relegated to attempting to retain his PGA Tour card in the Web.com Tour playoffs. He posted a T-24 and a T-12 in the second and third events, respectively, allowing him to climb to 26th in the finals standings. The top 25 receive tour cards.
Then Hurricane Matthew struck the east coast and the Web.com Tour Championship was canceled. Oppenheim, who had earned his card the year before by $101, this time was on the outside. He was disappointed, but philosophical. He wasn't the only player adversely affected.
"I just happened to be the guy on the bubble, so there was more focus on me. It was magnified a little bit" he said. "But I think about the year before, and that kind of helped me deal with it. Everything goes around."
Oppenheim's performance this week isn't a total surprise. He was coming off a T-7 finish at the wind-blown Bahamas Great Abaco Classic on the Web.com Tour, and he has played well at Pebble Beach, his favorite course, in the past. In the 1999 U.S. Amateur, he advanced to the quarterfinals. That's when he met Perocchi, a fellow Massachusetts native, and the two hit it off.
"He's a great young man and a really fine player, and to see him doing well this week is exciting," Perocchi said. "I'm so happy for him. It's a pretty good script."
Speaking of scripts, Oppenheim also has been buoyed by his pairing the first three rounds with New England Patriots coach Bill Belichick. When Oppenheim found out he and Perocchi, both huge Patriots fans, were to play with Belichick and Ricky Barnes, he decided to attend the Super Bowl LI in Houston. A long-shot all of his golfing career, Oppenheim got a lesson in perseverance when he watched the Patriots defeat the Atlanta Falcons in overtime after falling behind, 28-3, early in the third quarter.
"If the Patriots can come back from 28-3, then anything is possible," he said.
It's weird to think, but Oppenheim agrees that had the Patriots lost, the energy of the group would not have been the same. "It would have been a different vibe for the group, for sure," Oppenheim allowed. "Everywhere we went people were screaming for him [Belichick], and I think you feed off that positive energy. I think it would have been a different week if they had lost. Everyone was very positive and upbeat and we had fun."
Oppenheim and Perrochi made the 25-team pro-am cut, so the good feelings were likely to flow for one more day on the Monterey Peninsula. The disappointment of last fall has dissipated. The soft-spoken Oppenheim got to pick the brain of one of the best football minds in the world. In some ways, this one week has made him feel like a different player.
"This is a special place," he said. "It's special to me. It doesn't get much better than this. It's been a dream week."