News
NBA's 'Shooting Guy' Rob Fodor is as passionate about golf as he is hoops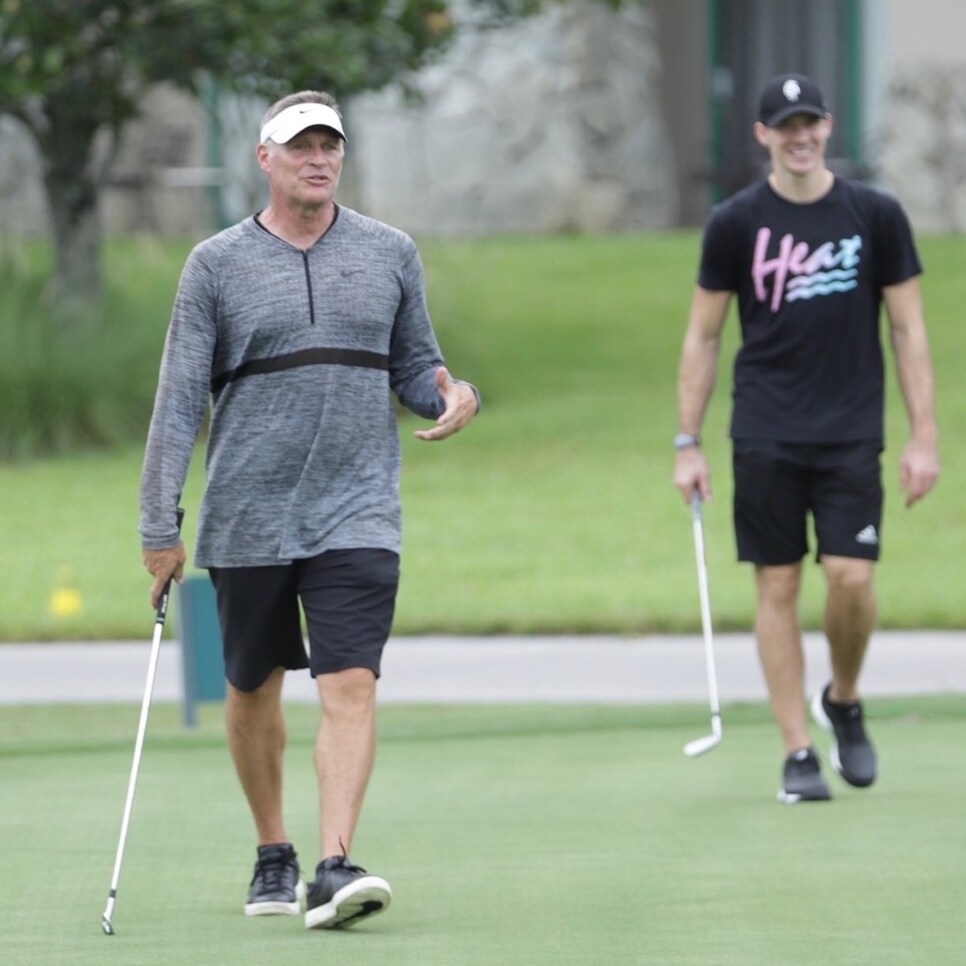 Miami Heat shooting coach Rob Fodor enjoys working with his palyers on their golf games.
The sun had barely cracked the horizon on Monday morning in Orlando and Rob Fodor's cell phone was buzzing with an incoming text from Andre Iguodala, who was already on the golf course. No one had gotten much sleep—a few hours, maybe—after the Miami Heat knocked off the Boston Celtics the night before to advance to the NBA Finals. They will take on the Los Angeles Lakers in what promises to be an intriguing and entertaining series that tips off on Wednesday.
The matchup features two of the game's best players and biggest stars, L.A.'s LeBron James and Anthony Davis, going against a feisty but brilliant Miami bunch led by veteran Jimmy Butler and 20-year-old rookie Tyler Herro. There's also the juicy subplot of James facing the franchise he famously led to back-to-back championships in 2012 and 2013.
But none of that mattered now. Fodor was running late for a tee time with Igoudala, Kelly Olynyk and Solomon Hill.
Welcome to life in the NBA during the COVID-19 pandemic, where golf has been the soup du jour of the league's bubble at the Walt Disney World Resort's sprawling-but-limited 25,000-acre complex over the last three months. "In the bubble you have a choice: work out, fishing, golf or nothing," says Fodor. "You're not going anywhere."
With three Disney courses at the disposal of players, coaches, staff and other personnel, including two (the Palm and Magnolia) that served as a PGA Tour stop for 30 years, and plenty of downtime between games it's never too difficult to get in a round, especially as the bubble became less crowded with the 22 teams at the resumption of the regular season now whittled to just two. And when it comes to getting instruction, for a jump shot or a golf swing, players don't have to go far for that, either.
The franchise's first-ever shooting coach, the spry, 6-foot-3, 59-year-old is a former standout guard from Division II Hillsdale College in Michigan, where he still owns a couple of school records for assists. He's also the best golfer in the bubble (along with Lakers shooting coach Mike Penberthy) with a handicap index on the plus side of the ledger.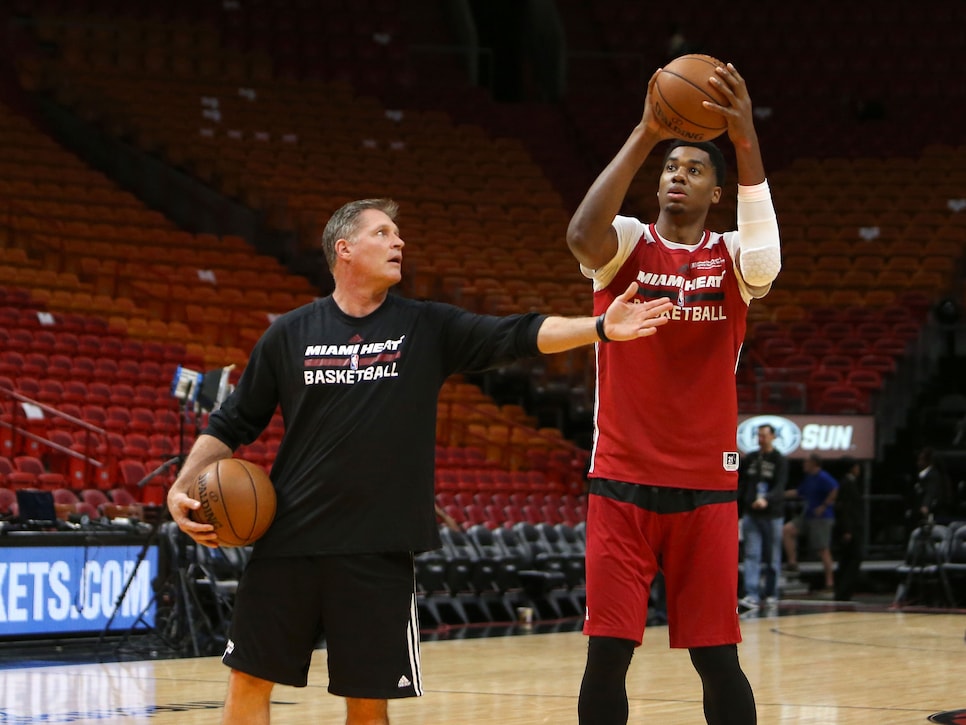 Miami Heat center Hassan Whiteside works with shooting coach Rob Fodor practice before a game in 2016.
El Nuevo Herald
"When I'm playing with my guys, I'm trying to help them be better players," Fodor says. "Just like I am in my real job."
That means everything from teaching the basics of the game to Heat guard Goran Dragic, who'd never picked up a club before this summer, to offering more nuanced advice to experienced and talented players like Iguodala.
It helps, too, that there is a correlation between basketball and golf. Dubbed "The Shooting Guy" on Instagram and his website for an approach that is based in biomechanics, Fodor understands the specific similarities between the two sports, notably balance and the use of one's hips.
"Part of the way I built my system of teaching basketball was born out of other sports," he says. "I see people when they set up to the ball in golf, they get on the balls of their feet too much. That lends itself to going forward, over-bending of your knees and coming over the top and changing your target line. If you put your weight over your ankles, it makes you much more stable. That's how we play defense and that's what I teach my shooters, too."

That Fodor is even coaching some of the best basketball players on the planet, much less giving them golf tips, is a lesson in itself, in tenacity, if not a belief in miracles.
Growing up, all Fodor ever wanted to be was a professional athlete. Basketball was his best route, but those dreams were dashed when he fell and broke his hand after being undercut during a Detroit pro league game. His contract was canceled.
Disenchanted by the ruthlessness of pro basketball and approaching his mid-20s, Fodor didn't touch a basketball again for seven years. A slew of miscellaneous jobs followed: manager at a car dealership, a position in the boating industry, Congressional candidate, schoolteacher and coach, food truck operator, model. Along the way, he also began to play more golf, quickly working his way from a decent recreational player to scratch and eventually even better than that.
Then basketball crept back into Fodor's life after an impromptu pick-up game in a South Carolina gym. Out of that, the proverbial light bulb went off and he spent the next 10 years working at camps and clinics around the world.
Still, Fodor kept his hand in golf, playing mini-tour events when he could and in 2002 ended up caddying on the then-Nationwide Tour for Erik Compton. The two knew each other from Fodor's days as the golf and basketball coach of a rival high school in Miami. "We traveled around the country in my car," Compton said. "We were living out of hotels and never came home. It was a blast."
A year later, Fodor went to Germany for three months, continued to build his basketball program and his name started to spread within the game's inner circle. He also crossed paths in 2003 with Erik Spoelstra, then an assistant coach for the Heat. The two struck up a friendship and soon Fodor found himself helping the bright young mind out at camps and clinics whenever he could.
By 2005, Fodor had landed in the ABA as an assistant with the Florida Pit Bulls under head coach, general manager and president Tim Hardaway. When he could, Fodor still teed it up in mini-tour events around South Florida. He also found himself back on the bag for Compton in 2007 for the Nationwide's stop in Boise, Idaho. Upset after missing the cut, Compton headed home. Fodor, meanwhile, made the long drive to California for the next tournament. Except Compton never made it there. He had a heart attack at home and underwent his second heart transplant.
"Had he been with me, I was in the middle of nowhere, no phone signal, no help, who knows what would have happened," Fodor said. "But nothing good would have happened."
What happened to Fodor is that his rep as "The Shooting Guy" continued to grow. In addition to his work at various camps, he served as a personal shooting instructor for a number of players in the NBA, including Alonzo Mourning. Spoelstra's own career was taking off, too. After having started his career as a video coordinator for the Heat in 1995, he was promoted through the organization's ranks and in 2008 named head coach.
As the years went by for Fodor, basketball took over and golf again became recreational. In 2015, he was named as an assistant coach with the WNBA's Seattle Storm. The following September, in an effort to improve a number of player's shooting percentages and with the NBA having pivoted to an emphasis on three-point shooting, Spoelstra made him the team's first shooting coach.
"As talented as anybody I've ever seen in that space, a really unique basketball mind," Spoelstra told reporters at the time. "I've known Rob for going back to when I was an assistant coach working with [former Heat guard] Mike James. That's how I got to know Rob. And he worked with Mike, and Mike was the player I was in charge of developing, so I had to figure who he was spending his evenings with. And I was really impressed with that work."
Since bringing Fodor aboard, the Heat have set franchise records for three-point field goals made in each of the last three seasons and last year set a franchise record for points in a season.
But even as the Heat prepare to play in their sixth NBA Finals, golf is never far from Fodor's mind, or that of his players. If nothing else, it's a welcome respite from the grind of what has been a three-month lockdown in one city.
And for a moment, Fodor can't help but think what might have been had basketball not worked out.
"If I could've kept playing golf, I was going to try to qualify for the U.S. Senior Open or Senior British Open," he said. "In my mind, I absolutely would've qualified for one of them. I was playing that well.
"But it is it what it is. Here we are playing for an NBA title instead."