The Loop
Riviera's 10th Hole Challenge! Lay-up, Lay-up, Lay-up, Lay-Up
PACIFIC PALISADES, Calif. -- Just because a strategic hole offers options, does not mean you have to use them all.
The great myth of Riviera's ingenious 10th hole -- confirmed repeatedly during round one of the Northern Trust Open -- is that it's 311 yards of all bluff and only one option: lay up. Left. Every. Day.
Not that this guarantees success. Scott Verplank carded a first-round 8 after laying up, but his troubles came from imprecision. He later carded two double bogeys and withdrew after nine holes.
Wonky architecture buffs -- guilty as charged -- will not want to hear that the options don't really matter. After all, there should be many ways to the hole, so the democratic view says.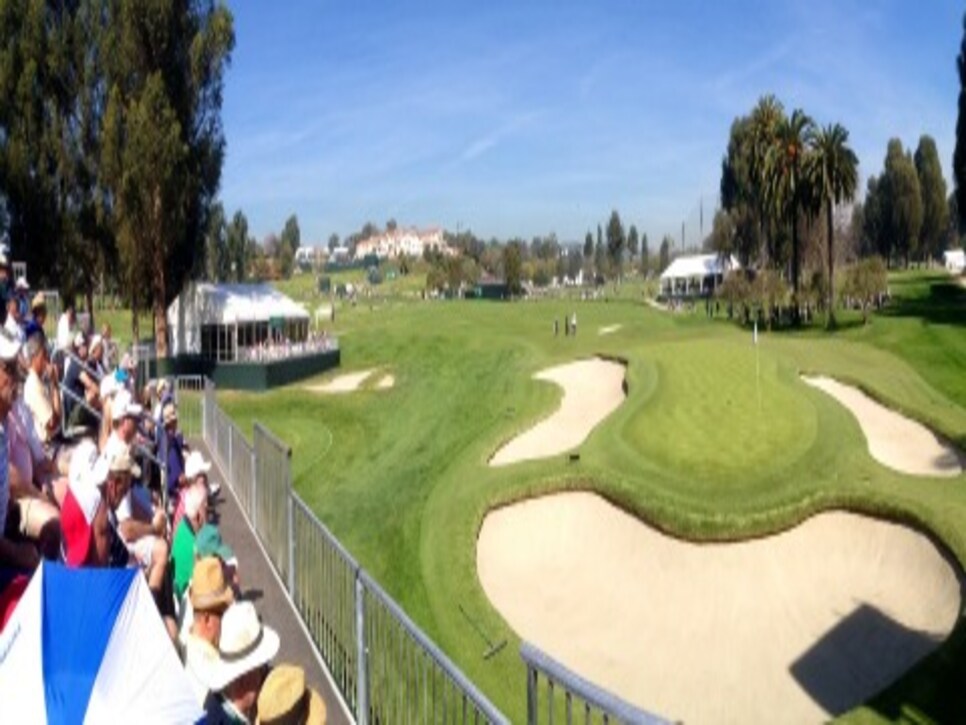 Padraig Harrington, knowing full well the carnage that had already taken place early into the round, spotted AP writer Doug Ferguson in his traditional perch behind the green.
"If you were a lawyer you'd be chasing ambulances."
Kevin Chappell, a bright guy from UCLA decided not to drive the green for the first time in his life today. Just guessing, but he's probably played the hole a hundred times in his young existence and only now did he choose to lay up after playing it so poorly for so long. He hit a fine approach in but missed the putt. Here's guessing he's going to be laying up a lot more.
After watching half the field go through and average just barely over par (4.2 for those driving the green), I've decided to offer a challenge to those who have chosen to lay up short and left, then hit the 100-yard-or-so approach: do it three more times and let's see what your scores add up to.
The winner will receive their very own personalized tour of the media center! Because there's a pretty good chance, come Sunday night a visit will be coming here. Just lay up!