Genesis Invitational
Two decades-old PGA Tour records at Riviera are in danger of falling on Sunday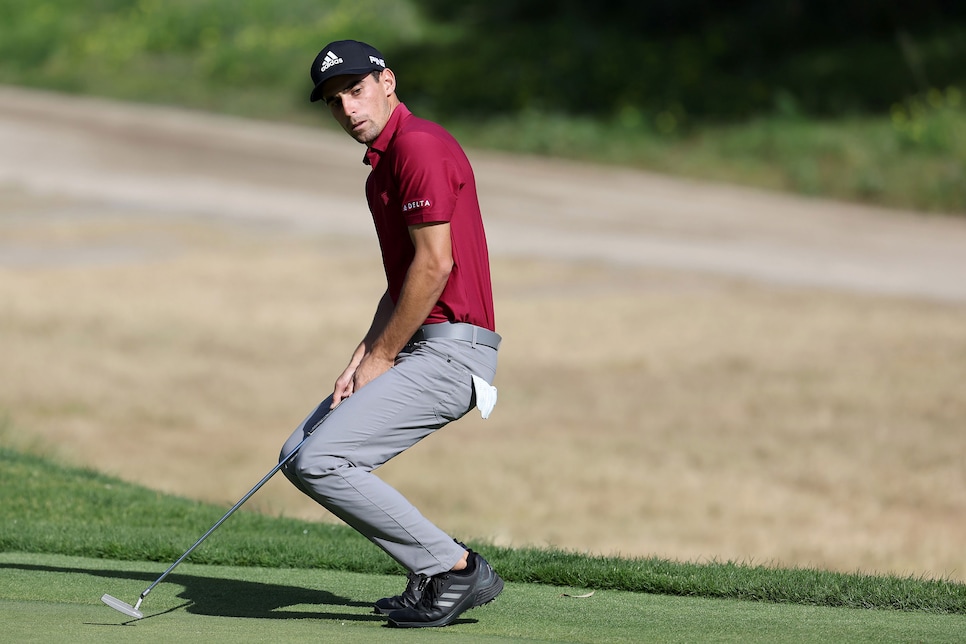 Joaquin Niemann reacts to a missed putt on the 13th green during the third round of the Genesis Invitational
Rob Carr
There is just one goal Joaquin Niemann should be concerned with achieving on Sunday at the Genesis Invitational: win the tournament. Whether it's by one shot or 11, that's where the focus needs to lie as the 23-year-old native of Chile makes his way around famed Riviera Country Club outside Los Angeles.
Yet, when in Hollywood, putting together a grand performance seems apropos. And given where Niemann stands with 18 holes to play, he has an opportunity to make his second career tour victory a historic one if things fall a certain way on Sunday.
Should Niemann pull out the win, he'll be able to boast that his victory was wire-to-wire, which at Riviera is quite rare. The last time there was a wire-to-wire champ at this event was 53 years ago when Charlie Sifford accomplished the feat in 1969. (The most recent wire-to-wire win on tour, period, came two years ago when Nick Taylor pulled it off at the AT&T Pebble Beach Pro-Am.)
As if being the first to achieve one record that's decades old wouldn't be accomplishment enough, Niemann potentially could knock off another one in terms of the tournament's lowest 72-hole score. Niemann is at 19 under entering the final round thanks to his rounds of 63-63-68. The all-time best showing in the tournament was 20-under 264, a score set by Lanny Wadkins in 1985. According to the PGA Tour, at 37 years, this marks the longest-standing 72-hole scoring record of any active event on tour since 1980.
"Yeah, I'm having the best time of my life right now," Niemann said on Saturday. "I just try to keep it calm, but yeah, I'm enjoying it a lot and I just can't wait to have a good day tomorrow."
Not to mention a potentially historic one.