Genesis Invitational
Why more and more players are going for the green at Riviera's famous par-4 10th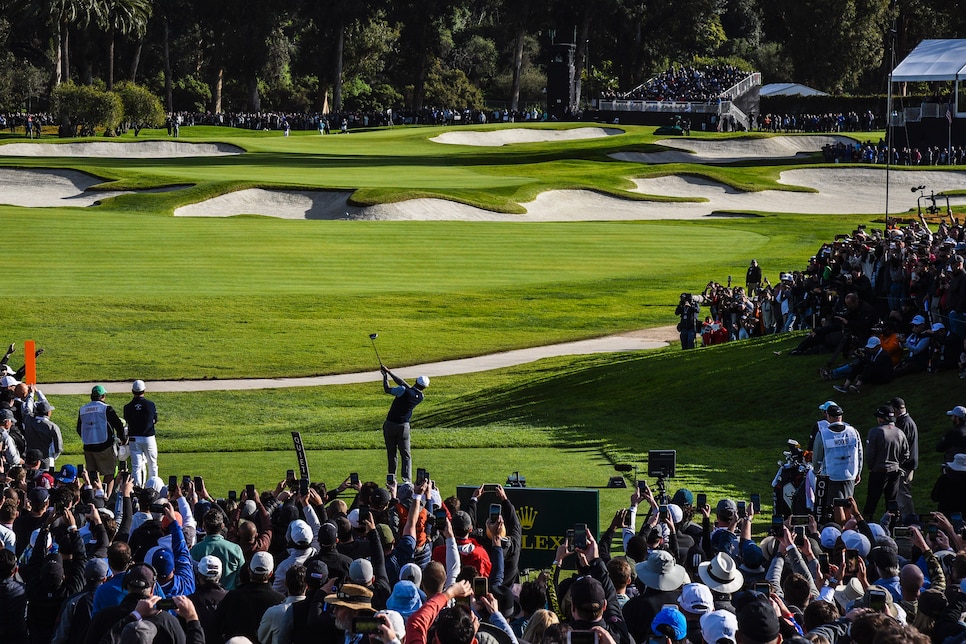 Tiger Woods tees off on the 10th hole during the third of the 2019 Genesis Open.
Keyur Khamar
PACIFIC PALISADES, Calif. — Jack Nicklaus once deemed it the greatest short par-4 in championship golf. What makes Riviera's 10th hole so intriguing, at least according to Nickalus, was the options it presents. Measuring just a touch over 300 yards, the chance for a round-boosting eagle or tap-in birdie entices players to have a crack at the green. But a left miss brings trees into play, and it's almost impossible to get the ball on the green if you miss right of a long bunker that guards the right side of the putting surface. The safer play is to lay up with an iron to the very left corner of the fairway, which opens up the extremely narrow green and leaves a flip wedge. It's a proper risk-reward hole that forces players into a difficult decision.
Nonsense, says a stats guru with growing influence on the PGA Tour.
"Going for the green, in any circumstance, is the correct play," says Scott Fawcett, the creator of DECADE—a data-driven course management system. Fawcett has worked with roughly 30 players in the field for this week's Genesis Invitational, and the message he sends his guys is unequivocal:
Fawcett's reasoning: The potential benefit of laying up is rather small, and the risk is massive. There is indeed a sliver of turf on the very left side of the fairway that does open up the green, but finding that sliver of fairway is the furthest thing from a surefire proposition.
"It's roughly 10 to 15 yards wide. It's smaller than a green at Pebble Beach. I get it; it would be cool to lay it up over there, short left and have a nice open pitch coming in," Fawcett said. "But unless you have it just perfect, you're either in the rough left or still having to hit the approach over the right bunker, and that green runs hard from front right to back left. If you could go and place it 60 yards out, that might be better. But that's not how it works."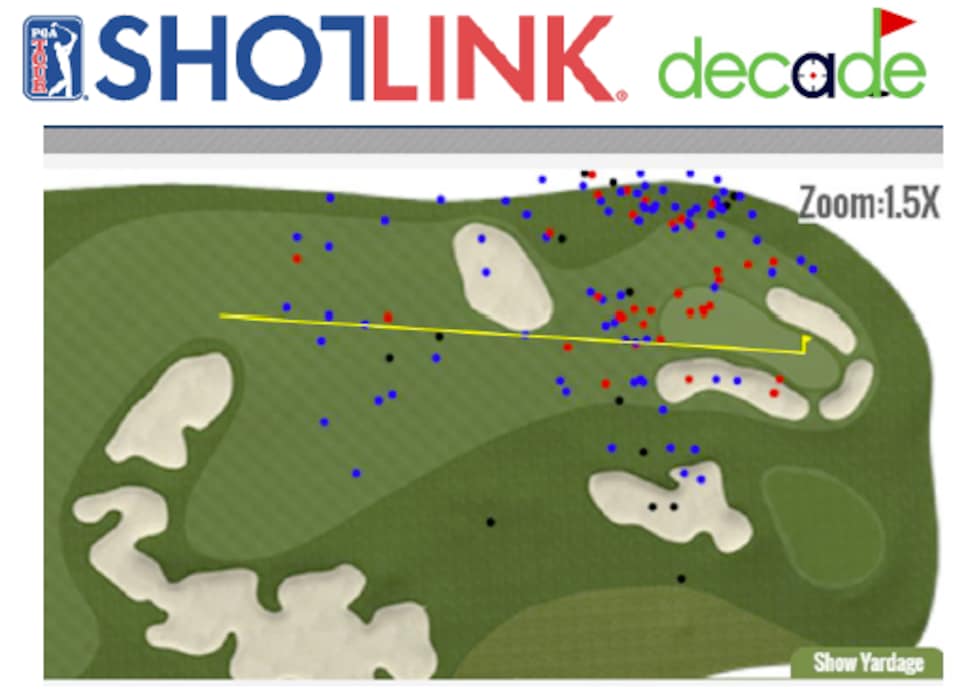 More players tend to lay up when the pin is in the back-right part of the green. But, as this graphic from the 2020 fourth round shows, nearly half of the layups to that pin still had to come over the right bunker with their approaches—all but removing any advantage to laying up. Black dots represent bogeys, blues are pars, and reds are birdies.
And then there's the wedge shot. Say you do manage to hit that perfect layup—you're now faced with a flip wedge into one of the narrowest greens on the PGA Tour. Riviera's firm greens make the landing area to find the putting surface extremely small, especially if there's any wind.
"I'll be hitting driver every single day, or whatever gets me to that front edge," said Collin Morikawa. "I keep looking at that wedge shot. I keep saying yes, we can hit a 70-yard wedge shot, we can hit a 100-yard wedge shot, but when you look at the green and how narrow and shallow it is, it just doesn't make any sense in my head. Especially with how firm the greens are, that first bounce is going to bounce so far, you're working with two, three yards. When you're on, you're going to hit that shot, but if you're a little bit off and there's wind or it's cold or whatever, that can cost you being in the short bunker, that can cost you being over."
That's the worst possible scenario—you miss the green with your second shot. Then you're greenside in two, rather than one, and virtually no closer to getting the ball in the hole.
As more and more tour players familiarize themselves with DECADE and other similar data-backed strategy approaches­—and as players continue to hit the ball farther, which means virtually all players can get it pin-high and many can with 3-wood—fewer and fewer are opting to lay up on 10. The turning point seemed to happen after the 2015 Northern Trust, which told a clear story. Just 51 percent of players went for the green on 10 that year, and those players were a combined 14 under par. The 49 percent who laid up combined to play the hole in 52 over par.

A shot chart for the 10th during the 2015 Northern Trust. Black dots represent bogeys, blues are pars, and reds are birdies.
It was the 12th straight year that players going for the green fared better than players who laid up, and the strategy slowly began follow the numbers data.

A breakdown of cumulative scoring among players who went for the green, and those who laid up.
By the 2020 Genesis, according to the ShotLink data, around 80 percent of players went for the green. The change in strategy has coincided with a drop in scoring average. From 2011-2015, the hole averaged 4.042. From 2016-20, the average was 3.896.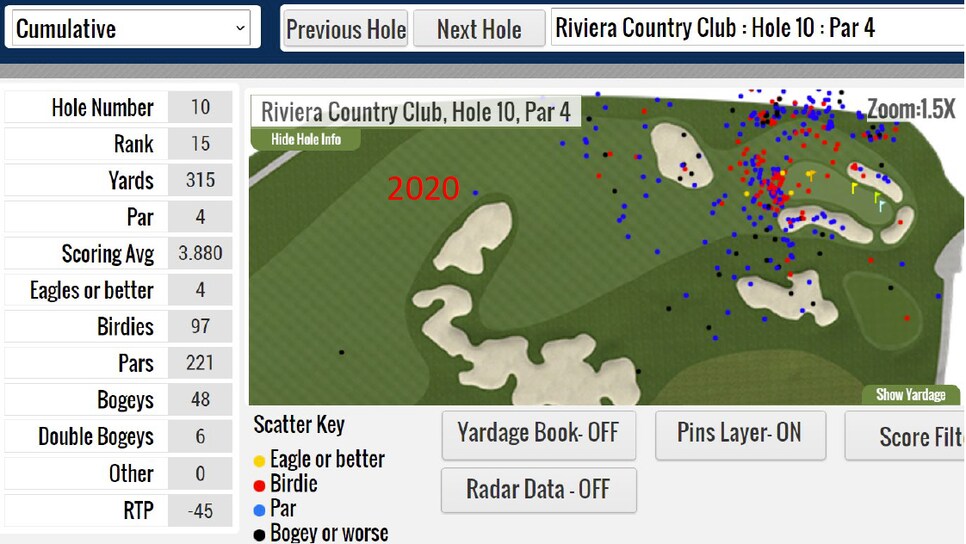 A key part of Fawcett's teachings is to take your medicine when out of position, and that's especially vital at the 10th. It's true that players who go for the green and miss left often do make bogey or worse—especially when the pin is in the back part of the green, where it's protected by three bunkers. But that, Fawcett says, is due to a lack of discipline.
"It's just situational awareness," Fawcett says. "You want to get the ball up close to the green and then reassess. If you miss in a bad spot, you hit it toward the front of the green and try to make par. Those big numbers come when guys try to get greedy and still try to make birdie when they are in a terrible spot."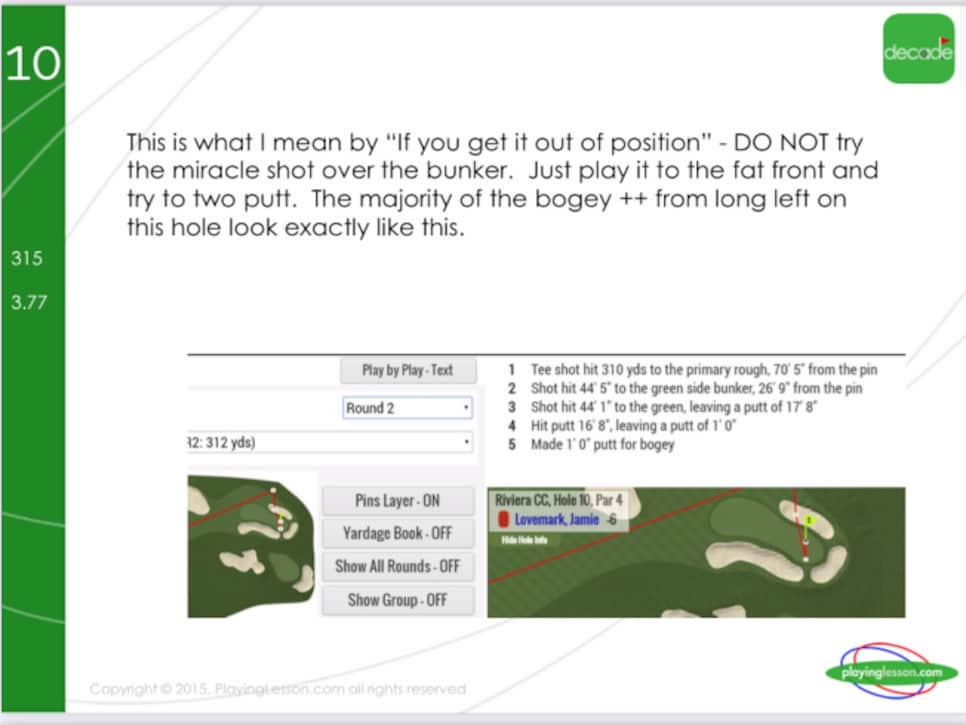 In the packets he puts together for tour players on Riviera, Fawcett implores them to take their medicine and play to the front part of the green when out of position.
The data paints a clear picture—on average, going for the green is a better play than laying up. For many, that's all the proof they need. But some good ol' fashioned tough love never hurts, either.
"As my dad made clear to me today," said Xander Schauffele, "I'm not very good from 50 to 125 yards, so I would not be laying up on that hole. That would leave me about 50 to 125 yards. So I will be going for it like I have every other year, and kind of rely on getting up and down and a couple good bounces here or there."
Going for it, no matter what, no matter the pin or the wind conditions? Absolutely.
"I will be pulling some sort of furniture out on the tee," Schauffele said.